Cherleana Huang: "Monero & Zcash are my favorite Cryptos, Bitcoin (BTC) is going to $200,000"
---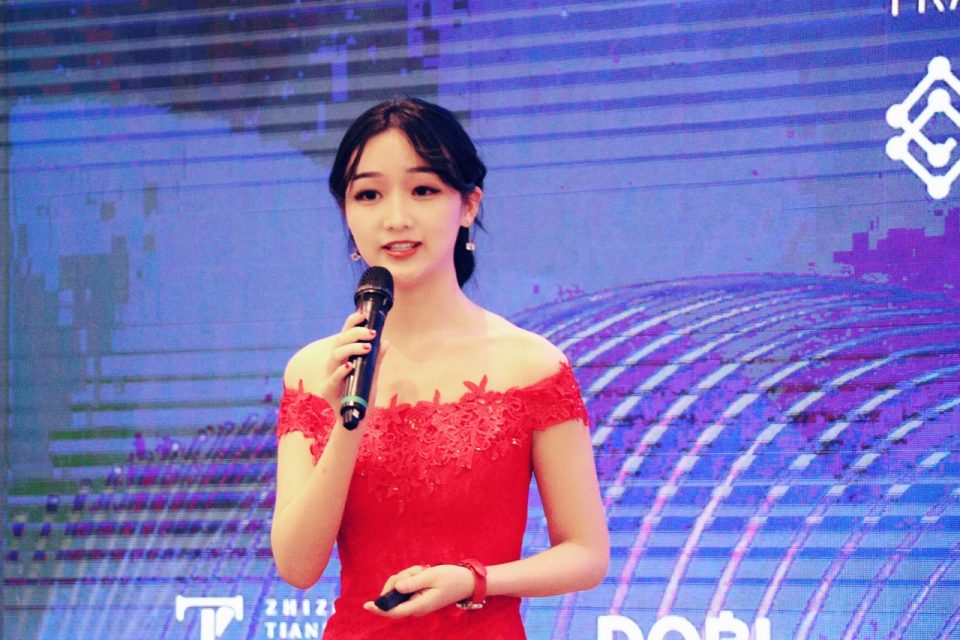 There's a new exchange in the market. According to Coinmarketcap, the new exchange is rated among the top 10 largest crypto exchanges in the world in terms of trading volume in a short period of time. The exchange is called Dobi Trade.
Dobi Exchange was founded in 2017. The exchange spun out from the Shenzen Blockchain R&D Center, with a mission to provide secure asset trading.
We at Blockmanity had a chance to catch up with Ms. Cherleana Huang, the COO of Dobi Exchange. Cherleana Huang also serves as the CMO of the Shenzhen Blockchain R&D Center. We wanted to know more about Dobi Exchange and what its mission is in the cryptocurrency space.
Blockmanity: What Differentiates Dobi Exchange from other Crypto exchanges?
Cherleana: Dobi Exchange is similar to other cryptocurrency exchanges at the moment. But our vision is different from what other cryptocurrency exchanges have. We have three important features separating Dobi from other exchanges,
1) DOBI was incubated by blockchain R&D center in Shenzhen, a tech research-focused institution which provides strong tech support for DOBI to ensure the safety of the platform.
2) We want to add only the trusted and strictly screened tokens, especially those good quality projects with a relatively large community to provide strong liquidity after listing on the platform.
3) DOBI ecosystem takes a cryptocurrency trading platform as the center, covering financial services such as bitcoin wealth management, bitcoin lending, and blockchain games. On top of this, DOBI ATM, POS, and other self-developed blockchain hardware products provide users with offline cryptocurrency payment and transaction services.
Blockmanity: What's Dobi's plan in the cryptocurrency space?
Cherleana: Our plan is to make Dobi a financial service platform instead of just a trading platform. We would not last long if we don't have a long-term vision. We want to provide a one-stop financial service for our users, which includes digital payments, asset management, etc. All kinds of financial services can be grafted into our ecosystem and we will build the first financial ecological platform in the blockchain field.
Blockmanity: Do you plan to add more cryptocurrencies in Dobi Exchange?
Cherleana: We are always on the lookout for some excellent projects. and will add them more for sure. We are also working on a project to classify all Blockchain projects so that its easier to separate out good projects from the bad one. It is much more convenient for the investor, as we give them the power to choose projects which fit their criteria most.
Blockmanity: If you could add any cryptocurrency right now…what would you choose?
Cherleana: I personally am a big fan of privacy coins, even though someone might say privacy coins could easily be used in darknet as payment. But there's no denying that they are accorded with the main features of Blockchain, that is "decentralization ". They also meet the core idea of why Bitcoin was invented. My favorite two cryptocurrencies are Monero and ZCash.
Blockmanity: When did you join Dobi Exchange?
Cherleana: Prior to joining the blockchain space, I was working as a News Announcer at a TV station in China. Working there I interviewed many successful entrepreneurs in various industries, and I have been focusing on new emerging fintech industry since then. In 2017, I met the vice president of Blockchain R&D center, Mr.Liang, who introduced me to the world of Blockchain. I joined Shenzhen Blockchain R&D Center and DOBI around the same year, starting my crypto career since then. I have already been involved in the crypto space for 2 years.
Blockmanity: What's the one thing you like about Dobi Exchange?
Cherleana: The team and our office culture. Our team is led by visionary leaders who are taking a step – by – step approach meticulously to achieve our goals. Our team is passionate and hardworking providing the best service for users when working, yet we also have fun time to time, expressing their own views and ideas freely. Our atmosphere can be compared to the atmosphere of a Silicon Valley startup.
Blockmanity: How does Dobitrade plan to compete with all other players?
Cherleana: As I mentioned earlier, we at Dobi have a different vision than what other exchanges have. Different exchanges have their own future directions. Only those exchanges who are on the right track, seizing every opportunity, holding a firm belief and full of passion towards the industry can they grow faster and possibly be a unicorn exchange. As for DOBI, there's still a long way to go. At the moment it might look like we are competing with the other players, but our mission is to provide more features and services for our users. We are more focused on the long term, rather than make some quick cash. We keep developing our products at our own pace steadily, competing with ourselves first.
Blockmanity: Do you think China's cryptocurrency situation will improve? Will it become legal?
Cherleana: China currently does not recognize cryptocurrency as a legal form of payment, and banks also make it harder for blockchain businesses. But the main reason why the government has taken a series of regulatory measures to crack down on activities related to cryptocurrencies is actually for purposes of investor protection and financial risk prevention
China's cryptocurrency situation will definitely improve, no doubt about it. The government is open to the idea of blockchain and if rumors are to be believed, the China Central Bank might launch their own cryptocurrency. But it will take time. First, all the markets have to become relatively stable. Currently, the trend of the cashless system and virtual payment is catching on, just like WeChat pay and Alipay. I guess after this wave is over, we might see the wave of cryptocurrency payments.
Blockmanity: Bitcoin or Fiat…who do you think will be the winner in the next 10 years?
Cherleana: Bitcoin currently does not have the same legal status as fiat. I think it won't replace fiat in a long period, but we could see in the future a mixture of these two workings together. I am bullish on Bitcoin. In fact, from the development I have seen in Bitcoin, I can safely say or personally speculate that Bitcoin is going to go more than 10x than 2017 high to around $200,000.
But I believe in the next 10 years we should see Bitcoin would be working alongside fiat and also cryptocurrencies issued by the government.
Cherleana Huang Twitter: @chereleana1
DOBI official website: www.dobiexchange.com

Disclaimer: Blockmanity is a news portal and does not provide any financial advice. Blockmanity's role is to inform the cryptocurrency and blockchain community about what's going on in this space. Please do your own due diligence before making any investment. Blockmanity won't be responsible for any loss of funds.
Get the latest news on Blockchain only on Blockmanity.com. Subscribe to us on Google news and do follow us on Twitter @Blockmanity
Did you like the news you just read? Please leave a feedback to help us serve you better
---
Trending Now