Choose Your Reality: Phemex's Second Anniversary
Posted On December 1, 2021
---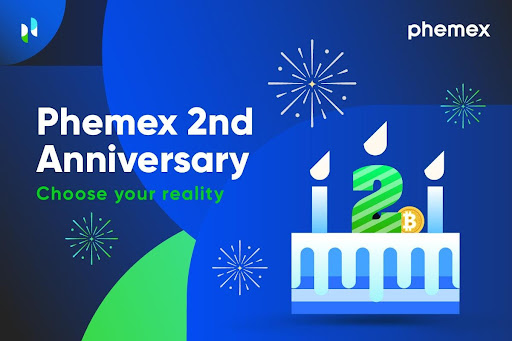 Phemex is all set to make its consumers' wishes come true as it celebrates its second anniversary. Since its debut in 2019, the Singapore-based cryptocurrency exchange has had an incredible journey, and over this period, Phemex has established itself globally as one of the most reliable cryptocurrency trading and investing platforms.
This anniversary, Phemex wants to repay the users who have assisted the platform in achieving some significant milestones. On November 25, it launched a unique campaign to give back to the community. This new campaign, christened "Choose Your Reality" highlights Phemex's achievements over the past two years while also inspiring people throughout the world with the idea of a brighter financial future, assisting them to Break Through and Break Free.
The origin of cryptocurrency and blockchain technology was to replace the old and flawed pillars of legacy finance. At this stage, we are witnessing a massive surge in demand for digital assets. This year especially, the space has registered a flurry of dealmaking and intense capital infusion, and this changing investment landscape has fostered a sense of financial independence in many cryptocurrency enthusiasts — which is the very core of Phemex's goals.
Phemex, founded by eight former Morgan Stanley executives, is relentlessly working towards guiding the community towards a better financial future. Last year, it launched its own GameFi product to commemorate a year in the blockchain industry. This time, Phemex is one step ahead. 
The exchange's latest Choose Your Reality campaign on its second anniversary is yet another step towards giving back to the passionate community. The campaign features the "Dream with Phemex" event where users will need to submit a form detailing their aspirations and goals or send a short video clip of the same. 10 lucky winners will be declared by Phemex on February 16, 2022, after which the platform will then help them turn their dreams into reality. Additionally, Phemex is also giving out over 2 BTC in prizes to those who send in their most heartfelt and creative birthday wishes!
For more details about this event, check out the official announcement of the campaign. 
Phemex's Journey Over The Years
Though Phemex has only been around for a couple of years, it has emerged as one of the leading providers for all kinds of perks and prospects related to cryptocurrency trading. The exchange is ideal for both novices as well as seasoned investors, and is quite selective with the projects it lists, starting out with just three contract pairs. 
Two years later, Phemex is host to 39 contract pairs, 40 spot pairs, and boasts nearly 2 million active users, with a daily average trading volume of assets worth more than $10 billion. 
Phemex considers its users as top priority, and it is because of this approach that the Singaporean crypto exchange's appeal has continued to rise, carving out a niche for itself within the industry. Apart from viral puzzle challenges and trading competitions, it is Phemex's philanthropic endeavors that really stand out. 
Some of its biggest contributions include the launch of a relief fund for Wuhan netizens suffering from the COVID-19 pandemic, teaming up with Twitter user STAKT to buy and transport 10,000 masks from Japan to the Wuhan People's hospital.
Phemex's "The Era of Zero" brought zero-fee spot trading exclusively for its premium members in May 2020. Shortly thereafter, the exchange forged a crucial partnership with Banxa, a global fiat on-ramp. The main aim behind the integration was to offer a seamless experience for its users looking to buy crypto using credit and debit cards. In a bid to cater to growing demand, Phemex also rolled out over-the-counter (OTC) services in February 2021. 
Around the same time, Phemex launched its Earn Crypto program that allowed investors to make nearly 8.5% APY on USDT deposits worth up to $1.5 million. The exchange also collaborated with the community to list its first-ever NFT on OpenSea. The artwork, consisting of ETH deposit addresses of more than 1000 users of Phemex was auctioned off for 44 ETH, which was worth around $100,000 at the time. All the proceeds of the auction were split amongst the participants.
Yet another one of Phemex's innovative campaigns was to find the original Bitcoin Pizza Guy on the 11th anniversary of Bitcoin Pizza Day this May. The crypto exchange had offered the Bitcoin Pizza guy, a.k.a Laszlo Hanyecz, who happens to be a Florida-based programmer, a second chance at spend 10,000 BTC once more on their Earn Crypto platform, offering him all profits from the platform for that day. Notably, the amount he earned would have been worth more than $120,000 in interest!
Next up was Phemex's Learn and Earn program which called for users to deepen their understanding of both blockchain technology and the cryptocurrency industry as a whole. Through completing courses on the platform, users would get paid in cryptos and trading bonuses, and to really drive the message home, Phemex also rolled out an Academy portal with more than 400 insightful articles.
In a very short timespan, Phemex has climbed up the ladder of the world's top derivatives exchanges. For Phemex, consumer needs stand first, and this has secured its growth in a consistently upward trajectory over the last two years.
Phemex: Building Reliable and Efficient Systems For Masses
Phemex aims to guide the masses into the world of digital finance by leveraging its advanced and sophisticated platform, implementing high standards, and deploying essential tools of traditional finance. However, Phemex is extending its reach to other segments as well.
With the Metaverse being the red hot space it is today, Phemex sees it as the next venue for social media interactions. Phemex CEO Jack Tao recently spoke at the World Blockchain Summit in Dubai, witnessed by over 1,500 experts from the blockchain industry. Tao touched upon the growing Metaverse movement and the importance of NFTs and distributed control within it, stating,
"No one quite knows what it will look like, but that's sort of the point. The metaverse won't be constructed by a handful of centralized conglomerates — it'll be assembled by billions of people."
Phemex is highly ambitious as it now preps up to dip its toes in the realm of the metaverse. Its 'Choose Your Reality' program demonstrates the crypto exchange's dedication to its users, aiding in their transition to the future of digital interactions as it celebrates its 2-year anniversary.
Disclaimer: Blockmanity is a news portal and does not provide any financial advice. Blockmanity's role is to inform the cryptocurrency and blockchain community about what's going on in this space. Please do your own due diligence before making any investment. Blockmanity won't be responsible for any loss of funds.
Get the latest news on Blockchain only on Blockmanity.com. Subscribe to us on Google news and do follow us on Twitter @Blockmanity
Did you like the news you just read? Please leave a feedback to help us serve you better
---
Trending Now