Sell Your Memes, Earn Rewards – with meme.com
---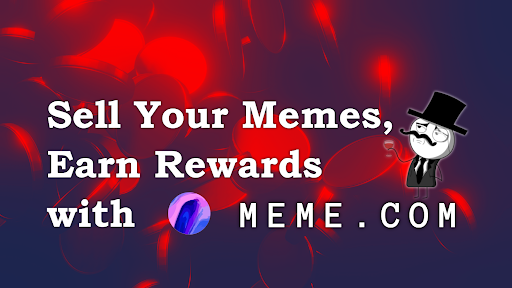 Sell Your Memes, Earn Rewards – with meme.com
Memes have been the talk of the town lately, bringing creators from all corners of the world and immersing them into crypto through the deployment of NFTs (non-fungible tokens), which are digital representations of collectible creations via the blockchain, extending to music, artwork, books, videos, images, and much more. 
They've become the perfect fit for memes, as all of these forms of media can now be integrated into an immutable digital collectible. This relatively new phenomenon has the community roaring – people just can't get enough of memes and exciting new use cases brought by blockchain technology.
At last, artwork has now taken a new form.
Meme.com is the newest platform capitalizing on the meme revolution, filled with a passionate community and a wide range of features tailored to creators who want to have fun, but most importantly, earn some fruitful rewards.
How to Earn with meme.com
Meme.com is an online marketplace where users can participate in a variety of meme-related activities to trade and collect their favorite digital artwork. All users on this platform are deemed "explorers" who participate within the ecosystem, sharing and trading their memes with other members of the community.
Through the meme market, users can trade their ownership of meme tokens (mTokens), which are representations of the underlying meme assets. Depending on the market value of these assets, there's tremendous potential for users to earn lucrative profits.
Meme expeditions are where the adventures really begin. Unique to meme.com, these expeditions are where users can sponsor their favorite memes through staking mTokens in return for rewards – these rewards range anywhere from NFT art to crypto tokens. You can even create and share content surrounding these memes to earn rewards, contributing to different meme profiles being built as a repository of all critical information. 
Browsing the internet has never been more fun with meme.com – users can go out on a limb and report back with information regarding popular memes and trends. Once the information has been collected, all discoveries can be submitted to the Meme Council. If approved, the users deemed to have collected the best data are provided with rewards.
There's also a huge incentive to claim that you are indeed the true discoverer of a URL with a specific meme or trend. This is done through the concept of "Marble Cards," which are digital cards representing proof of discovery. 
A URL can only be claimed one time, so the speed is essential to create a record of your findings. Rewards are then given to the proactive users who contribute to the platform by claiming their meme or trend. 
Start Earning Now
As you can see, meme.com offers plenty of different ways to earn rewards in a fun and community-oriented environment. The opportunities are endless, as creators are incentivized to collaborate and contribute to the platform. 
The future of memes has arrived, with a marketplace so robust and extensive that any true meme enthusiast won't be able to resist. 
If you want to find more ways to profit off of your NFT digital creations, then meme.com may have the answer. Start your journey today on their platform to begin contributing to the next-gen meme ecosystem.
About Meme.com
Meme.com can be described as if Wikipedia and Dogecoin had a baby. A place where people explore different memes and trends on the internet. It's a way for people that create content and memes on platforms like Twitter, Reddit, Facebook, to explore the meme economy, enabling them to monetize their creations.
Website | Twitter | Telegram | Telegram Announcements
Disclaimer: Blockmanity is a news portal and does not provide any financial advice. Blockmanity's role is to inform the cryptocurrency and blockchain community about what's going on in this space. Please do your own due diligence before making any investment. Blockmanity won't be responsible for any loss of funds.
Get the latest news on Blockchain only on Blockmanity.com. Subscribe to us on Google news and do follow us on Twitter @Blockmanity
Did you like the news you just read? Please leave a feedback to help us serve you better
---
Trending Now