John McAfee – Net worth, Cryptocurrency holdings, Bio (2020 Update)
---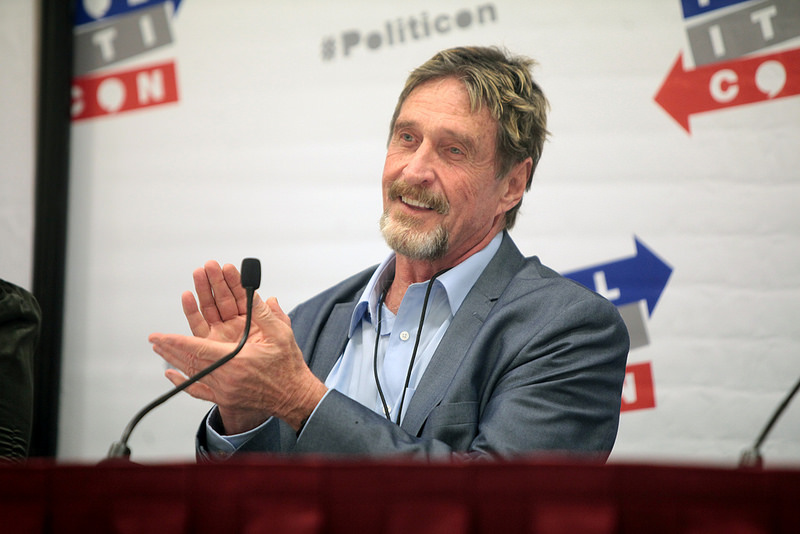 John McAfee is a well-known figure in the cryptocurrency space. From eating his p***s if Bitcoin doesn't reach $1 million by 2020 to knowing the real identity of Bitcoin's creator Satoshi Nakamoto (he claims!), John McAfee has an opinion about everything. Let's take a look at his Net worth and cryptocurrencies holding.
How is John McAfee's Net Worth Calculated?
The exact net worth of John McAfee is nowhere given but we have calculated it to be around $10-$15 million based on the public information. Plus the investments he has made over the course of his life give a fairly solid idea of John McAfee's current net worth.
John McAfee has a significant stake in MGT Capital, a small Bitcoin mining company based out of Durham. The exact share is not given, but according to the company's SEC filing stakeholders hold about 5% of the share or 17.5 million shares. According to the company, each share price is worth $0.02. Taking an estimate that John McAfee owns around 5 million shares, at the current price his share would be $100,000.
John McAfee also acquired a significant amount of money when he sold his anti-virus company, McAfee Associates. In December 2007, John McAfee's net worth was $100 million but due to the 2008 financial crisis, it all changed. According to Forbes, his current worth from the sale of anti-virus software is $4 million.
John McAfee also holds a significant amount of Bitcoin and other cryptocurrencies. His exact cryptocurrency holding is unknown. In 2017 and 2018, John McAfee promoted around 50 ICOs. From each ICO he used to charge $100,000+ (or around 5-15 BTC during the peak and after) per tweet. Taking an average number of 8 BTC per tweet, which gives around 400 BTC plus other cryptocurrencies. We can say he roughly owns around 500 BTC. At the current rate of $7,200, his Bitcoin holdings would be worth $3.6 million.
Update – MGT Capital's share price has declined and Bitcoin's value has increased from $5,100 to $7,200.
Current John McAfee's Net Worth
Adding his above value, $100,000 + $4 million + $3.6 million we can say his net worth according to publicly available data is $7.2 million. Add some extra unaccounted investment, plus a number of properties he owns we can say his net worth would be close to $10-$13 million.
John McAfee's Cryptocurrency Holdings
John McAfee hasn't publicly announced all the cryptocurrency he holds. Based on his tweets we can say that he has a considerable amount of Bitcoin & Ethereum (about 80% of his portfolio). He also promoted a lot of ICO (around 50) between 2017 & 2018. We don't know their exact worth. But if they were successful or famous John McAfee would be tweeting about it.
John McAfee Net Worth In Bitcoins
John McAfee currently holds roughly 500 BTC through his ICO promotions. His previous investments in Bitcoin hasn't been accounted for, as this data isn't publicly available.
Based on the current price of Bitcoin (May 2020), John McAfee's net worth in Bitcoins from the ICO promotions would be around $4.23 million.
John McAfee's Net Worth in 2019
John McAfee's net worth has fallen in 2020. In 2019, we estimated John McAfee's net worth would be between the range of $12-15 million. But in 2020, our latest estimates suggest John McAfee's latest net worth would be $9-12 million.
John McAfee's Bio
John McAfee (full name: John David McAfee) is a British-American entrepreneur and computer programmer. He was born on 18th September 1945. His father was an American while his mother was British.
John McAfee graduated from Roanoke College in 1967. After graduating John McAfee worked at NASA and Lockheed.
McAfee Associates
While working in Lockheed, John McAfee was tasked to write a program to combat the Brain-computer virus. Based on the experience gained by writing the Anti-virus John McAfee founded McAfee Associates in 1987. He quit Lockheed in 1989 to work full-time on McAfee associates.
In 1994, McAfee resigned from the company. John McAfee sold all his remaining shares two years after the company went public.
After McAfee Associates
After McAfee associates, John McAfee has started various projects/companies. He also runs an incubator. Apart from his personal companies, John McAfee is on the board of directors of various companies.
In 2016, John McAfee announced he would be running for Presidency. After loosing in 2016, he said he will be running once again in 2020.
John McAfee's Wife
John McAfee has been married thrice. He married his first wife in the 80s after they were caught dating. Not much is known about her.
John McAfee's second wife was Judy McAfee whom he met while working on McAfee associates in 1978. They got a divorce in 2002.
John McAfee's present wife is Janice Dyson. They met in 2013. They have a daughter together.
John McAfee's Daughter
John McAfee's daughter is Nyana McAfee. She has an Instagram ( @herr.cartoonz ) page.
John McAfee President 2020
On June 3rd, 2018 John McAfee announced that he would be running for the 2020 US Presidential elections. The party from which McAfee would be running hasn't been announced yet but it could be either the Libertarian Party (ran in 2016) or from his own party called the "Cyber Party".
In 2019, John McAfee fled the US after he was charged with Tax Evasion by the IRS. The current whereabouts of John McAfee are unknown, but his campaign headquarters is located in Havana, Cuba. John McAfee's main agenda to run for President is to promote the use of cryptocurrencies.
John McAfee and Monero
From 2020 onwards, John McAfee has taken a more critical role towards Bitcoin and openly supports the privacy coin, Monero. According to McAfee, Bitcoin has become slow and does not offer the anonymity which was once promised. But Monero promises all that and is most likely the future of cryptocurrencies. It is not clear why there's such a shift in his thinking but according to analysts McAfee was planning to launch his own privacy token.
(Update: May 2020 ) In May 2020, John McAfee openly criticized the privacy coin PIVX for copying Monero's whitepaper. After criticizing PIVX, McAfee announced that he will be forking PIVX and create a new privacy token called GHOST.
Crypto growth frequently is based on forking blockchains.

PIVX is open source – no one owns it.

We took the PIVX blockchain and forked it to create $GHOST.

We changed much, but why re-write those functions of the blockchain which we did not change?

How can that be plagiarism?

— John McAfee (@officialmcafee) May 19, 2020
Discuss this news on our Telegram Community. Subscribe to us on Google news and do follow us on Twitter @Blockmanity
Did you like the news you just read? Please leave a feedback to help us serve you better
Disclaimer: Blockmanity is a news portal and does not provide any financial advice. Blockmanity's role is to inform the cryptocurrency and blockchain community about what's going on in this space. Please do your own due diligence before making any investment. Blockmanity won't be responsible for any loss of funds.
---
Trending Now