$AVMT IDO: All you need to know about the AI-powered Ed-tech token
Posted On October 12, 2023
---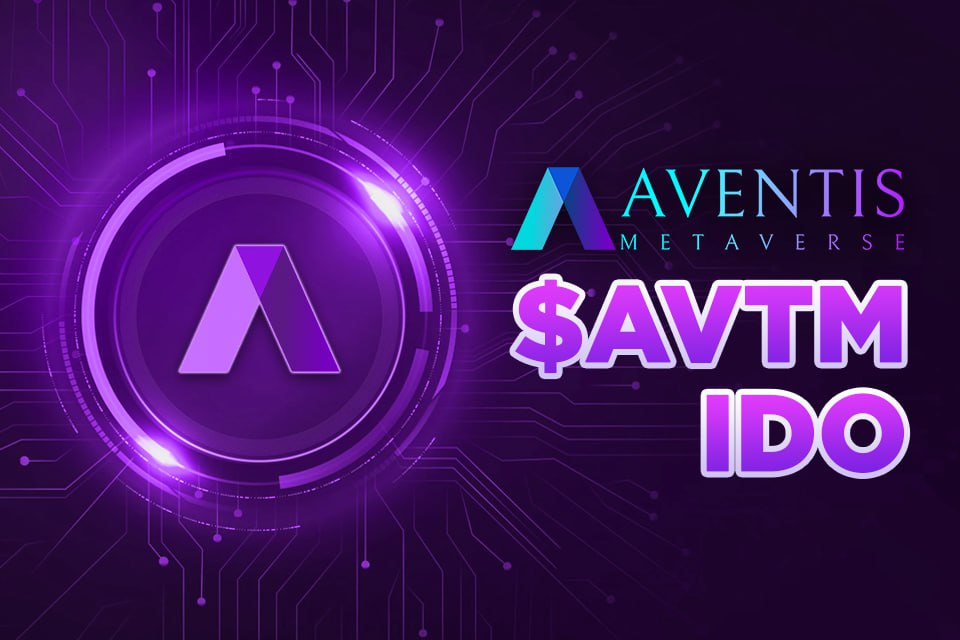 Aventis Metaverse, abbreviated as AVTM, a metaverse-based, AI-powered education platform, is poised to make significant strides in digital learning. AVTM is not just setting the stage for change; it's redefining the very concept of education in the digital age. As it gears up for a groundbreaking series of Multi Launchpad Initial DEX Offerings (IDOs), investors can join the IDOs and secure their tokens.
What is Aventis Metaverse (AVTM)?
AVTM is revolutionizing education by combining Artificial Intelligence (AI) and the Metaverse. The Metaverse is an interactive digital world that can replicate a physical classroom, allowing students to attend virtual classes and interact within a dynamic environment.
The expected growth rate for the Metaverse technology is 40.3% between 2019 and 2025, indicating strong demand for this learning experience. AVTM is poised to become a significant player in the education sector through this innovative approach.
AVTM is positioning itself as the world's first AI-powered Graduate School in the Metaverse, offering a modern, inclusive learning platform. The platform operates on the principles of the "4As Pillars and Values": Accessibility, Affordability, AI-Powered, and Autonomous. These pillars ensure that education is accessible worldwide, regardless of location. AVTM uses a "Learn-and-Earn" model that makes education more affordable, with students earning $AVTM tokens and NFT rewards upon course completion.
$AVTM is the native token of the platform. Here is more information about the token:
Token: Aventis Metaverse ($AVTM)
Contract: 0x11Cb673a90d45e64912C8EE2b31356995a7790BF
Total Supply: 1,000,000,000
Initial Supply: 29,700,000
Initial Marketcap: $445,500
Token Listing: Oct 16, 2023, at 06:00 UTC
A Stellar Line-up of Launchpads
Aventis Metaverse is leaving no stone unturned when it comes to its IDO launch events. The project has pulled out all the stops and has secured a place on some of the top IDO launchpads in the industry. Let's delve into this impressive line-up:
UpliftDao (September 28th – October 15th) 
UpliftDao is set to kickstart the journey of the $AVTM token. This launchpad event is poised to lay the foundation for what lies ahead.
Spores Network (October 13th – 15th)
From October 13th to 15th, Spores Network will welcome $AVTM enthusiasts, with activities commencing at 10:00 am UTC.
DaoStarter (October 12th – 15th)
Arguably the most highly anticipated event, DaoStarter, is scheduled from October 12th to 15th, starting at 6:00 am UTC.
Zelwinofficial (Date TBA)
While the date for Zelwinofficial's participation is yet to be disclosed, it's evident that $AVTM is gearing up for an impressive debut.
For those eager to secure their $AVTM tokens ahead of the crowd, the whitelist application window is open from October 10th to 12th. Here's the twist: whitelisted participants will enjoy a 10-minute head start before the general public.
The Versatile Power of $AVTM Token: Fueling the AVTM Ecosystem
$AVTM, the native token of Aventis Metaverse, serves as the lifeblood of the ecosystem, empowering users and contributing to the platform's growth. Let's delve into the wide-ranging utilities of $AVTM:
Current Utilities:
Mint NFT Products: $AVTM enables users to mint NFTs, including Learning Passes, granting access to Learn-and-Earn (L2E) courses.
Proof-of-Learning: Students are rewarded with L2E incentives, encouraging their active participation in the learning process.
Proof-of-Teaching: Education partners and trainers also earn incentives, promoting the creation of high-quality educational content.
Voting Rights: Holders of $AVTM tokens have a voice in AVTM governance, ensuring a democratic decision-making process.
Staking: Token holders can actively engage with the AVTM ecosystem by participating in pools and farms, further strengthening the community and supporting ecosystem growth.
Future Utilities:
Philanthropy: AVTM is committed to implementing a Share-to-Earn Scholarship Program and a donation mechanism, fostering inclusivity and expanding access to education.
Peer-Review Decentralized System: This innovative feature will enhance the credibility of educational content within the platform, promoting quality and reliability.
Metaverse-as-a-Service: AVTM has ambitious plans to offer a range of Metaverse-related services, expanding its reach and utility in exciting new ways.
Billboard Ad Space: The platform will provide advertising opportunities within its Metaverse, potentially creating an additional revenue stream while enhancing visibility.
Strategic Token Burning
AVTM has implemented a strategic token burning mechanism that comprises two essential methods: the Quarterly Burn and the Buyback & Burn. The Quarterly Burn involves the systematic destruction of tokens in direct correlation with the Learn-and-Earn (L2E) payout. Additionally, the platform has embraced a dynamic Buyback & Burn strategy, allocating a portion of revenue to repurchase and subsequently burn tokens. This approach creates a virtuous cycle of value appreciation, fostering a healthier and more sustainable token ecosystem.
The platform plans to destroy and burn 50% of the total token supply, equating to the elimination of 500 million tokens. The aim is to strategically reduce the token supply through these calculated methods to fortify the token's value and stability. This endeavour ultimately benefits the valued token holders and contributes to the platform's long-term success.
Now is the time to be part of this transformative leap into the future. Join the action-packed IDOs and secure your tokens at the best price before they shoot up.
Keep an eye on the social media for updates:
Website | Telegram | Twitter | LinkedIn | Medium | Discord | YouTube | Instagram |
Discuss this news on our Telegram Community. Subscribe to us on Google news and do follow us on Twitter @Blockmanity
Did you like the news you just read? Please leave a feedback to help us serve you better
Disclaimer: Blockmanity is a news portal and does not provide any financial advice. Blockmanity's role is to inform the cryptocurrency and blockchain community about what's going on in this space. Please do your own due diligence before making any investment. Blockmanity won't be responsible for any loss of funds.
---
Trending Now