Blockchain Casinos vs. Online Casinos: What's the Difference and how is the Landscape Changing
---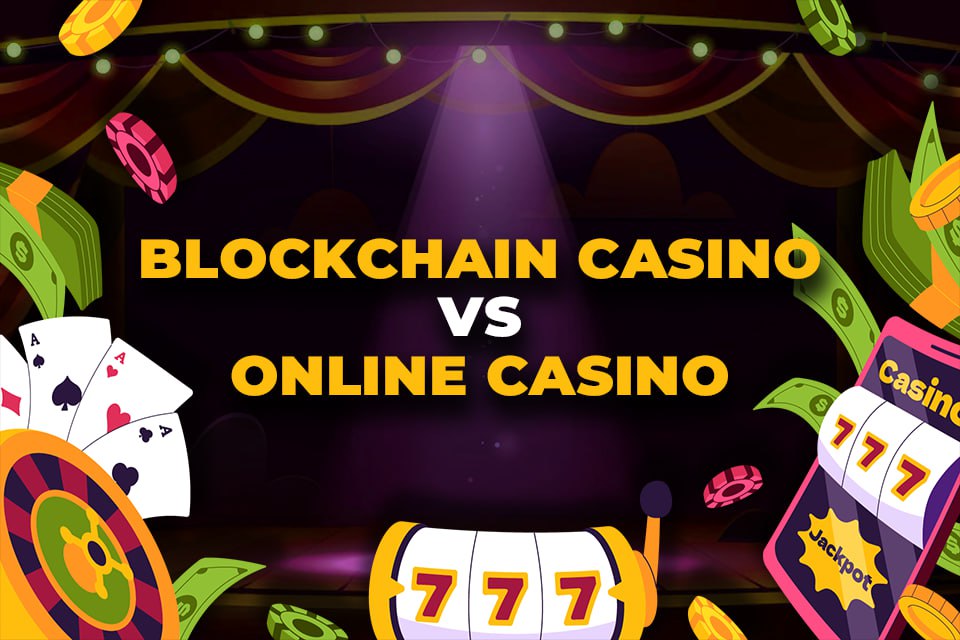 Online gambling took the world by storm during the COVID-19 pandemic, when land casinos were not available, and there was nothing much that everyone could do given the lack of accessible amenities and entertainment options, at least without risking yourself and your family's health.
Amidst this apparent meteoric rise, two types of gambling and entertainment stood against the competition, Blockchain/Crypto gambling and Online/Fiat casinos. Both catered to different users; and had unique signature offerings that set them apart from their avid fans.
Despite this, let's discuss which one's better, and how these two forms of gambling are slowly changing the industry landscape!
In the case of Online Casinos
Let's talk about Online Casinos first and foremost, as they have been in the industry for far longer than their blockchain counterpart. Matter of fact, this is one of their biggest selling points, as in the gambling world, being a long-running site/industry often means that you are reputable enough, and that you're filling a need in the industry!
With that being said, here are the pros and cons that Online Casinos bring to the casino industry
Regulation and Licensing: 
Online Casinos are oftentimes sanctioned by the law and are operating under regulatory licenses and mandates from governing bodies, both local and international. This is to better protect the consumer's interest and give players the sense of security that the casino that they are playing on is legitimate and reputable enough.
However, this added security feature comes at the cost of players giving out their personal information in what is commonly called KYC (Know Your Customer), which is needed in order to be allowed to play in most reputable online casinos in the market.
If you dare play on unregulated fiat casinos, you are oftentimes risk getting scammed or taken advantage of by the casino, as not getting regulated often means they fly under the government's radar, allowing them to effectively do whatever they want.
Limited Transparency: 
Unlike blockchain and physical casinos, it's challenging to verify the fairness of a game or an outcome in online casinos games. With the industry riddled with less than reputable casinos who employ shady gambling practices without getting detected, and with some of them deliberately convoluting the process of outcome verification, this lack of transparency makes it difficult to determine if Online Casinos are really fair, or if their games are genuinely made with the idea of transparency in mind.
The lack of a trustless verification system within Online Casinos is a big detriment, causing people to just take the casino's word for it more often than not, which isn't really much when trustless and automated systems are readily available anyway.
Large Roster of Products:

Online Fiat Casinos offer a plethora of games and services on their sites. From gambling staples like slots, card games, and dice to more obscure games like cockfighting and PVP tournaments, Online Casinos have a little something to give for everyone, which gives it a massive edge over Blockchain casinos.
Onerous Rewards

While Online Fiat Casinos offer rewards and bonuses just like their blockchain counterparts, the path to claiming and actually becoming eligible to earn these rewards are oftentimes too difficult to even bother trying, making rewards and bonuses in Online Casinos more of an afterthought rather than an essential feature that should be implemented well for the sake of the player.
In the case of Blockchain Casinos
What blockchain casinos lack in tenure since most of these casinos have just existed right before or during the COVID-19 Pandemic, they make up for security, rewards, and other nifty benefits.
Some of the unique features that Crypto/Blockchain Casinos boast of are:
Provably Fair Gaming: 
Blockchain casinos implement a feature that they call a "provably fair" game. For games with randomized outcomes, every player could verify the authenticity of a result by checking the cryptographic algorithms and seed values used in the game's RNG (Random Number Generation) Process.
This makes every game as honest and as trustworthy as it can be. You can check the inner workings of every outcome without fail, cementing Blockchain Casinos as one of the most trusted forms of casinos in the market.
Transparency and Security:
Blockchain offers transparency in the way that it is utilized. For example, a record of past gameplays and transactions is kept for the user's reference. To top it all off, each transaction made within the casino is listed and recorded on a blockchain for more transparency.
This allows players to verify the fairness of each game and secure them from bad actors in the industry by providing immutable evidence should something awry come up.
In that regard, let's talk about Security!
On the other hand, the decentralized nature of blockchain makes it stupendously hard for bad actors in the industry to tamper or get access to player funds and gameplay. Instead of being saved on a central server, most blockchain casinos save player data and progress on a decentralized node, fending off hackers, scammers, and other crypto criminals.
Bonuses: 
While bonuses could also be given by Online Fiat Casinos, it's way more prevalent in Blockchain Casinos for some reason. Deposit bonuses, VIP rewards, loyalty programs, and milestone achievements are common forms of bonuses that blockchain casinos. There was even a point where most blockchain players would expect newly-founded cryptocurrency casinos to have some form of bonus prize they give to newer players.
Less Variety:
Since the industry's just taking its first steps in the wild, there's a limited selection of fun games to play in a modern blockchain casino, which is a bummer to many since there's a sizable demographic of people who are into obscure types of games, plus the fact that variety in itself is just a testament to how dedicated a casino is in catering to every type of player no matter the preference.
So which one is really better? 
While the "better" choice depends on an individual gambler's needs and preferences. Some players just like the variety and the ease of payment channels, while some would much prefer security over the chance to play tons of games.
So all in all, the choice of finding a "better" casino between the two is a subjective topic, with answers varying from every type of gambler that you encounter.
Amidst all this debacle between who's the best and who's not, a worthy contender for "the best casino" is rising from the ranks to offer the best of both worlds for every player, without compromise, effectively becoming the game-changing innovation that the industry needs!
Funarcade.io, offering the best of both worlds!
Funarcade.io is a new face and name in the gambling world, but don't let this distract you from the fact that they are on their way to revolutionize the gambling world by reconciling epic features that are found in online and blockchain casinos!
Some of the features that funarcade.io offers are the following:

No need for KYC:

Yep, you read it right! KYC is a no-no for funarcade.io and its dedicated playerbase! This all means that players can still enjoy a trustworthy casino, without the need for pesky verifications that require them to disclose sensitive information about them!
Gone are the days when you had to pull an ID and jot down every identification detail about yourself, with funarcade.io, you get to enjoy gambling, with no data disclosure needed!
Web2 and Web3 Integration
At the heart of funarcade.io is the integration of web2 and web3 gambling principles, creating a product that offers the best of what these two concepts could offer! For instance, akin to regular casinos they offer a massive roster of games and offerings.
At the same time, they also commit to providing profit distribution through Player Incentive Programs, Staking, and more, all of which are cryptocurrency offerings that you can never find elsewhere!
Provably Fair and Transparent
Security and fairness is king when it comes to funarcade.io as seen with their integration of provably fair gaming, as well as blockchain concepts that allow players to get complete transparency over every outcome that happens during their games!
This altogether allows for a more honest and trustworthy environment within funarcade.io and with the introduction of lotteries in the future, they're bound to also include smart contracts to the mixture, making the process of playing, winning, and claiming your prize in their website an efficient, fun, and consistently improving process!
So with all this being said, perhaps the question shouldn't be "which is better between crypto and online casinos?" The question should perhaps be "Why is Funarcade.io the best type of casino you'd ever experience yet?"
Incorporating awesome utilities and benefits that are found from these two preexisting casino types, funarcade.io shows potential, and a promise to revolutionize the way you gamble in the virtual landscape!
Discuss this news on our Telegram Community. Subscribe to us on Google news and do follow us on Twitter @Blockmanity
Did you like the news you just read? Please leave a feedback to help us serve you better
Disclaimer: Blockmanity is a news portal and does not provide any financial advice. Blockmanity's role is to inform the cryptocurrency and blockchain community about what's going on in this space. Please do your own due diligence before making any investment. Blockmanity won't be responsible for any loss of funds.
---
Trending Now