Crypto Derivatives Exchange Tokens Compared Delta Exchange Token (DETO) Compared to FTT & BNB Token
Posted On August 16, 2021
---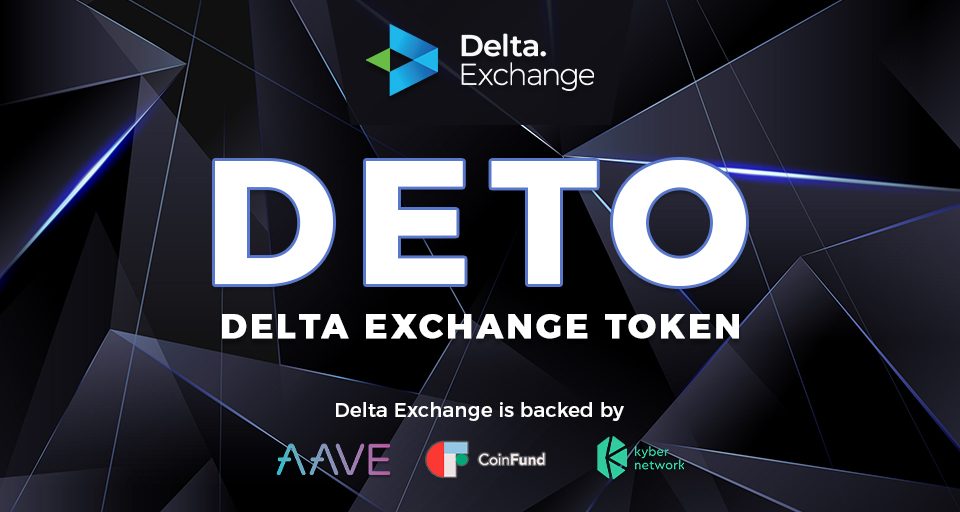 Crypto derivatives Exchanges depend heavily on the native tokens to provide a completely liquid, decentralized experience for their users. At Delta, the native DETO token forms a crucial part of the decentralized derivatives ecosystem. These tokens not only incentivize providing liquidity, but are also an integral part in motivating trades, and referrals, along with giving the users a way to earn more tokens in the form of staking.
With that in mind, we wanted to take a deeper look at the DETO token, and compare it with other crypto derivatives exchange tokens, and see how it fared. Let's take a look.
DETO vs FTT vs BNB – The Numbers
Here's a direct comparison of the numbers between the three tokens
| | | | |
| --- | --- | --- | --- |
| Basis | DETO | FTT | BNB |
| Max Supply | 750 million | 350 million | 170 million |
| Total Supply | 500 million | 338 million | 170 million |
| Current Supply* | 16.74 million | 127 million | 154 million |
| Current Price* | $0.312853 | $45.98 | $406.80 |
| Token Type | ERC 20 | ERC 20 | ERC 20 / BEP 20 |
| MSP (Minimum Support Price) | Yes | No | No |
| Fee Discount | 25% | 3 – 60% | 25% |
| Liquidity Mining | Yes | No | No |
DETO the Fundamentals
DETO, the native token of Delta Exchange, allows its token holder to participate with and take a share of Delta's growth. Users of Delta Exchange can earn DETO (by either performing trades, referring friends or through liquidity mining) and stake their DETO to earn an attractive yield. Since the value of the token is directly proportional to the revenue earned by the platform, it allows users to take a direct cut of Delta's profits, participating in the growth of the platform.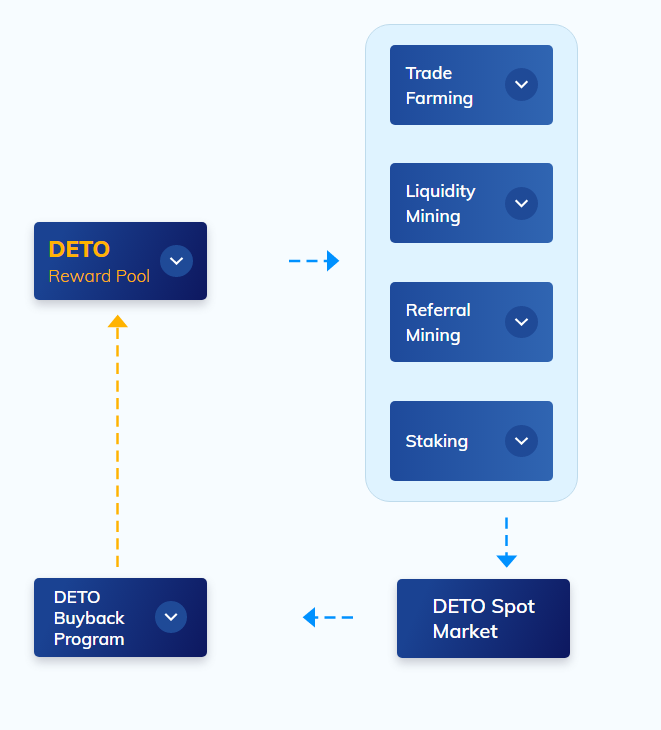 DETO powers an incentivization programme that will help create a growth loop, since these incentives drive growth, and this growth increases the value of incentives.
DETO can be used for paying fees in the platform (minimum support price of 0.10 USDT), as a margin for trading within the platform, or even to provide liquidity and trade DETO settled financial products. You can even convert your DETO to fiat or crypto of your choice, with the help of the DETO spot market (not to mention the buyback program – 25% of Delta's revenues will be used to buyback DETO, replenishing Delta's Treasury). As of March 2021, users are able to freely use the trade-farming and referral-mining methods to earn DETO, with other features coming soon to the platform.
The total supply is hard-capped at 750 million DETO, which will be reached a whole two and a half years after the initial circulation.
Keep an eye on DETO page for further updates.
Now with the fundamentals of the token done, let's take a look at how the token compares with other crypto derivatives exchange tokens.
DETO vs BNB
To begin with, we compared our native DETO with Binance's BNB token to see how we fared. Let's take a look at the differences between the tokens.
Acquisition of tokens – With DETO, platform loyalty is rewarded, as there are no public sales and tokens can only be earned. However, with BNB, anyone can buy BNB at any point, impacting the incentives provided to long term platform loyalists
Buyback – While both platforms have made use of a buyback model, only 20% of Binance's revenues are used for this purpose, as opposed to the 25% on offer by Delta
Utility – BNB tokens can be used for different purposes, on and off the platform, while DETO's utility is limited to utilization on trading fees and conversion to fiat or other cryptos.
These differences are a direct result of the different purposes of each token. While BNB aims to power the entire Binance ecosystem, DETO's purpose is to serve as a loyalty and growth incentive for the platform.
DETO vs FTT
Another extremely popular Crypto derivative exchange is FTX. They use a native token called FTT powering their ecosystem and is extremely similar to what Delta offers. However, we observed the following key differences.
Buyback and Burn vs Buyback and Replenish – FTT aims to capture value through a buyback and burn program, creating a somewhat deflationary trend, while Delta aims to create a growth-incentive loop with DETO replenishing the treasury (reward pool) with the bought back DETO.
Methods to earn – The primary methods to acquire/own FTT is by buying it through the spot exchange and not by incentivizing mechanisms such as liquidity mining, or trade/referral mining like in the case of DETO.
Conclusion
Though all these tokens adhere to the same ERC-20 standards, they are definitely not equally created tokens. With DETO, the objective of the token is extremely clear, simple and straightforward – to provide an incentivization program to help create a growth loop, directly benefiting the users of the platform and the Delta community as a whole.
DETO is certainly the best way to trade in Delta Exchange, as it offers alluring fee discounts, along with the ability to be used as a margin for trading and settling financial products.  If you're new to the Delta community, feel free to check out our website, blogs, and our telegram community, to gain any and all updates in the crypto derivatives space.
Disclaimer: Blockmanity is a news portal and does not provide any financial advice. Blockmanity's role is to inform the cryptocurrency and blockchain community about what's going on in this space. Please do your own due diligence before making any investment. Blockmanity won't be responsible for any loss of funds.
Get the latest news on Blockchain only on Blockmanity.com. Subscribe to us on Google news and do follow us on Twitter @Blockmanity
Did you like the news you just read? Please leave a feedback to help us serve you better
---
Trending Now