I Watched a Painting Burn then Re-emerge as an NFT
---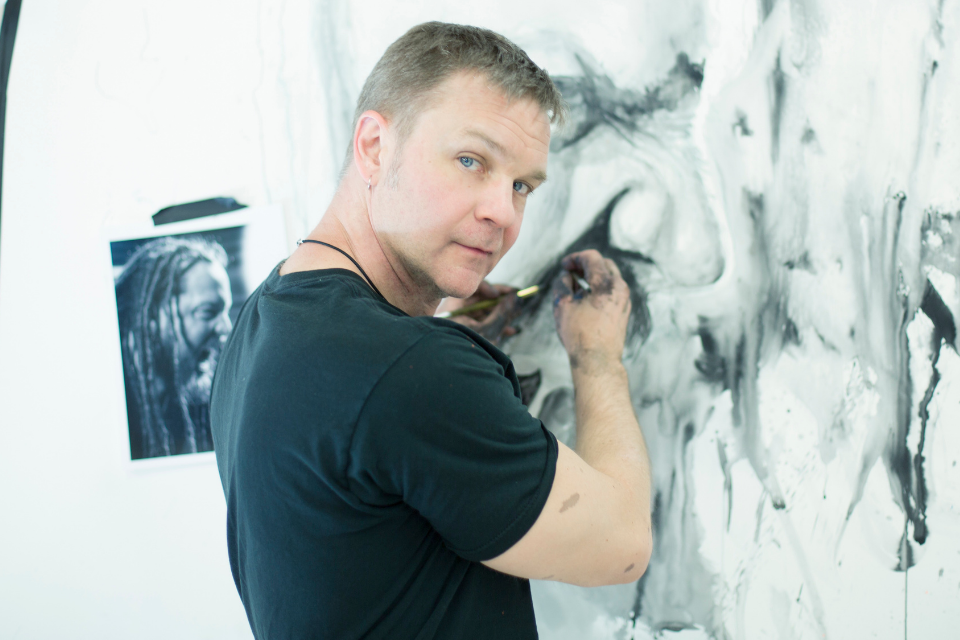 When NFT technology started back in 2015, I was just as much a skeptic as anyone else, mainly because it initially seemed complicated. After all, it is a unique digital token, but isn't a cryptocurrency. Yet like cryptocurrencies, NFTs are recorded on digital ledgers for the sake of listing who owns each one. What makes NFTs special is the fact that digital assets are tied to each token, which also explains the recent virality of the technology. The digital assets-turned-NFT can be anything from music (such as the Kings of Leon album), to tweets (such as the very first tweet), to memes (such as the "Disaster Girl" meme). I warmed up to NFTs as time went on, especially since the past year as the tech has been used by creators to sell and finance their projects by casting wider nets.
Freshly made NFT right before my eyes
My interest reached new heights this past May, during an event by decentralized film financing company, Mogul Productions. In this NFT Livestream event, Marvel and DC Comics Artist Rob Prior, set a physical painting of his on fire, to re-emerge as a digitized ERC1155 NFT, which was auctioned exclusively on the Mogul platform for 24 hours. The painting was symbolically inspired by The Wolf of Wall Street, thereby serving as a metaphor of the addition of art and Wall Street into the blockchain realm.
This was far from being a one-shot-deal. During the event, Prior also unveiled his next two NFT drops, including a Marvel-inspired Deadpool rendition and a Star Wars painting of Luke Skywalker. Naturally, attendees went wild over his artistic genius, and the event itself surely worked wonders for the organizers as well. Mogul Productions launched their platform earlier this year and already had nearly 50,000 users before the NFT Livestream, which certainly spiked soon after. According to the event recap, the NFT of Prior's painting, which was the first ever NFT sold on Mogul's platform, sold for 5,500,000 STARS tokens, or ~$182,050 USD.
The future's looking brighter than ever for NFTs
If you're curious about just how much people might be willing to shell out for NFT's, you're in for a surprise. Mike Winkelmann, the digital artist known as Beeple, sold his "Everydays – The First 5000 Days" NFT for a record-breaking $69 million. This NFT hype is not slowing down, as collectors are taking notice and have poured $90 million into NFTs and digital collectibles companies so far in 2021. Joel Comm of the Bad Crypto Podcast says, "We're going to see a lot of musicians' merch go digital in the form of NFTs." His sentiments are echoed by Dan Crothers of ECOMI, and Veve, who was a guest speaker at the event. Crothers said, "People are going to want and demand and chase these rare digital icons in the real world."
NFT's are clearly proving to be lucrative for creative minds. It's still too early to tell just how profitable they can be for DeFiFi in the long term, but the signs are looking good. As stated by Erman Tjiputra of the AIOZ Network, "NFTs create a whole new paradigm shift in entertainment financing." Mogul Productions connects creators, movie fans, and film financiers in one space to ensure the best films get made by giving everyone a voice. It's inherently creating an entire movement by giving power to the people, with NFTs serving as one of the verticals. Prior to the livestream, Lisa Sun, the Founder and President of Mogul Productions, stated that the event "signifies the upward trajectory of NFTs as they continue to solidify their transformative value in the entertainment industry." This is where we sit back and stay tuned as the technology continues to unfold and more widely adopted. I'm having the feeling that we as a collective have barely scratched the surface when it comes to the power and potential of NFTs.
Disclaimer: Blockmanity is a news portal and does not provide any financial advice. Blockmanity's role is to inform the cryptocurrency and blockchain community about what's going on in this space. Please do your own due diligence before making any investment. Blockmanity won't be responsible for any loss of funds.
Get the latest news on Blockchain only on Blockmanity.com. Subscribe to us on Google news and do follow us on Twitter @Blockmanity
Did you like the news you just read? Please leave a feedback to help us serve you better
---
Trending Now