OKB, BNB, KCS, and HT: Which one is better?
Posted On October 31, 2019
---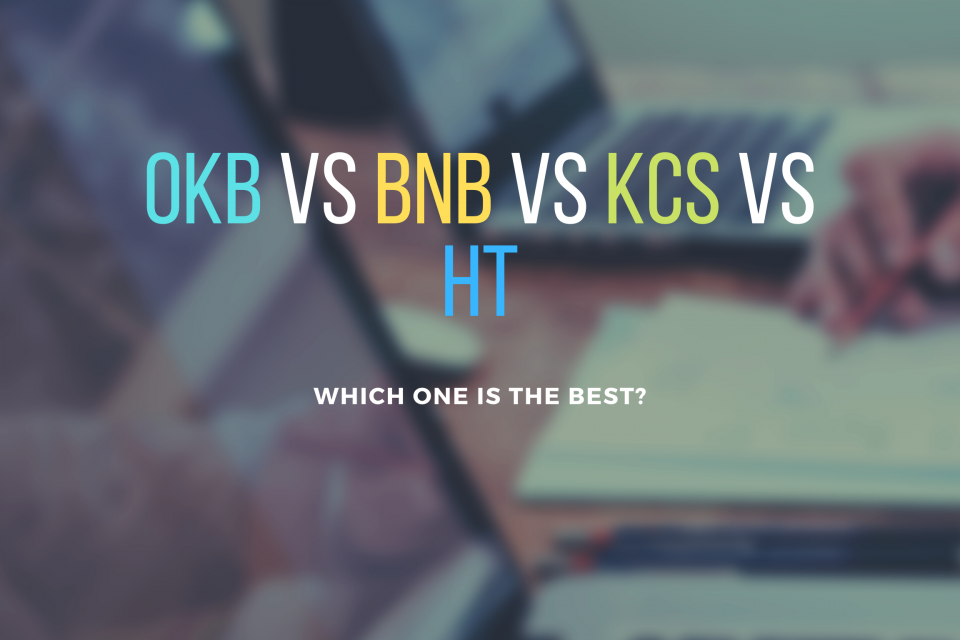 The year 2019 has proven to be a very happening one for the crypto community, with the market expanding despite the uncertainty and the volatility. Also, Facebook's libra announcement has helped cryptocurrencies gain some legitimacy and has turned a lot of skeptics into potential proponents. More and more people are now talking about the possibility of virtual currencies ushering in disruption to the traditional financial system. When that happens, crypto exchanges will emerge as major trading hubs. They facilitate cryptocurrency trading. Now, in addition to that, they are also developing their own native coins. It is enabling them to grow their user base and raise funds as well.
Exchange users enable the development of a crypto-exchange ecosystem when they invest in its digital token. In return, they get a trading fee discount, some governance rights, and other rewards. They also benefit from the exponential increase in the value of the native tokens, as the crypto exchanges implement several strategies to boost their value.
Let's take a look at the native coins offered by the top four crypto exchanges.
OKB is the native coin of OKEx, the top cryptocurrency exchange in terms of derivatives monthly volume. The Malta-based crypto exchange's token ecosystem aims to act as a base token that global blockchain teams can use for the development of a global ecosystem.
OKEx's native coin has a considerable user base as it can be used in several applications on the exchange. There is soon going to be a significant increase in the number of users, as OKB holders can use their tokens to buy a subscription of BitTorrent. The popular peer-to-peer file transfer protocol has millions of users. Also, LinkEye, the digital asset credit financial service platform, allows its users to use OKB for wealth management and lending services. KCASH, a multi-chain digital wallet, and Molecular Future, a financial platform, too, now support OKEx's native coin.
OkEx recently partnered with three prominent security companies, Slowmist, Beosin, and Certik, to secure its exchange for its users who hold its native tokens. Thanks to these partnerships, they can now use OKB to purchase services and protection offered by the three companies.
OKB has been one of the best performing digital tokens this year, capturing a decent market share. In July of 2019, it surged 163 percent. Many believe that OKB will continue to see growth as it has huge potential. Some crypto experts are predicting that the OKEx's token could grow by over 1500 percent until 2020. As of Oct. 25, 2019, OKB has a market cap of $ 47.60M; it is trading at $2.38. Currently, 20 million are in circulation out of the total 300 million.
BNB, or Binance Coin, is the native token of the popular crypto exchange Binance. Its users can use it to get trading discounts on the exchange. However, the discount rate decreases over time, and the users get no discount after the fourth year. Moreover, Binance users can use BNB to pay a trade fee and withdrawal fee on the exchange. They can also make in-store payments. And, they are allowed to trade BNB for other cryptocurrencies as well.
The value of BNB drops because of the decrease in trading discount. To stop its depreciation, Binance has created a process called "Burn." It destroys BNB each quarter based on the trading volume on the exchange. The plan is to continue destroying until 50 percent (100 million) of the total BNB supply is burned. Binance intends to keep only 100 million BNB in circulation, which will increase its value. On October 17, 2019, Binance announced that it completed its 9th quarterly token burn, burning 2,061,888 BNB.
As of Oct. 25, 2019, BNB has a market cap of $2.67 billion; it is trading at $ 17.22. There are currently 155.54 million in circulation out of the total 200 million. BNB's value is expected to reach $390.815 by the end of 2020.
KCS (Kucoin Shares)
KuCoin's ecological token is KuCoin Shares, or KCS. Both OKB and BNB are the utility tokens, while KCS is a propriety token. The KuCoin exchange uses 50 percent of the total trading fees it earns to buy KCS from the market, and then it redistributes them as a bonus to KCS holders who have at least 6 KCS. It also rewards them by offering a trading fee discount and very low withdrawal fees. And, they automatically qualify for KuCoin's exclusive promotions, offers, and other rewards. Holders of KCS can trade it for ETH, BTC, USDT, NEO, DRGN, and LTC.
According to price prediction, KCS is up for a long-time increase in its price value. It is expected to increase by 1126 percent in the next five years. As of Oct. 25, 2019, KCS has a market cap of $ 103.94 million; it is trading at $1.18. Currently, 87.80 million are in circulation out of the total 200 million. And, out of the total 200 million, 100 million are with the founding team and early investors, while the other 100 million are publicly available to the users.
HT (Huobi Token)
Huobi Global's native token is Huobi Token, or HT. Like users of other native tokens, HT users, too, get trade discounts and special access to certain events. And, the HT Lock & Mining Operations reward those HT users who lock their HT. For this, the exchange incorporates all the HT that it owns into HPT airdrop reward computation.
Out of a total of 500 million tokens that it has released, the exchange plans to give away 300 million as gifts for purchasing Point Cards. 100 million is reserved as team incentives and subject to a 4-year vesting schedule; from this, 25 million HT tokens are unlocked every year. The exchange uses the remaining 100 million for user rewards and platform performance.
Also, it is committed to using 20 percent of the revenues to repurchase its native tokens and burn them every quarter.
As of Oct. 25, 2019, HT has a market cap of $766.83 million; it is trading at $3.17. Currently, 241.42 million tokens are in circulation out of a total of 500 million. HT is a long-term profitable investment, with its value predicted to touch $5.379 before the end of 2024.
Disclaimer: Blockmanity is a news portal and does not provide any financial advice. Blockmanity's role is to inform the cryptocurrency and blockchain community about what's going on in this space. Please do your own due diligence before making any investment. Blockmanity won't be responsible for any loss of funds.
Get the latest news on Blockchain only on Blockmanity.com. Subscribe to us on Google news and do follow us on Twitter @Blockmanity
Did you like the news you just read? Please leave a feedback to help us serve you better
---
Trending Now