What are some of the security issues with blockchain?
Posted On September 1, 2021
---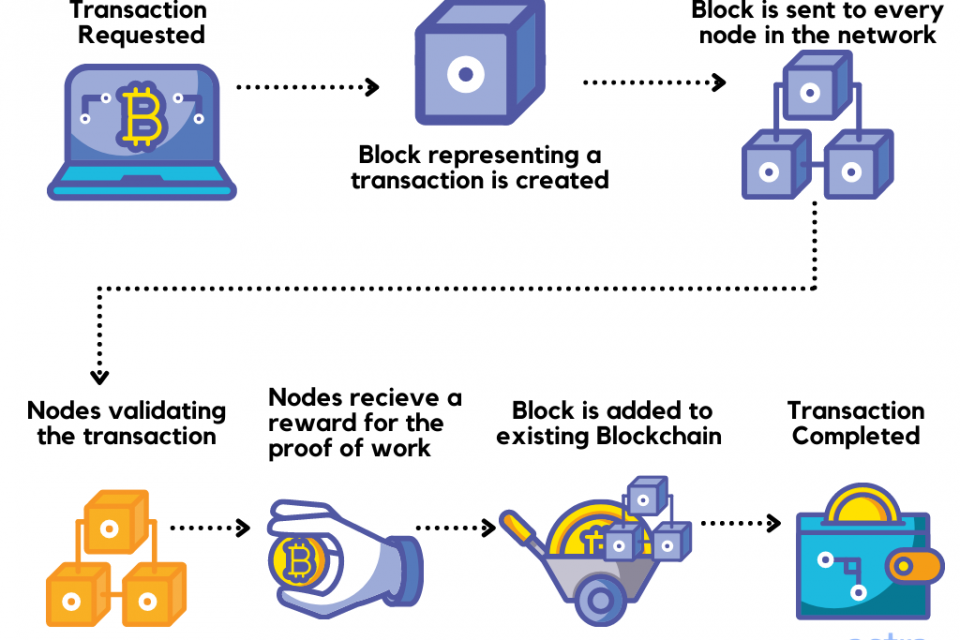 The blockchain is a decentralized, immutable ledger that can be used to track and verify transactions. It has the potential to make many aspects of our lives more efficient. However, blockchain does have its security risks. This blog post will go over some of the common security issues in blockchain so you can be aware of them!
What is blockchain and how does it work?
A blockchain is a decentralized, distributed ledger. This means that the blockchain is not controlled by one entity and data in the blockchain cannot be manipulated or altered without consent from all parties within the blockchain network.
Anyone can use their computer to verify transactions on a blockchain via mining if they choose to do so. Mining involves solving complex mathematical puzzles and submitting proof of work when solved correctly which will add another block onto the chain (hence where it gets its name). The more blocks added after your own, the harder it becomes for someone else to alter any information stored within them; therefore creating security using cryptography through hashing functions . Transactions are verified multiple times before being confirmed/added into each new block created. Different types of consensus protocols help achieve this agreement.  For blockchain to work, security is extremely important.
Real life examples of blockchain use cases include:
Blockchain based cryptocurrency (most well known is Bitcoin)
Blockchain platforms for the exchange of value and information like Ethereum, NEO, etc.
Supply Chain management
Smart contract
Sell digital art in the form of NFTs
and many more like governance etc.
What makes blockchain secure? The pros of blockchain
Blockchain has minimal security issues because of its decentralized, distributed nature. Some examples include why blockchain is secure include:
Using public-key cryptography for user authentication and access control
Cryptographic hashing functions to ensure the immutability of data stored on a blockchain
Encryption within transactions ensures privacy
The consensus protocol used by each blockchains network must perform a majority vote in order for any changes to be made before they are added/verified onto the chain This is done through validating all previous blocks with existing ones, therefore creating an entirely new history for users behind these nodes or miners verifying them. If anyone attempts to tamper with old transaction information (i.e trying to make an older transaction invalid), this will cause the entire chain containing that  block to be invalidated.
Difficulty in creating new blocks on a blockchain determines how hard it will be for someone else to tamper with data within them (i.e mining), therefore making the network more secure. Blockchain security is something that needs to be closely monitored and maintained, but overall has many benefits over traditional databases due its decentralized nature.The benefits of blockchain outweigh its security risks.
Some security issues with blockchain:
Blockchain security is an ever-changing field due to its nature of being decentralized. New attacks are constantly being discovered and it's important for users/companies using blockchain technology to stay up-to-date with these issues so they can take the necessary steps in order to mitigate them. Some examples of blockchain security issues include:
51% attacks: if more than half of the computing power on a blockchain network is controlled by one entity, they can rewrite history and potentially double-spend coins.
Replay Attacks: If an attacker manages to get their hands on your private keys or any other information that would allow them access into your wallet, this could be used to initiate a transaction on your behalf and send coins without you knowing.
Phishing Attacks: An attacker could fake an exchange or wallet login page in order to steal information about users, such as passwords/usernames etc.
Quantum Computing: As technology continues to advance at the rate it is going now-a-days (i.e the creation of Quantum computers), this may put a threat towards some blockchain security measures, such as hashing functions.
As discussed before, a lack of centralization makes each individual block more susceptible as there is no one entity "in charge". The Consensus protocol forms trust among all parties involved within the network which ensures that data stored on a blockchain cannot be manipulated or tampered with without consent from everyone else within said network. While this helps keep information secure, it also means if someone gains access onto any node (i.e through hacking) this could potentially mean they now have access to view and make changes on the entire blockchain.
Blockchain security is a crucial issue that everyone must be aware of. With new technology being created every day, there will always be a danger to it in some manner or another, which means keeping up with any new security concerns is a must.
Future implications of using the blockchain technology
Blockchain technology is a relatively new concept, therefore many of the implications it has on our society are still yet to be seen. With its decentralized and immutable nature comes an array of benefits that could potentially help improve safety measures when storing data within companies/organizations as well as creating trust between different parties in regards to financial transactions without having to rely on any sort of third-parties for validation (i.e banks).
While most people see blockchain security issues as a downside or disadvantage towards the advancement of this technology, these concerns also come with their own set of advantages such as improved privacy measures which provide anonymity through encryption built into each transaction. The fact that there is no central authority controlling stored on blockchains means users have greater control over their information and only they can make changes to it as opposed to relying on a middle-man, which is something that will help shape the future of blockchain technology.
It's a great idea to know how blockchain is typically secure and what are the common misconceptions. But, don't think that it's perfect because there have been hacks causing losses worth millions of dollars. If you want your business to be more safe on the internet then take care of all the details related to security like strong passwords, 2-factor authentication etc. Anything online can get hacked. Blockchain is not a perfect technology and it has been hacked before. Though it takes security standards to the next level from what they were in the first two decades of the internet.
Disclaimer: Blockmanity is a news portal and does not provide any financial advice. Blockmanity's role is to inform the cryptocurrency and blockchain community about what's going on in this space. Please do your own due diligence before making any investment. Blockmanity won't be responsible for any loss of funds.
Get the latest news on Blockchain only on Blockmanity.com. Subscribe to us on Google news and do follow us on Twitter @Blockmanity
Did you like the news you just read? Please leave a feedback to help us serve you better
---
Trending Now