What's Funarcade Cooking Lately?
Posted On September 27, 2023
---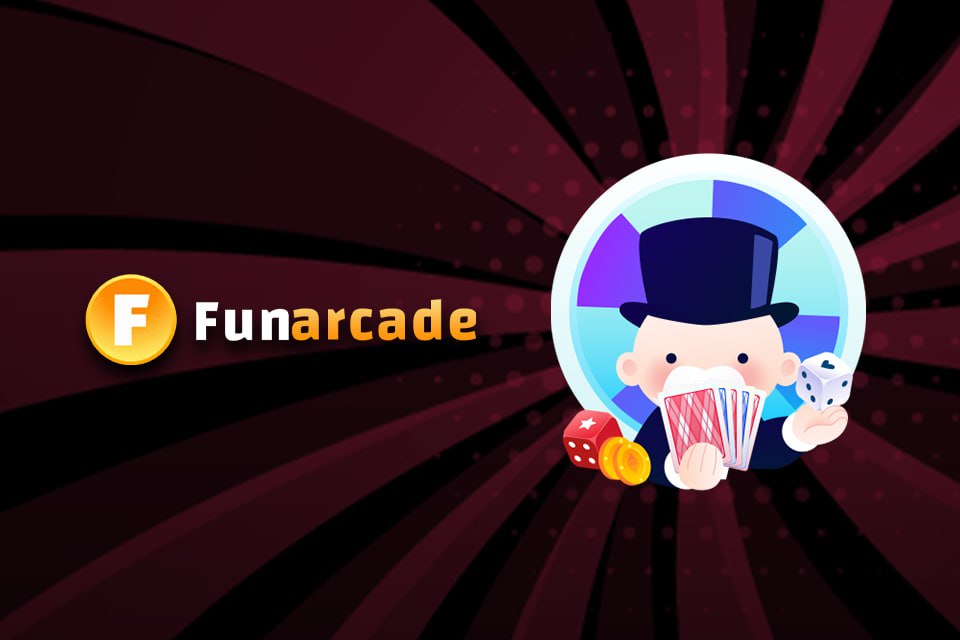 Imagine the glitzy lights, the tingling excitement, and the clinking of coins in a casino. Gambling has been a source of thrill and entertainment for decades. But, what if I told you that there's a new player in town that's about to revolutionize the online casino industry?
Enter Funarcade– the sizzling-hot blockchain technology innovation that's set to take the world of gambling by storm, and they're taking their first big steps into this magnificent goal!
We're going to explore Funarcade in a way that even your grandma can understand. We'll break down how it's changing the game and highlight its unique features that make it a sizzling addition to the world of blockchain-powered casinos, and of course, we're going to loop you in as well with what's up with the fastest growing and most anticipated blockchain casino of this year!
Funarcade: A Slice of the Blockchain Pie
Before we dive into what makes Funarcade unique, let's talk about the concept of blockchain technology.
Think of blockchain as a digital ledger, like a virtual notebook, that records transactions in a secure and transparent way. It's the technology behind cryptocurrencies like Bitcoin, and it's changing industries left and right.
Funarcade harnesses the power of blockchain to bring transparency, fairness, and innovation to the world of casinos. This is a big deal because traditional casinos have always had their fair share of doubts and suspicions. Blockchain ensures that every move, every bet, and every win is recorded securely, leaving no room for manipulation.
Unique Features of Funarcade
PIP, Funarcade's Primary Profit Sharing Model:

One of the standout features of Funarcade is PIP. One thing you should know about Funarcade is that they make it a point to put the welfare of the average gambler at the top. Features that would put them at a pedestal, like their very own PIP model which shares as much as 20% of what the casino rakes in as profits back to its customers is just one of the things that make this one-of-a-kind gem sparkle against the competition!

Staking eSFAT:

Staking eSFAT is like putting your money where your mouth is, but in a smart and secure way. When you stake eSFAT (Funarcade's native token), you're basically putting your money to work, so you earn consistent profits from the money you're holding while you're out there having fun with Funarcade's massive gallery of games!

Product Bankrolls:

Think of product bankrolls as the heart of Funarcade. It's where all the action happens. With product bankrolls, you can invest in various products and earn the lion's share of the profits. It's like becoming a shareholder in a casino, but without the complicated paperwork.

Accounting Portal:

The accounting portal is your personal investigator/bodyguard within Funarcade's comprehensive and user-friendly platform. It gives you all the data you need, win-loss history, amount of bets and how much was staked, every single penny you spent and every single action you did within the site, all was recorded for verification and security purposes.

Funarcade's particularly proud of this feature, mainly because they are the only ones in the whole online casino world to ever think and implement a feature that's so intuitive and helpful, you'd wonder how the whole gambling world went on without it in the past!
Zero restrictions

A lot of us are a little iffy when it comes to sharing our personal information over the internet, which is why many see KYC as a cumbersome process that's not needed anyway. But considering there's no good alternative at the time, we really had no choice.

Funarcade comes with zero restrictions: no KYC needed, no georestrictions, no minimum withdrawals, and super low bet requirements.

It's always a trouble for these casinos to push users upon using their utility tokens, but Funarcade solved this by introducing its novel method of reward point accrual for PIP shares. Reward points are accrued at the same rate whether you play in $FAT (Funarcade's Utility Token) or USDT – encouraging demand for $FAT and also its price growth. Do you want more rewards as a user on Funarcade? Just keep on using $FAT and you're getting those oomphs in rewards—no questions asked.
Funarcade Games

Part of being "one of the best" is actually proving to the people that you are deserving of that moniker. And what better way to show that than to present commercially-appealing games for a gambling platform like Funarcade!
Research and Development was done carefully to provide you only the most necessary and most wanted games in a gambling casino, but don't go thinking this is going to limit the amount of games that Funarcade's going to roll-out, as more will come in the future!
With that being said, how about we take a look at some of the games that they boast of right there in Funarcade?
Baccarat: The textbook card game where you'll have to bank on your luck and your strats to get higher scores against your opponents! Each card has its own value/denomination that will be added towards your hand, the highest last digit score (0-9) wins the game!
Crash: Think of it like trading, but gamified! With Crash, you're betting on the outcome of a rocket that's jetting itself from across the grid. Bet right and you'll win a prize, bet on the wrong outcome and you lose.
BlackJack: Much like Baccarat, the cards in BlackJack are valued, but now, the closer you get to 21 points, the better for you! Rack as many points as you can but the closest to 21 points will always win the game!
Dice Roll: Roll the dice and predict the points, if you guessed right, you win! The game is primarily based on chance, so if you want to win big, bank on your luck!
Hi-Lo: A basic guessing game where you'll have to predict whether the score/numbers will go higher or lower than the previous outcome. Fast-paced and easy to pick up, Hi-Lo is a great game to start your gambling journey with, especially if you're not keen on information overload.
Money Mountain: Funarcade's awesome take on the classic "minesweeper" genre. Set in a mountain where you're tasked to mine for precious prizes, you'll have to avoid mines and progress, each climb harder than the previous one!
Why Funarcade Matters
Funarcade matters because it's not just about making gambling more fun anymore at this point; it's about making it more fair, secure and equitable for the community. It brings blockchain technology into the world of casinos, ensuring that everyone has a fair shot at winning. No more hidden tricks up the casino's sleeve, only the guarantee that you're getting what you signed up for, and even more thanks to profit sharing features you can't find anywhere else in the world!
Plus, with features like PIP, Staking eSFAT, Product Bankrolls, and the Accounting Portal, Funarcade adds a unique flavor to the casino experience. It's like going to your favorite restaurant and discovering a new, delicious dish on the menu, and getting rewarded for actually trying those new dishes out!
As the gambling industry transitions to the GambleFi Trend, Funarcade will continue to be the industry's forefront leader in pushing for this concept, giving every user out there the sense of security, knowing that their fave casino's staying at the top of their game for the years to come!
What's Up With Funarcade Nowadays?
If there's one thing about Funarcade, it's always staying on top of its game. After years of careful dev work, as well as virtual blood, sweat, and tears, they are proud to officially announce that their main gambling platform's going to be launched on October 2, 2023!
A massive event warrants a massive celebration, so why not hop on over to their social media channels to stay on top of news and updates about this monumental event in gambling history?
Wrap Up
Funarcade is the next big thing in the world of gambling, and it's cooking up a storm. With blockchain technology at its core and a buffet of unique features, it's set to revolutionize how we experience casinos. So, if you're looking for a more transparent, fair, and exciting way to enjoy the thrill of gambling, make sure to check out Funarcade. It's not just a game changer; it's a game revolutionizer!
Discuss this news on our Telegram Community. Subscribe to us on Google news and do follow us on Twitter @Blockmanity
Did you like the news you just read? Please leave a feedback to help us serve you better
Disclaimer: Blockmanity is a news portal and does not provide any financial advice. Blockmanity's role is to inform the cryptocurrency and blockchain community about what's going on in this space. Please do your own due diligence before making any investment. Blockmanity won't be responsible for any loss of funds.
---
Trending Now