QuarkChain's Anthurine Xiang: Ethereum and EOS are trying to make a faster chain, without realizing there's a limit
---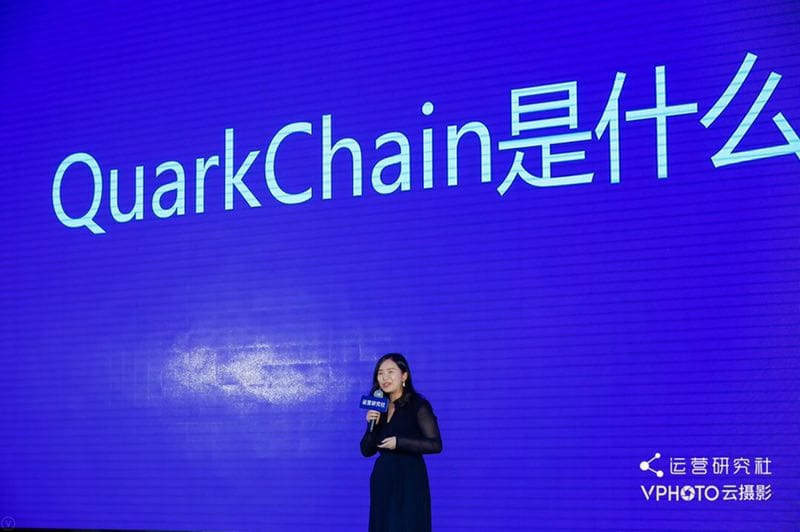 QuarkChain is a relatively new project in the cryptocurrency space. Founded in 2017, and did the impossible task of raising funds in 2018 bear market, QuarkChain has become a good project in the eyes of its investors. The blockchain is currently valued at $42 million and has a daily trading volume above $9 million.
We had a chance to catch up with Ms. Anthurine Xiang, the CMO of QuarkChain. She shared some good insights regarding QuarkChain and why it's set to become a big player in the blockchain space.
Blockmanity: Initially you worked at Wall Street and Silicon Valley. What attracted you to the blockchain industry?
Anthurine: So you see, I have a combined background of finance as well as technology, a really good combination. I knew about Bitcoin for quite a while, but I did not know about blockchain before 2017. While I was working at a tech company in Silicon Valley,  one of my colleagues introduced me to blockchain technology and immediately I found it groundbreaking.
At that point, I had just started investing in cryptocurrency (namely Bitcoin and Ethereum) and also started helping cryptocurrency projects in their marketing in Silicon Valley. One of my colleagues started pitching this project – QuarkChain and he invited me to join as there were only 2-3 engineers.
Back in 2017, when I first joined the blockchain industry it was full of scam projects everywhere. But as I look at the industry now, it has matured and we can see a lot of good projects in the industry. I know many engineers from Google and Facebook looking joining this space.
Blockmanity: You had raised funds in 2018, how hard was it to raise funds in this bearish market?
Anthurine: It was really hard to raise funds in the 2018 market. We started raising money in February 2018. I remember we had a very small investment before April. But in April the story changed. The markets were better than February and March. We were also getting noticed at that time.
A lot of projects were doing Airdrops at that time, we decided not to do an Airdrop. We already had a testnet by March 2018, and we invited a few engineers and media and did some transaction in front of them. The transactions were really fast.  And, the media posted a few articles about us and the engineers started promoting our project through word of mouth. And that's how we got initial traction.
One thing that helped us raise funds, is our unique approach to the scalability problem. We are solving the scalability problem using "Sharding".
Sharding is not new. Back to 2010, every major tech company was doing scalability using a clusters machine. But it didn't work out as it was expensive and efficient. That's when the idea of on-demand scaling was implemented. If the demand is high, increase computation and if less decrease the computation. This is called "Sharding".
In 2018, to improve scalability everyone was either trying to increase the block size or decrease the confirmation time or get a new consensus algorithm. We said leave that, we decided to use sharding which is a proven technology. And it worked. Sharding allows us to scale in a linear way. And different shards also allow people to use their own consensus algorithm.
When we introduced the project we were the only one implementing sharding. The only project which was doing sharding at that time was Zilliqa, but they weren't using it to its full potential. At that time Ethereum started talking about Sharding as well.
Blockmanity: In your whitepaper, you mention your goal is to achieve 1 million TPS. EOS tried that as well but failed miserably. Why do you think QuarkChain will be able to achieve this?
Anthurine: That is because of Sharding. EOS, they are trying to make a faster chain. Ethereum is trying to make a faster chain. But, there is always a limit for a single chain. The philosophy behind sharding is to scale up using multiple chains.
To speed up, we can come to different chains (shards) and each of these chains can have its own consensus. There will be better faster consensus coming out this year or the future. And we can incorporate them all through sharding. Theoretically, there can even be a million shards.
In our testnet, we had a TPS competition and the number one user achieved 50K TPS. And is due to current technology. With better and faster consensus algorithms we can achieve 1 million TPS in the future.
Blockmanity: Sharding requires a centralized entity requiring to oversee the scalable chains. Doesn't QuarkChain become that centralized entity, going against the principle of decentralization?
Anthurine: Our blockchain's design is similar to Polkadot's. Polkadot's interoperability works through a hub model. Polkadot's SDK acts as a hub which connects different chains and facilitates interoperability. Similar to Polkadot, existing blockchains can be forked as a shard on our blockchain.
I would not consider QuarkChain as a public chain but rather like AWS. We provide the infrastructure to speed up transactions and provide interoperability functions to existing blockchains. So this allows us to work with public chains as well.
Each shard on our platform can have its own token economics. The reason public chains work with us because we help them solve the scalability issue. This means they don't need to solve scalability issue on their own. They can use our infrastructure to achieve their goal.
We are going to add more functional shards in the future. Our next step is to add a privacy shard, which allows people to send money in a private. With our functionality shards, people can exchange tokens in a decentralized manner.
Blockmanity: While going through news on QuarkChain we came across a product call QPocket. What is QPocket?
Anthurine: QPocket is a wallet by us and not infrastructure. Think of QPocket as an entry to DApps. Any DApps sitting on a blockchain, if they want a user-friendly entry point, QPocket will provide them that. It has nothing to do with blockchain but more to do with DApps.
Blockmanity: Speaking in terms of DApps, what according to will be the next killer DApp?
Anthurine: To be honest, I don't know what would be the next killer DAps. What I know is that we have to be ready for the next killer Dapps, and we should constantly be on the lookout for them. We have to be flexible to provide them the technology they need. We want the next killer DApp built on QuarkChain. It will take time, but personally, I think it will be on the payment side.
Blockmanity: Great, so what's next for QuarkChain?
Anthurine: Ah good question. QuarkChain is quite flexible. And our step is to increase this flexibility. This is to increase the number of functionality shards.
The next shard we are adding is the privacy shard. We have also signed some contracts with big enterprises to develop the blockchain technology with them.
We are also going to expand our community and get ourselves listed on more exchanges. We recently had our first community governance, and people agreed that they want to accelerate the token release process. After this, we will do a lot more news releases and get a lot of people to know about QuarkChain.
Blockmanity: Great, sound like a busy year ahead. A final question, how can people earn QuarkChain (QKC) tokens?
Ans) There are 2 ways to earn QKC tokens. First, We hold regular bounties which include joining our community and earning some QKC tokens. In fact, the last one ended a couple of weeks back. But it is only sometimes.
Second, and the best way is to join our Guardian program. As a guardian, anyone can join as a candidate with the promise to bring some value to the community. Existing members will vote for you and if you bring the promised value you will earn reward QKC as well as the people who voted for you earn QKC. You can also vote using your QKC and earn more QKC.
Discuss this news on our Telegram Community. Subscribe to us on Google news and do follow us on Twitter @Blockmanity
Did you like the news you just read? Please leave a feedback to help us serve you better
Disclaimer: Blockmanity is a news portal and does not provide any financial advice. Blockmanity's role is to inform the cryptocurrency and blockchain community about what's going on in this space. Please do your own due diligence before making any investment. Blockmanity won't be responsible for any loss of funds.
---
Trending Now