Tamara Soykina: Cryptocurrency is really popular in Japan, Ripple (XRP) and NEM have huge communities in Japan
---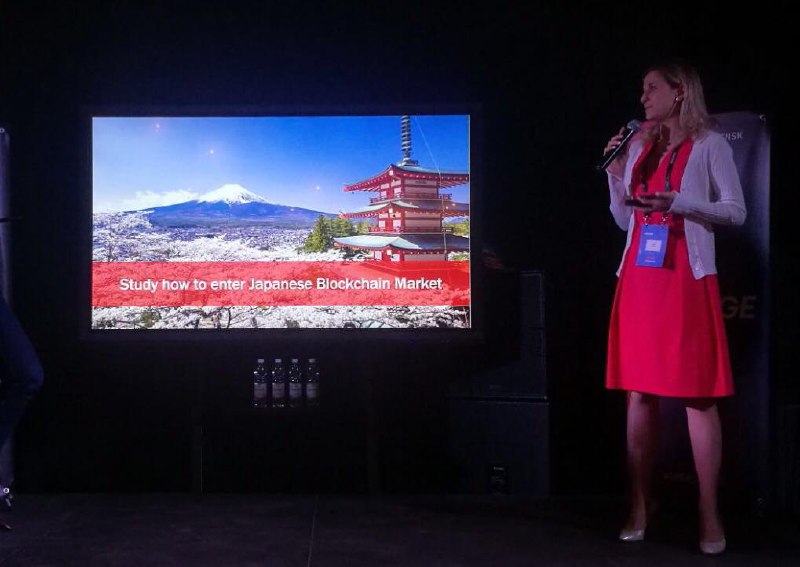 There is a lot of news about the cryptocurrency space in Japan and how the country is adopting the new technology. But Japan is still a black box and no one knows for certain how the situation is apart from the local. The language barrier is one of the biggest reasons for this. Not many people know about the potential of Japan. We at Blockmanity decided to ask the beautiful Tamara Soykina about the cryptocurrency situation in Japan.
Tamara Soykina is a big cryptocurrency influencer in Japan. She works part-time for a blockchain marketing agency  Far East Blockchain and is a journalist at the Cointelegraph Japan. Originally from Russia, she has been living in Japan for the past 8 years. Tamara Soykina acts as a bridge between Japan and other cryptocurrencies communities.
Blockmanity: It's very good to have you with us, Tamara. So Tamara, what's the life of a cryptocurrency influencer like?
Tamara: It's very interesting though it's mostly online. I myself am a bridge between Japan's cryptocurrency community and other countries.  There's lots of communication. The main social network for cryptocurrency communication in Japan is Twitter. Through Twitter, I communicate with a lot of people and provide information back to the Japanese cryptocurrency community.
I also get contacted by lots of projects. And also meeting people from abroad in Japan. As part of my job I visit many countries and, for example,  went to Czech and Belarus to talk about cryptocurrency situation in Japan or hosted an event in Singapore recently.
Blockmanity: Japan is like a black box. People hear about Japan a lot but no one knows what the situation is. What is the situation of cryptocurrency there?
Tamara: I absolutely agree that there is a huge wall between Japan and other countries. Language is a huge barrier. Japan is really active in the cryptocurrency space. On the 1st of June Japan's cryptocurrency regulations are in place. There are two amendments in place,
the Act on Settlement of Funds
the Financial Instruments and Exchange Act
The new bill is designed to protect users (investors). They will come in place in April 2020. The bill has also changed the name cryptocurrency from Virtual Assets to Crypto Assets. Moreover, the government will now start whitelisting of projects.
The big companies are getting exchange licenses actively. Some projects to look at is Rakuten and Yahoo. Such projects as DeCurret by Rakuten and TaoTao by Yahoo are pretty impressive.
The popularity of NFT (non-fungible tokens) is increasing in Japan. Cryptocurrency related games are popular in Japan. Some examples include – MyCryptoHeros, Anique, Crypton, etc.

Blockmanity: Did you move to Japan for cryptocurrencies? Why did you make Japan as your base?
Tamara: I moved to Japan for personal reasons, and cryptocurrency is not the reason. But Japan has been active in the regulations space and cryptocurrency is really popular in Japan. When the Japanese adopted crypto payments, they admitted that cryptocurrency can become a valid form of payment. Over 100,000 shops and restaurants accept cryptocurrencies.
Japan is still an unknown market for many countries. When I was here I saw an opportunity to act as a bridge between the cryptocurrencies community between Japan and other countries. And I started working on how to be of value and that's how my journey started.
Blockmanity: Do many projects from the west try to enter the Japanese cryptocurrency markets?
Tamara: I see many projects try to enter the Japanese cryptocurrency markets. Of course, there are some language difficulties, and the business culture is pretty different from other countries. It takes time to come to a decision. In Japan, people take things slowly and seriously.
But on the opposite side, if you could clear the business and language barrier you could participate in a really interesting market. In Japan, you can leap easily. There is a lot of need for cryptocurrency from the Japanese people. Projects and DApps have a lot of potential in Japan.
Even Korea is a good market. But Korea has strict regulations and I believe Japan has a good mix of regulations as well as adoption.
Blockmanity: What cryptocurrencies are famous within the Japanese cryptocurrency community?
Tamara: I can feel, that cryptocurrency is famous if they have their community in Japan. Ripple and NEM have big communities and are popular in Japan. Some Japanese projects are also popular such as OmsieGo, Alis and Monacoin.
Blockmanity:  What do you think is the future of cryptocurrency in Japan?
Tamara: Japan is still in the process of adopting blockchain technology and using cryptocurrency to pay and invest. There is still a lot to be done. I can see some very positive news in Japan in regards to adoption.
In Japan they have this Transport Card (Suica Cards), it's the biggest system in Japan. It was announced they could be charged by cryptocurrency in the future. Almost, every Japanese person uses this card and these cards can boost cryptocurrency adoption.
The biggest banks in Japan are currently researching on Stablecoin creation and usage. There is huge competition from Internet companies in mobile payments. I can see a lot of movement from the banks, internet companies, and regulations in this space.
And all this means Japan has a lot of potential in the cryptocurrency space.
Discuss this news on our Telegram Community. Subscribe to us on Google news and do follow us on Twitter @Blockmanity
Did you like the news you just read? Please leave a feedback to help us serve you better
Disclaimer: Blockmanity is a news portal and does not provide any financial advice. Blockmanity's role is to inform the cryptocurrency and blockchain community about what's going on in this space. Please do your own due diligence before making any investment. Blockmanity won't be responsible for any loss of funds.
---
Trending Now