Boosting Traffic In Your Discord Server – 4 Ways To Build A Super Engaging Community
Posted On January 8, 2023
---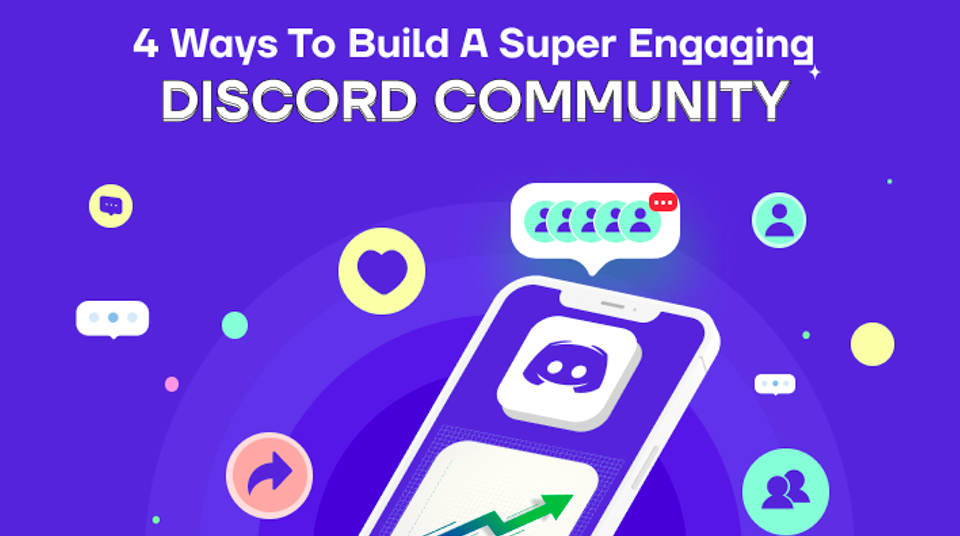 Discord may not be your everyday social media app to catch up with trends, entertainment, or news, like Twitter and Facebook; however, when it comes to community engagement, Discord is arguably the best platform out there.
Originally an app designed to build communities for gamers, Discord has since become a community application for Web 2.0 and Web 3.0 brands to engage their communities via voice, texts, and video chats. In fact, A single Discord server can have several sub-communities (channels), where a general chatroom can exist with several other rooms for different purposes within the app, like a house with a living room for everyone and other rooms for different purposes.
If community building and engagement is your goal, then Discord should be on top of your list in 2022. However, to effectively harness the full strength of this app, you must be aware of these important tips.
1. Utilize Your Existing Communities
Unlike Twitter, Instagram, or Facebook, where people can easily follow your account and engage with your content without restrictions, Discord offers a closed community experience exclusive to members of the only; hence, without getting an invite, random people cannot participate in discussion threads. Hence, the first step to boosting traffic in your Discord server is importing new members from all other communities you belong to.
If you have an active Twitter account with about 5,000 followers, being able to import 20% of your Twitter audience to your discord channel means you will gain 1,000 members in your discord server. Hence, do not underestimate the impact of your existing communities in building a closed one.
2. Ensure That Your Purpose Is Clear
The most important tip for a successful Discord Server is a clear purpose. No matter how huge your external community is, it would be difficult to convert them to join your Discord server if they don't know what to expect. So, when sharing invite links, it is important to indicate your server's purpose and the perks of joining your server instead of dozens of other servers that share the same purpose.
For instance, let's assume I am known on Twitter for my contributions to the Web 3.0 space, and I am looking to launch a Discord server that connects job seekers with potential employers, I could share a short copy alongside my invite link, such as:
Do you love Blockchain technology?
Start living in the future today!
Join the "Web3 For Hire" Discord server and transition from Web 2.0 to a Web 3.0 Career with ease today!
This short message highlights the purpose of your community, and people who find it appealing will join the server without objections.
3. Use Bots
Managing a discord community can be tasking and probably too much work, even with a few community moderators present. However, with bots, you can ease the moderation tasks and monitor certain metrics that can help you manage your community better.
Discord bots can be classified into two categories:
Community Management Bots: These categories of bots help you manage your community by doing tasks that would have been too cumbersome or impossible for humans. They include:
Server verification bots which are used to ensure that humans and not bots are added to the Discord Server.
Server statistic bots, which help to determine the general behavior of community members, and their activities.
Invite tracker bots, which help to monitor the individual referrals into the channel
Tweet shift bots, which help to update community tweets within the Discord channel.
Advanced Bots: This category of bots is used to achieve more sophisticated functions than community management on Discord servers. In fact, due to the open-source nature of Discord, some advanced bot functions can call-in other third-party APIs within the app.
The Cwallet Discord Bot is one such advanced bot that has several functions for both Web 2.0 and Web 3.0 functions; which include:
Subscription that allows server owners to create special, premium member channels via paid subscription (daily, monthly, or annually).
Cwallet Bots: Subscribe a Server
Referral Program that allows server owners to create a referral contest, where the person who invites the most members is rewarded for helping to grow the community.
Tip and Airdrop that allows Web 3.0 communities to share cryptocurrencies as gifts and rewards within the Discord server; each person's username is linked to their wallet address, so with simple bot commands, members can tip each other with tokens.
DAO that allows Web 3.0 communities to set up an exclusive channel with embedded asset verification, where only members with a set number of tokens can be a member.
Cwallet Bots: Enter a DAO on Discord
For example, as seen above, a channel may only be available to server members with a minimum balance of 1 USDT.
4. Host Contests, Competitions, and Giveaways
Remember Point 1? Utilize Your Existing Communities
Importing new community members from your existing communities, such as Twitter, is usually helpful;  however, showing a valuable purpose, as highlighted earlier, may not be enough trigger to draw them in; in this case, offering freebies can be equally effective.
To effectively import your communities from other platforms such as Twitter, Telegram, Facebook, etc., you should incentivize them, and giveaways are the best way to do that.
Like other community management bots highlighted above, you can also automate your Discord growth giveaways with simple tools that allow you to set simple parameters for entry and eligibility. With these tools, creating a giveaway is made easy, as the tool automatically verifies all tasks and only ensures that participants that follow the rules are considered for the draws.
You don't have to do a thing; simply set giveaway parameters, share the link, and proceed with other activities.
Boosting Your Discord Community Engagement With The Cwallet Giveaway Tool
The Cwallet giveaway tool makes your giveaway process easier via easy steps. You can create a new giveaway with a clearly defined title, and other important parameters, including giveaway eligibility criteria.
In this giveaway, I want my participants to log in to the giveaway page via Discord and perform discord tasks to become eligible for the giveaway
All they need to do is join my new discord server and invite 3 friends to be eligible.
Cwallet Giveaway Tool: Set Up a Discord Server Task
Also it is required to join my AMA discord voice channel
 Cwallet Giveaway Tool: Set Up a Discord AMA Task
So, in one stroke, I have imported my Twitter followers to my discord server and also tasked them with the responsibility of bringing 5 more participants.
Indeed, not everyone will be able to effectively fulfil the tasks; however, even those who fail will have contributed substantially to the server's growth. For example, someone who invites only 2 members is ineligible for the reward draw; however, they have added two new members.
Hypothetically calculating :
If I have 5,000 Twitter followers, from which 1,000 choose to participate in the Discord giveaway, then I have 1,000 new discord members.
However, each of these 1,000 members needs to invite 5 more people to be eligible for the giveaway; assuming 200 out of 1,000 people succeed in inviting 5 members each, I have an extra 1,000 members.
Finally, assuming the last 800 people invite an average of 3 people each, then I have an extra 2,400 members.
Hence, from the giveaway task, I have gained 1,000 + 1,000 + 2,400 = 4,400 new members.
Eventually, the giveaway reward will be drawn among the 200 participants that successfully completed the task, and I can pick maybe 3 or 5 winners (or as many as I wish). Hence, with a small budget, I have successfully increased traffic in my Discord server with real humans.
Final Takeaway
If you have made the decision to build a closed-knitted instant messaging community, then Discord is the perfect place to host them. However, beyond taking the first step of creating the Discord server, it is important to keep the level of interactions high.
One is good, Two is better, and Ten is much better – the numbers don't lie. To improve the number of traffic and interactions in your Discord server, you should apply all the strategies highlighted above. Also, if you want quick results, don't underestimate how much contests and giveaways can help; hosting these giveaways at periodical intervals could be strategically beneficial for building your community.
Give it a try! Sign up on Cwallet today and exponentially boost your community engagements with the unique Cwallet giveaway tool.
Discuss this news on our Telegram Community. Subscribe to us on Google news and do follow us on Twitter @Blockmanity
Did you like the news you just read? Please leave a feedback to help us serve you better
Disclaimer: Blockmanity is a news portal and does not provide any financial advice. Blockmanity's role is to inform the cryptocurrency and blockchain community about what's going on in this space. Please do your own due diligence before making any investment. Blockmanity won't be responsible for any loss of funds.
---
Trending Now