How do Aptos, Sui, and Caduceus become market leaders?
Posted On October 20, 2022
---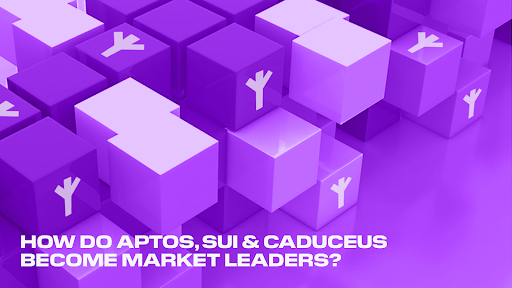 The blockchain industry has grown so quickly in a few short years, and we have already witnessed the entrance and exit of both new and seasoned participants. The public chain rookies who were ambushed by the last crypto winter became the bellwethers of the rapidly expanding market, buoyed by a 2021 bull run that saw Ethereum and an insatiable appetite for NFTs take center stage. And now here we are in late 2022, at yet another crucial moment in the market, waiting to see if the bottom is already in, or if we still have further to go.
Although the general market sentiment is weak, no one has stopped looking for fresh ideas, launching new projects, and learning everything they can from the mistakes of the recent past as we wait – and hope – for the next supercycle. Layer 1 blockchains, which long dominated the market before losing some of their shine as newer, faster, and sexier Layer 2 chains began to emerge, are regaining the spotlight as we ride out the bear market. The battle for dominance among the Layer 1 public blockchains is set to continue, and now – in addition to the endless quest to solve the 'impossible triangle' dilemma (decentralization x security x performance) – they need to contend with a new wave of innovative Layer 1 chains entering the market.
Today, we will analyze three of these upstarts: Aptos, Sui, and the popular Caduceus, as well as explore how this generation of Web3 newcomers can bring additional value and investment to the space.
Initial background:
Sui/Aptos: Both of these Layer 1 public blockchains can be traced back to 2019, to what was originally the Facebook/Meta super-sovereign digital currency project, Libra, which was rebranded to Diem in 2020 after a legal challenge. The intention with Diem was to build a blockchain and stablecoin, but it never made it to launch and was subsequently sold, since its parent was constrained by the regulatory environment. In order to continue with the project, the Aptos and Sui development teams decided to move on from the original Diem plan, and instead launched a new public blockchain project using Diem's Move programming language, with some adjustments in approach. Their objective is to resolve Layer 1 performance and scalability issues.
Caduceus: Although it is a Layer 1 public blockchain, Caduceus addresses a commercial challenge, rather than a purely technological one, using the decentralized model to provide rendering, 3D technology, and XR resources to users. Its combination of software and hardware offers robust infrastructure support for application layer scenarios, with a focus on metaverse applications. The metaverse is acknowledged as the area of Web3 with the most promising development opportunities, but until now there has been no blockchain infrastructure capable of supporting it.
Core objectives:
Aptos: To build the world's safest and most scalable Layer 1 blockchain, to provide billions of people with universal and fair access to decentralized assets.
Sui: To enable creators and developers to build scalable, low-latency Web3 experiences at low cost, with most transactions processed in parallel and completed almost immediately.
Caduceus: To provide a highly flexible, open-source infrastructure layer for 3D NFT, GameFi, AI, and metaverse ecosystems, removing barriers to entry into the metaverse for developers and users worldwide.
Team backgrounds:
Aptos: Along with Alden Hu, Alin Tomescu, Dahlia Malkhi, David Wolinsky, Greg Nazario, Jake Skinner, and Josh Lind, Aptos co-founder Avery Ching from Meta is one of the world's foremost experts in building distributed systems. Other team members include PhDs, researchers, engineers, designers, and strategists.
Sui: CEO Evan Cheng is the former Novi R&D director and Meta engineering director (programming, language runtime) who spent ten years at Apple. CTO Sam Blackshear is a former Move language-focused lead engineer at Novi. CPO Adeniyi Abiodun worked with VMware, Oracle, PeerNova, HSBC, and JPMorgan Chase. Chief Scientist George Danezis worked at Chainspace and Microsoft as a Novi Research Scientist.
Caduceus: The Caduceus team has far greater diversity than other Layer 1 blockchain projects, with outstanding talent from a broad range of backgrounds, not only the technology sector. The team includes experts in blockchain, DeFi, software development, finance, retail, music, art, media, and entertainment. Tim Bullman, who leads the Caduceus foundation management team, is a former senior managing director of MD Europe and BGC Partners, and founded Mint Partners in 2005, going on to serve as CEO. Alex Tung, Head of Consensus Algorithm Technology, is a specialist in gaming, mining, blockchain, and consensus mechanisms with over 20 years of experience in the development of complex systems. Matt McGuire, Head of Edge Rendering, is an experienced leader in digital technologies, including mobile communications, advertising, and e-commerce. Giulio Pezzulli, Head of dApp Development, is a serial entrepreneur and software engineer in the blockchain field, having created AITutor and Voltaire Labs as well as working for cryptocurrency firms like Circle and Trustology. Jamie Khurshid, leader of the Caduceus incubator fund,  was voted by financial news as one of the '40 under 40 in European trading' and technology (2014) and ranked in Exchange Invest's Top 1,000 most influential people in global financial markets in 2017. Ander Tsui, Head of Strategy, is a pioneer in the field of encryption with extensive investment and incubation experience, an in-depth understanding of cryptocurrency markets, and long-term involvement in Web3 projects. The Caduceus team structure is well aligned to the requirements of a Layer 1 public blockchain, with a business skillset that enables the project to achieve high-quality results in multiple key areas such as infrastructure layer technology, metaverse ecosystem development, commercial partnerships, and finance.
Time of project start:
Aptos: February 2022.
Sui: March 2022.
Caduceus: December 2022.
Core placement variations:
Sui/Aptos: The main high-performance all-purpose ship Layer 1 blockchains use Proof-of-Stake consensus. Aptos and Sui are primarily concerned with asset security and enhanced performance.
Caduceus: An infrastructure-level, public blockchain platform designed specifically for the metaverse and decentralized digital world, using its own MetaverseGraph (mGraph) consensus method. Caduceus addresses application-level issues while maintaining high performance, and provides edge rendering for Web3 metaverse developers and creators as well as numerous modular tools and incubation platforms. This is in contrast to the majority of public chains, which are only concerned with the trade-off between the elements of the 'impossible triangle'.
Highlights and core technical features: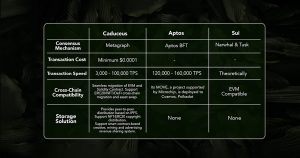 Click to view the full image
Aptos: Aptos's initial invention is the key rotation and recovery system, which is more economical. Aptos and Sui both provide parallel execution strategies to boost network speed and service throughput. Block STM is the basic parallel computing technique. Its concept is to separately edit data via parallel multithreading. If there is no controversy, the online transaction will be of the highest quality. If a conflict exists, a single transaction will be rolled back and performed after the conflicting transaction has been modified. In other words, the Aptos network does not need to perform transactions sequentially, and nodes execute in parallel. During this procedure, if a transaction encounters an error, it may be canceled and re-executed or destroyed. The consensus process is an enhanced form of HotStuff based on the principle of Byzantine fault tolerance; nevertheless, the related technical specifics will not be elaborated upon in great length.
Sui: In order to address the issue of complete node state explosion, users must pay an additional storage cost in addition to the transaction price. The lowest unit of storage in Sui is termed an Object, which is described as an asset containing immutable assets. A single asset may only be edited by its owner, but shared assets can be modified by several owners. The direct exchange of a single asset does not need agreement and is certified directly by the client, however, the exchange of shared assets does require consensus. Thus, Sui "filters" some insignificant transactions so that they do not use additional resources.
Caduceus: The essential logic of consensus is that, after confirming the transaction result set, a node regularly communicates information with surrounding nodes in a hypercube P2P network, and the node that gets the information does the same. When the information is validated by an absolute majority of witnesses in the Hypercube P2P network, it is confirmed as definitive. It ingeniously blends the hypercube high-speed P2P network topology with the directed acyclic graph (DAG) multi-chain transaction data structure, allowing a huge number of transactions to be executed in parallel across large-scale decentralized nodes through asynchronous consensus. Integrating distributed GPU computing resources via incentive agreements and using edge computing to deliver the computational capacity necessary for picture rendering for the metaverse, gaming, AI, and film and television sectors constitute the heart of its business.
Advantages of each project:
Aptos: You can pay for gas with multiple currencies, eliminating the challenge of having just one gas token in your wallet, which prevents the completion of a transaction.
Sui: Offers cheap gas pricing and predictability, as well as incentives for validators to improve transaction processing and reduce DoS attacks.
Caduceus: The pioneering usage of a multi-level distributed mGraph structure allows for indefinite extension and large-scale parallel processing capabilities that surpass those of conventional blockchain-linked list data structures. In conjunction with BigBang's fully hardware-programmable accelerated blockchain consensus system, StarRing transaction parallel execution engine, and Nebula's infinite horizontal expansion of the block database, Caduceus can manage the task processing capacity requirements of high-concurrency and complex environments while providing edge rendering solutions seamlessly.         
Basic performance comparison:
Developer Support:
Aptos/Sui: The Developer Kit (SDK) is intended to enhance the developer user experience by offering developers open-source, flexible, and user-friendly tools. In addition, the SDK will minimize the amount of time spent by developers troubleshooting smart contracts, awaiting audits, and constructing fundamental tech stacks. The issue with Aptos and Sui for developers is that, despite the benefits of the Move programming language and associated frameworks, they are incompatible with the market-leading Solidity programming language, and developers must rewrite their code to utilize Aptos. When deploying applications on Sui, there are two costs to consider: one is the expense of learning the platform, and the other is the potential cost of Solidity development.
Caduceus: Due to metaverse economics, establishing blockchain-based metaverse ecosystems is challenging. The caduceus is very effective in its assistance to developers, which lowers entry barriers. The first reason for this is the extensive modularisation, which allows for the fast plug-in assembly of each bottom layer and development modules and the rapid customization of the blockchain system of the assembly project. High standardization also supports the standardization of different technological systems and provides support for developer-friendly open-source protocols and software source codes. Caduceus offers creation tools that handle 3D game materials/models, in addition to NFT minting and fractionalizing tools. Concurrently, the Caduceus Creation Platform, an open-source software and hardware platform consisting of display terminals, computing centers, operating systems, and interfaces, is developed to support large screens, charts, and a variety of interface interaction management, monitoring, operation, and maintenance techniques. With a comprehensive range of XR algorithm packages and XR development kits, it integrates effortlessly with common productivity tools like the Unity3D VR, UE4/UE5, and Omniverse engine. Caduceus allows the easy conversion of EVM and Solidity contracts, as well as the seamless integration of ERC-20, ERC-721, ERC-1155, ERC-998, and other asset protocols, allowing for the rapid transfer of Ethereum developers to the same ecosystem.
Community size:
Aptos: 225,000 Twitter followers 123,000 Discord members
Sui: 85,000 Twitter followers, 132,000 Discord members
Caduceus: 126,000 Twitter followers, 58,000 Discord members
Investment partners:
Aptos:a16z, Multicoin, FTX Ventures, Jump Crypto, Tiger Capital, Katie Haun, Circle Ventures, Apollo.ParaF iCapital Oak HC/FT,Franklin Templeton,Superskrypt,GriffinGamingPartners.
Sui:a16z, Redpoint, Coinbase Ventures, Standard Crypto, Slow Ventures, Scribble Ventures, Samsung NEXT, Electric Capital, NFX, Lightspeed VenturePartners。
Caduceus: SIG(Susquehanna International Group), Bin Zayed Group, BlockFills, Qredo, TokenInsight, Nukkleus, Digital RFQ, Luna Venture Capital, SuperChainCapital, JackdawCapital、Luna VC, Individual investors include football great John Terry, British sports hero Lord Ian Botham, Rugby World Cup champion and former England captain Lawrence Dallaglio, and World Rugby Hall of Fame figure Ivan Atkinson Van Films, among others.
Ecosystem development:
In general, the ecosystem growth trajectory of Aptos and Sui is closer to typical blockchains, while Caduceus concentrates on the creation of applications that require renderings, such as cinema and television, 3D NFTs, gaming, and entertainment. In addition, Caduceus has developed its own incubator fund, M4tter, to further minimize the time developers spend setting up their projects. Caduceus already has close to 250,000 active blockchain addresses and more than 80 projects in its ecosystem, and the pace of growth is increasing.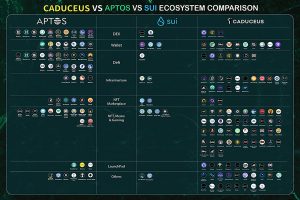 Click to view the full image
Token Economic Model Comparison:
Aptos: APT token
Initial supply is 1 billion coins, and the distribution ratio is as follows: 51.02% for the community, 19% for core contributors, 16.5% for the foundation, and 13.48% for investors. The majority of the foundation tokens are used for grants, incentives, and other community development activities. The foundation tokens will be distributed in 10 years and are mostly owned by the Aptos Foundation and Aptos Labs, but some have been granted to Aptos ecosystem projects. Notably, the tokens under the community section are not intended for the broader user population. Other than through trading and airdrops, users and regular investors do not yet have APT.
The core contributor and investor tokens will not be issued for the first 12 months, 1/16 of the tokens will be unlocked monthly starting 13 months after the mainnet launch, and the tokens will be distributed in full within 6 months. The remainder will be issued in the 19th and 29th months. APT token use cases and an explanation of the valuation have not yet been disclosed.
Sui: Token: SUI
Supply: Fixed supply of 10 billion unreleased tokens. A portion of the total SUI supply will be released at the launch of the mainnet, and the remaining tokens will be distributed as a subsidy for staking rewards over the next few years. No deflation/burning mechanism
Caduceus: Token: CMP
Supply: Fixed supply of 1 billion: 9% for core contributors, 15% for investors, 20% for labs, 6% for foundations, and the rest is produced by mining. No deflation/burning mechanism
Development trends:
Aptos: The developer testnet will be deployed on March 15th, according to Aptos. There will be four incentive testnet rounds. AIT1 (decentralised launch) will be released in May, AIT2 (staking) in July, and AIT3 (governance and upgrading) on August 30th. AIT4 (Dynamic Authenticator Topology) is pending.
Sui: The Incentive testnet just went live in August. According to the plan, the testnet will be separated into four waves, three of which will have a particular focus: network, pledge, and upgrade.
Caduceus: Launched the public testnet in December 2017; held a blockchain and distributed rendering and edge cloud computing hackathon in March; formally launched the mainnet in April; partnered with 3D NFT fashion brand HAPE in May, and; collaborated with internationally renowned attorney Sir Alan Kitchin in June. Acting as a strategic adviser; in June, partnered with Bin Zayed Group, a pioneer in construction, real estate, and business expertise, to employ VR technology to bring Dubai into people's homes; in July, the native token CMP was released on leading exchanges Bybit and Gate.io, followed by MEXC and Bitget. The World Cup-winning rugby star Lawrence Dallaglio has joined as a strategic adviser to assist Lord Botham in bringing cricket into the metaverse. In August, a strategic relationship between One Van Films and The Gentlemen van Atkinson's famous film production firm introduced the film into the Metaverse. In September, the native token CMP was introduced on the top trading platform KuCoin, and the top liquidity provider Wintemute joined to offer long-term services for caduceus. 
Conclusion:
Unlike Sui and Aptos, which focus on resolving the Layer 1 impossible triangle dilemma, Caduceus fully supports all aspects of metaverse development, with an open-source model that embraces integration with third-party technologies and other public blockchains.
To an extent, Aptos and Sui's prestigious teams' experience and financial backing position them well for the anticipated market expansion, but it is unclear how long the narrative around performance and scalability can continue, particularly now that Ethereum has completed the switch to the PoS network. When considering the wider Web3 landscape, focusing on either specific technologies or markets is more likely to achieve the growth and innovation needed to add long-term value to the blockchain industry for all participants, and these are also the central pillars of Caduceus's strategy and future goals.
For more Caduceus updates: 
Website: www.caduceus.foundation
Twitter: https://twitter.com/Caduceus_CMP
Discord: https://discord.com/invite/caduceus
Telegram: http://t.me/CaduceusMetaverse
Discuss this news on our Telegram Community. Subscribe to us on Google news and do follow us on Twitter @Blockmanity
Did you like the news you just read? Please leave a feedback to help us serve you better
Disclaimer: Blockmanity is a news portal and does not provide any financial advice. Blockmanity's role is to inform the cryptocurrency and blockchain community about what's going on in this space. Please do your own due diligence before making any investment. Blockmanity won't be responsible for any loss of funds.
---
Trending Now
You may also like