Monsta Infinite Brings the first MMORPG P2E NFT Game Beyond and Axie Inifinity Copier
Posted On January 13, 2022
---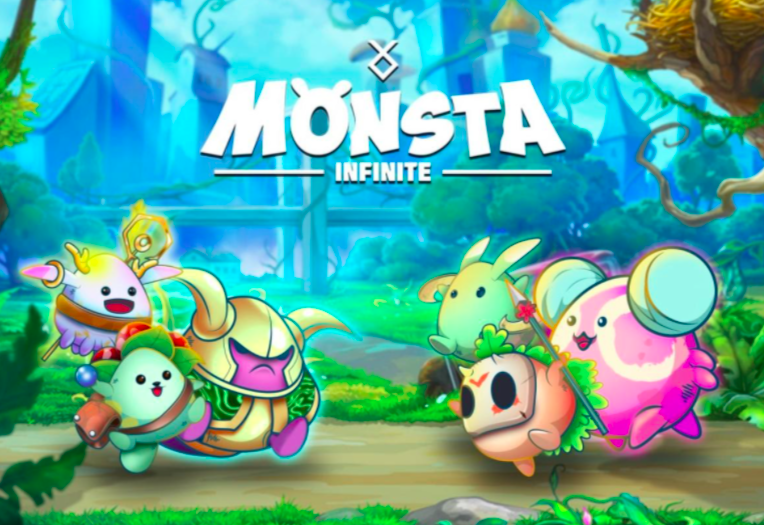 Monsta Infinite brings a new era of digital gaming with crypto integration. It is an MMORPG (massively multiplayer online role-playing game) with a turn-based card game concept. It implements a play-to-earn concept by introducing; the governance token, $MONI which will be listed on several platforms, and the NFT Monsta which will be on the native marketplace. The project is Axie-inspired and promises to bring a gaming experience that has been designed and programmed to extinguish issues gamers face with conventional games. Some of the key features will include account security and anti-bot gameplays to name a few.
Players will not get the exact same story mode in PVE every time as the game offers a new turn for every decision a gamer takes, thus making it intriguing and unpredictable every time. Now with features like augmentation and limited cloning count per Monsta, this gives the game an edge where it not only encourages players to constantly upgrade their arsenal of Monstas, but it will naturally balance the number of Monsta circulating in the game, thus promoting a long-term self-sustaining balance and growth for the game in the long run.
Monsta Infinite thrives to be a one-of-a-kind project by being more than just another conventional GameFi project; honing the potential and resources to branch out of the GameFi industry and into other possible and prospective industries in the crypto space. They will first begin with developing a state of the art GameFi, Monsta Infinite. The game will be a play-to-earn based GameFi that will implement creative and innovative solutions meant to solve problems users often face in other conventional GameFi. They aspire to provide veteran consumers all around the world better gaming and earning quality and experience and at the same time welcoming to new users.
Monsta Infinite aims to become the next big trend that is still in its development stages. However, despite being comparatively new to the market, it has already created its own fan base of large companies and communities all around the world all waiting to get into the next craze in the crypto world.
Monsta Infinite Takes In-Game Economy to Next Level
One of the key aspects in forming a successful GameFi is its own economic finance.  It's just as important as the gaming aspects as the key part of a successful GameFi is ensuring that the players get to enjoy the game from an economic standpoint as well since there will be a substantial number of players will rely on the game as their sole source of income, thus the added purpose of GameFi, providing employment opportunities to users all around the world.
Monsta Infinite would make constant utilization of both the governance token and the in-game token by making sure MONI is not used in any in-game transaction, instead it will be used for a one-way transaction of MONI to STT. This measure is ascertained as the value of MONI constantly changes due to the supply and demand of the market, just like any other cryptocurrency token. This gives it the ability to adjust the exchange rate of MONI to STT ensuring a low-cost entry price that will be accessible to all users.
MONI can also be used for staking, which entails users for MONI in return, thus increasing the utilization of MONI in the economic term instead of just the gaming term. The supply of MONI will also be fixed, retaining the value of the token in the market, making the coin a potential long-term investment. Thus, ensuring that MONI will be deemed as an investment targeted for investors as well, not just for the gaming consumers.
STT on the other hand will have various uses in the game. Players would require MONI to purchase STT during the selling of Monsta in the marketplace. The project  would also have the ability to continuously mint STT according to the supply and demand of STT in the marketplace and in-game which will be closely monitored by the developing team to ensure that STT retains its value in daily use.\
One interesting feature that they are bringing to the spotlight would be their anti-bot features like the Match-Three puzzle. Since it will be implemented between battles, it will add to the competitive gaming environment of the players while acting as an anti-bot feature, further improving the gaming experience because truth be told, no one likes playing against bots. Another interesting feature would be that all P2P battles will be processed on the server-side instead of the client-side, further eradicating hacks and cheats in-game. These are just a few of the many features Monsta Infinite is going to implement in the game, placing Monsta Infinite miles ahead of its competitors in the GameFi industry. 
Monsta Infinite's Unique and Key Features
Monsta Infinite's selling points begin with its gameplay where it removes several flaws found with traditional gameplay. Monsta Infinite is not just an ordinary card game. Monsta Infinite takes a 2 prong battle approach, combining a turn-based card system with a match-three puzzle system. The gameplay was designed with the intention of creating an exciting in-game battle experience that is competitive and challenging. Monsta Infinite aims to
Make blockchain gaming fun and inspiring reality

Enhance the technology of blockchain and gaming

Create a virtual world filled with vibrant community and art

Accelerate the realization of Universal Basic Income
Traditionally, NFT has started off using what became the ERC721 NFT Standard. Many of the prior NFT games are required to deploy a new contract for every collection of items or resources in the game. Monsta Infinite developers believe gamers need more freedom to express themselves in the virtual world..Thus, the project will utilize the ERC1155 Multi Token Standard, to make it possible to store a vast array of multi-asset NFT items using only one smart contract.
The ERC1155 smart contract utilizes an immutable URI that points to a link that stores the JSON file. Decentralization is achieved through the storage of data files in IPFS systems, which deliver content with a peer-to-peer distributed method of storage. Consequently, files stored in a public domain are subject to garbage collection, which deletes the file after a period of inactivity. IPFS pinning 
To learn more about Monsta Infinite visit Monstainfinite.com
Twitter : ​​https://twitter.com/monsta_infinite
Facebook : https://www.facebook.com/monstainfinite
Telegram : https://t.me/monstainfinite
Discord : https://discord.gg/monsta
Youtube : https://www.youtube.com/channel/UCvmW6NmtIm9Ohq7CwKbqucQ
$MONI is listed on:
KuCoin: 
https://trade.kucoin.com/trade/MONI-USDT
PancakeSwap: https://pancakeswap.finance/swap?outputCurrency=0x9573c88aE3e37508f87649f87c4dd5373C9F31e0
Gate.io:
https://www.gate.io/en/trade/MONI_USDT
MEXC: 
https://www.mexc.com/exchange/MONI_USDT
AscendEx: 
https://ascendex.com/en/cashtrade-spottrading/usdt/moni
Disclaimer: Blockmanity is a news portal and does not provide any financial advice. Blockmanity's role is to inform the cryptocurrency and blockchain community about what's going on in this space. Please do your own due diligence before making any investment. Blockmanity won't be responsible for any loss of funds.
Get the latest news on Blockchain only on Blockmanity.com. Subscribe to us on Google news and do follow us on Twitter @Blockmanity
Did you like the news you just read? Please leave a feedback to help us serve you better
---
Trending Now