---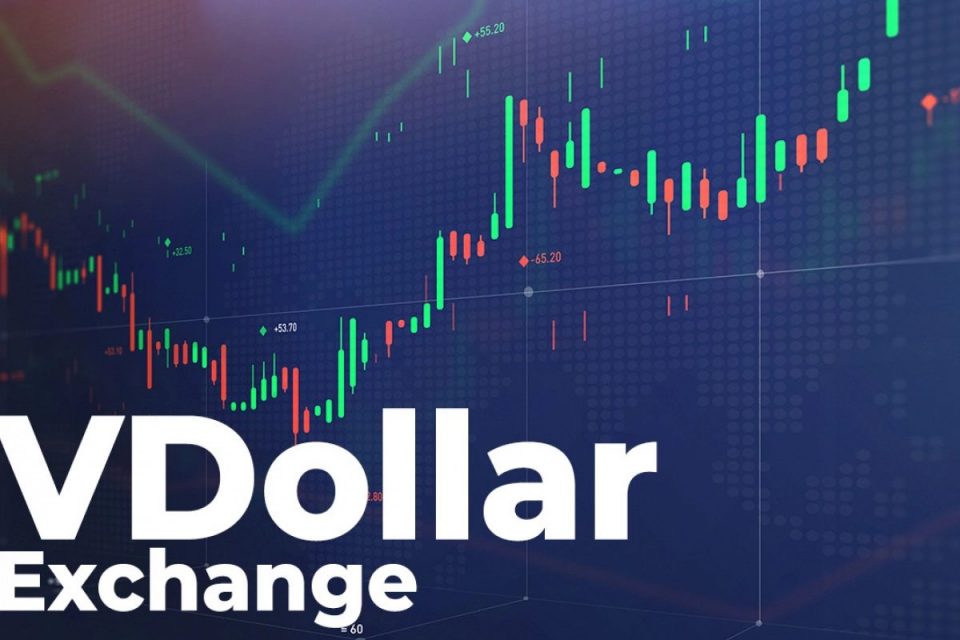 There are many cryptocurrency exchanges in the market to trade digital currencies. But very few of them are headquartered in the US. VDollar is one of the few. VDollar is a leading cryptocurrency contracts exchange that offers advanced trading solutions to customers.
In this guide, we will review this exchange. We will also go through the main characteristics features of VDollar that separates it from its competitors and how this is now among the leading crypto contracts exchanges in the world.
What is VDollar Exchange?
VDollar is a new type of  cryptocurrency exchange that has introduced  a new trading/mining mechanism. Their mechanism basically turns fees into assets, meaning that you get paid to trade.
This feature is achieved through an entirely new system called USDT Reserve Pool (URP). Everytime you make a trade, the trading fee is added to the URP. Through the URP, a new stable asset called VDollar is minted.
The VDollar is pegged to the URP at a 1:1 ratio. That means that each VDollar is backed by an underlying asset. Its market capitalization is 10 million and through each and every single phase it will be reduced by 50%.
This leading cryptocurrency contracts exchange has several trading features that make it possible for users to enjoy a unique experience while trading virtual currencies.
This is just one of the main features of this platform, but there are many others. This is why the VDollar exchange would reward users to engage on the platform and trade a wide range of virtual currencies in the market.
VDollar Main Features
As we mentioned before, there are several VDollar features that are worth trading into consideration and that we will discuss in this section.
New Trading Mining
The flagship feature of the exchange. It offers a new trading mining model where 100% of the transaction fees are put into the USDT Reserve Pool. These trading fees are then used as the underlying asset to back the VDollar token at a 1 to 1 ratio.
There will only be 10 million VDollar and in every single phase, it will be halved to reduce its supply. This is the first exchange in the world that has released this new trading mining system. It is worth taking into consideration that the USDT Reserve Pool has an on-chain address that is published, transparent and also verifiable.
Perpetual Motion Machine
There will be only 10 million VDollar coins. This coin will be minted every single time that there is a 1 USDT fee paid. However, the 10 million VDollar coins will be halved every phase.
Super Representative Generation Mechanism
VDollar is governed by a a group of people known as the Super Representative and they are Super Representatives that are selected by a democratic vote. There are only 32 seats available and they will never increase in the future.
Regulated and Licensed
The platform VDollar Exchange LTD is registered in Colorado, United States, and has a registration of MSB. It also operates in three different business sectors, a digital currency exchange, an ultra circular digital currency wallet and a new mining mechanism to mine coins.
Competitors
As we know, there are several crypto exchanges in the market. Binance is one of these exchanges. Binance is also among the largest platforms in the market offering users a wide range of services, and VDollar knows that.
This is why they have decided to create a virtual currency that has more advantages than Binance Coin (BNB) and that could eventually grow in the future. The VDollar virtual currency will then be a direct competitor to Binance Coin and also other exchange currencies that have been released by other cryptocurrency exchanges in the market.
VDollar wants to also become an exchange that would offer more services than Binance is currently doing. This is a strategy that the company has in order to become one of the leading exchanges in terms of features and solutions.
The economic project powered by the VDollar (VD) virtual currency is the main characteristic of this exchange. Let's not forget that BNB was able to become the third-largest cryptocurrency in the market thanks to Binance's expansion in recent years.
The VDollar, however, is different from the Binance Coin. There is a total cap of 10 million compared to 200 million BNB. Moreover, 100% of the transaction fees go to support this platform token (VD). This does not happen with Binance Coin, where part of the fees are usually used to fund exchange operations and other things.
VDollar explains that they also have a diminishing output, which Binance Coin lacks. Finally, VDollar is transparent and verifiable by the community, something that Binance Coin (BNB) does not have.
This could be the beginning of a crypto project that has attracted the attention of investors due to the unique economic model based on its trading mining mechanism.
Conclusion
VDollar is among one of the leading crypto exchanges in the world. Headquartered in the United States and with licenses in different countries, the platform is ready to attract investors and customers from all over the world.
The VDollar token economic model is one of the most unique and most advanced systems to be ever created by a cryptocurrency company. It could be a revolutionary system that uses the whole trading power of this platform to improve the VDollar coin and its ecosystem.
Furthermore, the VDollar could eventually become one of the fastest-growing exchange tokens in the market. With its unique economic model, the VDollar has the potential to be llarger and even more important than other digital assets such as Binance Coin.
Discuss this news on our Telegram Community. Subscribe to us on Google news and do follow us on Twitter @Blockmanity
Did you like the news you just read? Please leave a feedback to help us serve you better
Disclaimer: Blockmanity is a news portal and does not provide any financial advice. Blockmanity's role is to inform the cryptocurrency and blockchain community about what's going on in this space. Please do your own due diligence before making any investment. Blockmanity won't be responsible for any loss of funds.
---
Trending Now