10 More Reasons to Use Koinfox 2.0 for Crypto Trading
Posted On September 4, 2019
---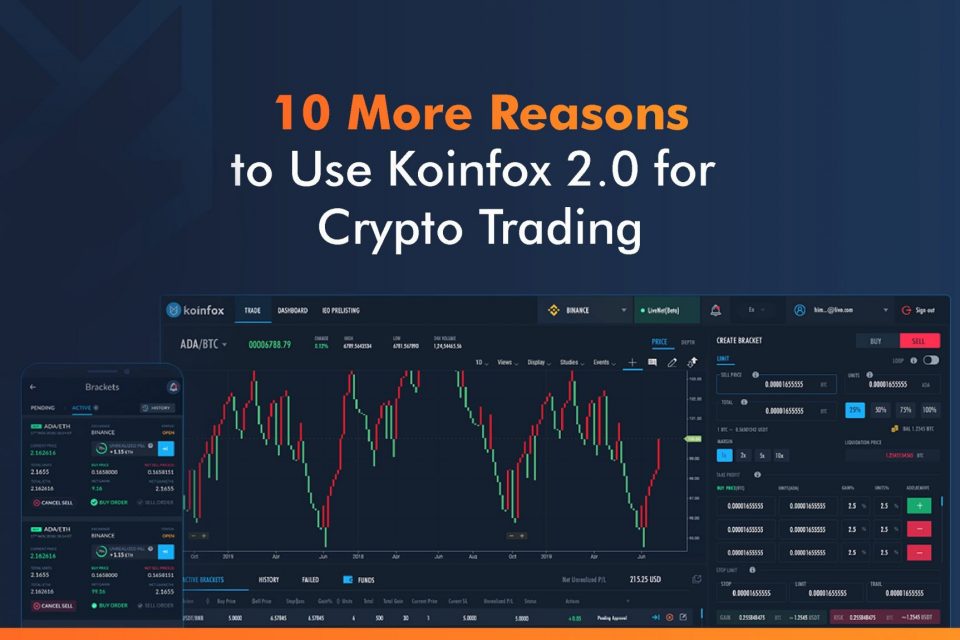 The new Koinfox 2.0 release gives you a significant edge over the competition with more features, new order types, quicker execution, and greater flexibility to automate your cryptocurrency trading strategies on the most popular global exchanges like Binance. Below are 10 key updates in addition to various tech upgrades to make your crypto trading experience more powerful, automated, and profitable.
1. Advanced Brackets
One of the most common limitations encountered by cryptocurrency traders is waiting for buy orders to fill before being able to place sells. With Advanced Brackets you can "set it and forget it" as your sells hit the order books immediately after your buys are filled. This eliminates the lag time of watching the screen and ensuring your trades are executed as quickly as possible.
There are a variety of new advanced brackets in this release which help you to emulate various strategies followed by institutional traders or your favorite signal provider. For example, you can place a buy with multiple sell targets and a trailing stop-loss. Similarly, you can sell at a particular price and buy as the market falls. Or use the Trigger-Entry Bracket to execute an order only if the price reaches a certain value, such as a breakout. Confidently set your trades and walk away knowing your orders will get executed without the hassle of waiting on fills.
2. Loop
Buy, sell, profit, repeat. As the name suggests the Loop feature enables your trades to be automatically repeated over and over as long as the price action allows. Instead of waiting for larger movements, you can consistently profit from a chart moving sideways within a range by placing your buy and sell appropriately and turning the Loop feature on.
3. Trailing Stop Loss
Trailing Stop Loss is an extremely useful risk-management tool used in traditional markets, yet still not available on the largest crypto trading platforms like Binance, until now. For those unfamiliar, a Trailing Stop allows your stop loss to follow the positive price action while "trailing" behind at a pre-defined distance, eliminating the need to manually move it up.
For example, you could choose to have a Trailing Stop Loss of 3%. If the price goes up +20%, you stop loss follows automatically to the +17% level allowing you to protect your gains even if you are not available to watch the charts.
4. Auto Calculation of Stop Loss based on R: R ratio
A well-placed stop loss is key to proper risk management. Koinfox 2.0 allows you to select your ideal risk-reward ratio and automatically calculates the stop loss for you based on your sell targets.
5. Graphs & Advanced Indicators
Graphs and indicators are essential tools for any seasoned crypto trader. With the addition of graphs and over 50 available indicators, you can leverage all the information available to plan your trades effectively. RSI, Volume and many more are now at your disposal within the platform.
6. Drawing tools
Many cryptocurrency trade ideas are developed using various drawing tools to identify supports, resistances, triangles, flags, etc. With Koinfox 2.0 you can now draw, review, plan, and trade entirely within the platform.
7. Universal Dashboard
Many of us trade across multiple exchanges and monitoring your prices, orders, funds, and P/L on all of them can be a pain. Koinfox 2.0 aggregates all of that into a sleek universal dashboard so you can keep track of everything easily and quickly manage your portfolio accordingly.
8. Mobile App to Monitor and Trade on the Go
Most traders do not have the luxury of time to sit in front of their screens all day, and many of us wouldn't want to even if we did. Signals and opportunities can happen at any time, the market never closes, and we all have busy lives to live.
Koinfox understands this, so we have developed a fully functional mobile app to track prices, create trades, and manage your funds from your mobile device anytime, anywhere.
9. Claim Unrealised P&L with One-Click Liquidation.
The crypto markets are extremely volatile, and manually closing many positions across multiple exchanges is a slow process when time is literally money. Therefore we have developed a one-click solution to close all open trades instantly in response to adverse market conditions to protect your gains in the event of bad news or Bitcoin's movements disrupting the charts.
10. SOS Button in case of suspicious activity
While these new features are certainly useful for booking profits, the security of your account is something we also take very seriously. For the added safety of your account, Koinfox 2.0 has included an SOS button on the mobile app. If you ever suspect suspicious activity on your account, can simply press the SOS button under settings tab on your mobile app. This will immediately freeze your account and kick out any unauthorised persons logged in.
Koinfox is dedicated to your success. In addition to the current advantages of the Koinfox platform, such as trading fee discounts and early order placement for IEOs and new token listings, the new suite of features delivered with Koinfox 2.0 gives you an undisputed edge over the increasing competition in the crypto space, empowering you to book more profit with any trading strategy.
Be sure to follow us on our social media and Telegram channels to stay tuned for updates, news, announcements, new exchanges, articles, and more. And as always, we love to hear from our fans, so let us know below what features you are most excited to use!
Discuss this news on our Telegram Community. Subscribe to us on Google news and do follow us on Twitter @Blockmanity
Did you like the news you just read? Please leave a feedback to help us serve you better
Disclaimer: Blockmanity is a news portal and does not provide any financial advice. Blockmanity's role is to inform the cryptocurrency and blockchain community about what's going on in this space. Please do your own due diligence before making any investment. Blockmanity won't be responsible for any loss of funds.
---
Trending Now