PrimeXBT's 100,000$ Contest
Posted On December 28, 2021
---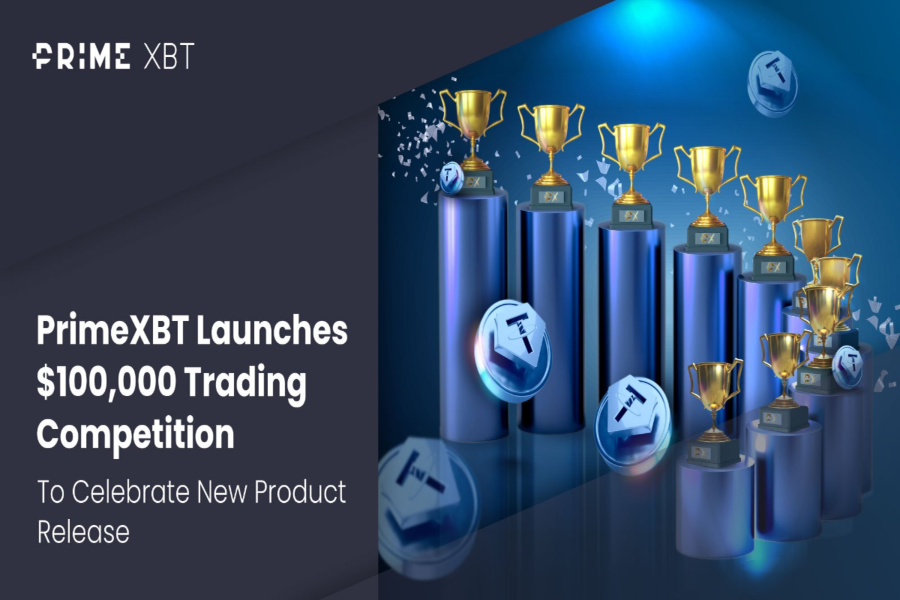 Traders like competitions, and as highly competitive individuals, they always want to talk about their achievements when they win. However, the high-risk and high-reward trading industry might not be the simplest to participate in. These are some of the ways PrimeXBT is changing things for the trading community by making trading entertaining, pleasant, and completely stress-free. Trading competitions are entirely risk-free since no investment or start-up funds are needed. Participants can also trade using virtual currency provided by the platform. All trading performance and rankings are released to the public through a global scoreboard system that ranks participants in real-time. This innovative new tool allows users to compete in a variety of contests, exchange cryptocurrency, and defeat other rivals to raise the scoreboard rank. For just a chance of winning, anybody can join the contests using the brand-new module. The Grand Trading Contest, the very first official competition conducted by PrimeXBT, will provide overall rewards of up to $100,000.
Investors can trade shorter or longer to profit from both rising and falling markets, with leverage available to boost profits. Prime also allows trading across the world's biggest and most popular marketplaces for investors seeking access to the world's dominant stock markets.While providing a variety of products, PrimeXBT delivers a user-friendly interface that allows both rookie and experienced traders to enter the market. For individuals who want to profit from the trading techniques of highly accomplished traders, the site also offers copy trading services. Traders may also create portfolios for all other investors on the network to "Covest."
What exactly is PrimeXBT?
PrimeXBT is a multi-asset trading platform that offers its participants commodity derivatives opportunities. PrimeXBT emerged as a popular trading platform. It also features leverages over commodities, allowing it to be a robust trading platform. This provides you with more than 100x leverage in cryptocurrency. PrimeXBT is a highly dynamic trading platform that includes some of the requirements for a successful day trading. Users can retain the operations center as their primary focus in order to get quick access to specific assets such as cryptocurrencies, commodities, FX, and equities. PrimeXBT was founded in 2019 and has since expanded fast, shareholders and business partners from all around the globe. The company's objective is to be an advanced platform that assists in delivering some of the necessary tools for all of the users' everyday trading operations. You have exclusive rights to PrimeXBT. It is evident that this is an open, user-centric, and evolving platform. Traders can also trade resources such as natural gas and oil. There are numerous alternatives available, but the best thing about the trading system is that it is relatively easy and newbies can also use it.  Furthermore, it has lower trading fees than the majority of its competitors. The forum's primary purpose is to solve common issues, including long KYC processes, low liquidity, unexpected downtime, restricted order types, and expensive trading expenses.
The design of its feature and crypto-education have been granted complete permission to participate in it, assisting in making trading relatively simple for individuals who are extremely new to trading. It is totally user-friendly, as well as its interface facilitates access to all skill platforms. PrimeXBT has established a trustworthy and dependable reputation among the public in this regard.
PrimeXBT Trading Contest Module
To advertise the debut of this trade event, PrimeXBT has changed its name to the Grand Trading Contest, with a big prize of $100,000 that will be awarded among the ten leading traders.
First Position winner
The person who comes in first place will get a $ 50,000 prize, which will be Credited immediately after the completion of the competition to the PrimeXBT account.
Second position winner
The second prize winner will get a reward of $20,000.
Third Position winner
The third-place winner will get $10,000.
Fourth to Tenth position winner
Based on their performance and rank, all other winners will get awards ranging from $ 500 to $ 7,000.
As previously stated, all activities are risk-free since the virtual currency is being used, and competitions are based on real-time market data to simulate a transparent trading system. One of it's best aspects of this event is that there is no deposit or registration fee required. To earn the prize, just join in the PrimeXBT contest and outperform other participants by demonstrating the highest prospective ROI performance.
How can I participate in the PrimeXBT Trading Contest?
Participation in the competition is a straightforward procedure. But firstly, make sure you register and create a PrimeXBT account. Just follow the below mentioned steps to participate in the PrimeXBT Trading contest.
First, log in to your PrimeXBT account.
From the menu option, go to the Contests area.
All of the live competitions will be available here. Click the view icon to explore the information of each contest.
Once you've decided the contest you'd want to participate in, just click the Join button.
Enter your name and check the box that reads, "I declare that I have read and agree to all of the Contests rules and regulations."
Go to the My Contests tab, and the competition you entered will be posted there. Click the start button to begin trading.
By choosing Contests from the primary platform menu, users can access all current and upcoming contests. Click just on the Participate button to enter the competition. There is no entry fee or deposit required to participate in the event. Users may also read the conditions for qualifying for and winning a reward by choosing a specific competition. You can also see your competition's rank, market cap, trades, etc.
Some competitions, for example, may require a certain level of trading activity or even a certain number of transactions. However, even if your accomplishment is extraordinary, you will not be considered a reward if you do not meet these conditions.This is where you'll find all current contests and information about them, such as prizes, start and finish dates, and entry conditions.
Once the competition starts, spectators may observe the real-time leaderboard rankings of all participants based on the performance of the trading contest (ROI). The more profit you make on your trading account, the faster and higher you will rank on the leaderboard.
These contest cards will remain on my contest page, enabling you to see when they will expire, where you won, and how many participants will be participating in the contest. When the competition is over, all qualified winners will receive an email with details on how to claim their prize.
Disclaimer: Blockmanity is a news portal and does not provide any financial advice. Blockmanity's role is to inform the cryptocurrency and blockchain community about what's going on in this space. Please do your own due diligence before making any investment. Blockmanity won't be responsible for any loss of funds.
Get the latest news on Blockchain only on Blockmanity.com. Subscribe to us on Google news and do follow us on Twitter @Blockmanity
Did you like the news you just read? Please leave a feedback to help us serve you better
---
Trending Now