A brief history of Smart Contracts
---
A brief history of Smart Contracts. Why the world must pay attention to the disruptive force of smart contracts.
A foreword: Smart contracts are a blockchain based concept that can disrupt the way traditional trust-based institutions have worked. This is a tipping point for the economy, where an organization of businesses and industries will shapeshift into forms we have not seen before. As a natural evolution of technology, what started off with the internet morphed into socially scalable e-commerce, and just as the launch of smartphone catalysed a whole new sharing economy, enterprise smart contracts will now unleash a new force more penetrative and universal in their applicability and appeal across vast industries touching a significant part of the global GDP of around $100 trillion. Wherever there is an agreement, professional or social, written or implicit, between two parties, a smart contract can now remove the mental transaction costs of doing business with a stranger. Wherever a court or law enforcement was once relied upon for the enforcement of a written or social contract, a smart contract can now do the job reliably without involving third parties.
The origins: Nick Szabo, a fascinating polymath, and a legendary computer scientist is the brain behind Smart Contracts. Among the early "cypherpunks" who assembled in Santa Cruz in 1992, instrumental in the conceptualization and birthing of alternative and privatized currencies, Nick dedicated his research to using computer science to secure property and privacy in cyberspace.
Nick first coined "Smart Contracts" in 1994, and proposed that a smart contract infrastructure can be implemented by replicated asset registries and contract execution using cryptographic hash chains and Byzantine fault tolerant mechanism. He also invented BitGold, an immediate precursor to Bitcoin. I chanced upon a video of Nick in one of the computer science lectures in a US university in the early 90s where Nick mentions computer science as the future of law, citing the promise of smart contracts. This was way before the worldwide web or the internet became mainstream.
A definition of Smart Contracts:
"Smart contracts are self-executable and automated computer programs that can carry out the terms of a contract or a business agreement between two or more parties. Smart contracts also have an additional feature of a "value exchange" that is contingent on some pre-agreed terms, in addition to the features of a traditional contract. What distinguishes a smart contract from a normal contract is that firstly it is automated, and secondly a smart contract is able to transfer economic value automatically and simultaneously while satisfying terms of the traditional contract, due to a unique and exclusive feature of a blockchain, without needing a trusted intermediary like a bank, notary, auditor or accountant from the old traditional system." – Arifa Khan
What inspired Nick to create these utopian concepts such as smart contracts were his reading of Ayn Rand and his knowledge that overlaps many academic domains of contract law, computer science, cryptography, game theory, economics, and studies of arcane and little known subjects such as the origins of money (this is as far as one can distill from his astute research and mind-blowing insights from his writings, and there could be more)! Each of his writings is a condensed or hashed encyclopedia for a more efficient modern digital economy and can inspire a whole new Nobel prize winning theory. Those lucky enough to interact with Nick personally would chance upon more astounding discoveries such as his self-taught mastery over financial services and capital markets, which he let me in on with a smile.
Many of Nick's immense contributions to cryptography stem from his belief that 'trusted third parties are security holes'. Meaning that centralization is the core vulnerability in monetary systems, and everything that is wrong with the modern economy. The idea that the ills of conflicts of interest, self-dealing and moral hazard that characterize modern central institutions everywhere can be fixed unequivocally with decentralized networks is no less radical than the discovery of flat-earthers that earth was round. This idea is the foundation to a new global cryptocurrency based architecture that promises a more democratic, fair economy that is more immune to corruption and more resilient to man-made shocks and black swan events such as the credit crisis of 2008.
Nick is one of the staunch believers in Bitcoin and the future of cryptocurrencies –
"Running non-stop for eight years, with almost no financial loss on the chain itself, [Bitcoin] is now in important ways the most reliable and secure financial network in the world,"

Users must be able to exchange and trade with one another with trust, despite not knowing each other beforehand. This establishes Blockchain's core principles, where the power of its users, and not a central entity, determines its success.
The promise:
When democratic institutions the world over are in danger of succumbing to gripping vices and glaring greed of a few, what cannot be accomplished by background checks of elected leaders and constitutionally appointed guards of democracy, can indeed now be achieved with the power of technology. That is the profound truth of blockchain.
Democratised forms of governance for new kinds of institutions – that is the promise of crypto protocols for the common man, not a quick buck you can make buying one.
A brand new architecture for counterparties to come together and transact value on smart contracts and blockchains – without intermediaries, or at the very least a more competitive environment for intermediaries – that is the promise of cryptocurrency based paradigms. Not faster, cheaper, efficient, or indeed more profitable ways for existing incumbents to operate.
ICOs that became a rage in 2017 is an example of smart contracts on steroids, that was facilitated by Ethereum – world's first enterprise-grade generic smart contract creation platform. Anyone from an individual to a behemoth enterprise like a bank can create and execute a smart contract on Ethereum. The price of ether, the cryptocurrency that fuels this technology platform, rocketed from less than $10 at end of 2016 when I hosted India's first Blockchain Summit with Vitalik Buterin the creator of Ethereum, to $1000 by end of 2017, after $5.5 billion worth ICOs were launched on Ethereum's platform. Ethereum creaked under its stampede causing popularity. But this is a welcome diversion from the days when technology had to wait decades before going mainstream. ICOs (a smart contract for crowd-funding tech startups) had firmly and irreversibly disrupted the venture capital industry model. Smart contracts (ICOs) held up a harsh mirror to VCs for the value they offered to entrepreneurs, just as they now will to intermediaries in every other industry. What started as the promise of unstoppable cash (bitcoin in 2008) and unstoppable computing (Ethereum in 2014) will know progress as unstoppable smart contracts (Himalaya Capital Exchange in 2018) – with a promise to reshape the worldwide financial services infrastructure. Smart contracts can force the Wolf of Wall Street to adapt to the new jungle.
There could not be a more awe-inspiring genius than Nick Szabo, the father of smart contracts, to grace India's first ever Cryptocurrencies Summit in Mumbai 25-26 May 2018, being hosted by Himalaya Labs. We aim to educate India on the fathomless potential of this vast technology and to help decision makers and our youth view and leverage the truth of this scientific marvel from an intellectual vantage point as it should be and not from a narrow prism of short-term profit, or uninformed and biased opinion.
Article by Guest Author Arifa Khan
Arifa Khan is India Partner Ethereum and Founder & CEO of Himalaya Capital Exchange, the next generation global stick exchange run entirely on smart contracts. Arifa is a graduate of IIT Madras and has an MBA in finance from Wharton School of Business, and is a former investment banker.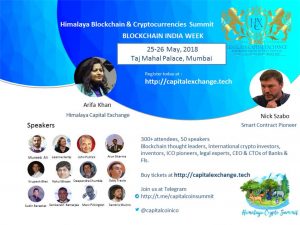 Disclaimer: Blockmanity is a news portal and does not provide any financial advice. Blockmanity's role is to inform the cryptocurrency and blockchain community about what's going on in this space. Please do your own due diligence before making any investment. Blockmanity won't be responsible for any loss of funds.
Get the latest news on Blockchain only on Blockmanity.com. Subscribe to us on Google news and do follow us on Twitter @Blockmanity
Did you like the news you just read? Please leave a feedback to help us serve you better
---
Trending Now
You may also like