Top 10 Cryptocurrency Podcasts you wouldn't wanna miss in 2019
---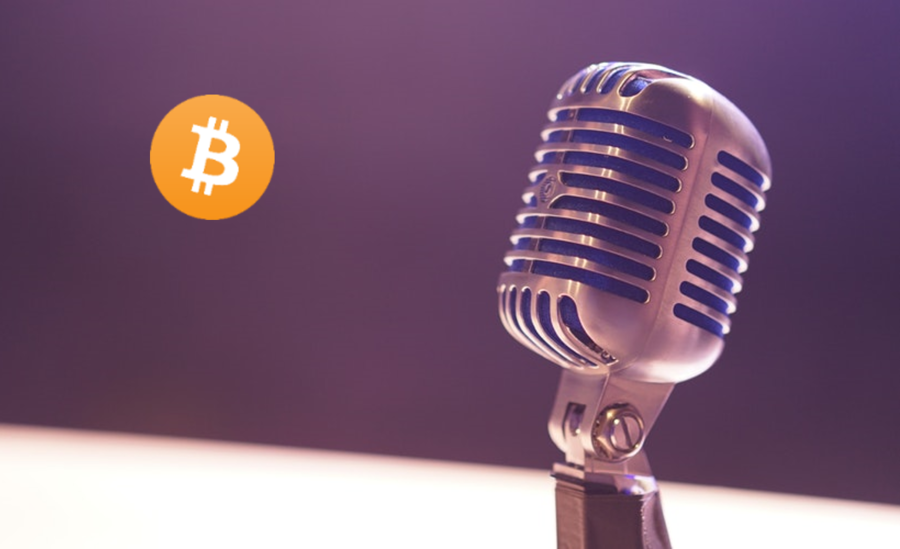 The Crypto rabbit hole goes deep, the space is so widespread and complex that it could be really challenging for beginners and even people who have been in this space for long enough to get a grip on various topics.
Podcasts can be a very effective way of educating oneself as it is easy to consume audio content while commuting, resting, traveling, etc. We at Blockmanity have compiled a list of the best podcasts in the cryptocurrency space.
Without further ado, Here are the top 10 podcasts that you might want to listen to:
1. Off The Chain by Anthony Pompliano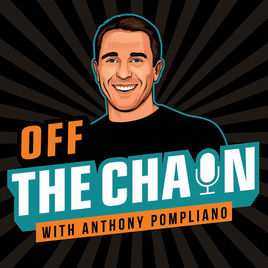 Off the chain is one of the most popular podcasts in Crypto (ranked among the top iTunes podcasts). Anthony (better known as Pomp) brings in a wide range of guests including well-known guests such as John McAfee, Charlie Lee, Mike Novogratz and lesser-known guests like Eduardo Gomez, Ateet Ahluwalia, Avichal Garg who have unique takes on Crypto.
Pomp is a partner at Crypto VC firm Morgan Creek and also boasts working for companies like Facebook, he generally has a positive attitude and may allow guests to shill their products every now and then, but overall he does a wonderful job directing the conversation in the right direction which is why he is our top pick (also because he talks about aliens).
Highlights: Awesome guests, interesting questions, rapid-fire round, aliens.
Listen to Off the chain Here.
2. Unchained by Laura Shin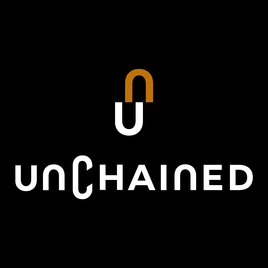 Laura is probably one of the most well-known journalists in the Crypto space. She quit her cozy editor job in Forbes to become an independent journalist and started two podcasts – Unchained and Unconfirmed (Watch her Ted Talk here).
Laura is not shy when it comes to asking tough questions, instead of sugar coating and asking comfortable questions she goes right to the point and even calls out her guests when they contradict themselves.
Some of her notable podcasts are with guests like Vitalik Buterin, Winklevoss brothers, Barry Silbert, etc.
Highlights: No BS, journalistic, healthy skeptical.
Listen to Unchained Here.
3. What Bitcoin Did by Peter McCormack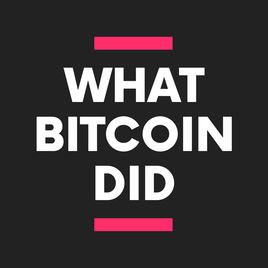 Peter McCormack, the king of Bedford is well known for his story about losing a million dollars in Bitcoin and his feud with Craig Wright.
He has a unique style of interviewing people and his consistency in releasing regular episodes makes What Bitcoin Did one of the best Crypto podcasts.
Peter is very transparent about his Bitcoin bias but unlike other Bitcoin podcasts, he invites guests from other projects to hear the other side of the argument.
His notable podcasts include deep dive series on the Mt. Gox hack and the Lightning network. Some notable guests include Tuur Demeester, Andreas Antonopolous, Craig Wright, etc.
Highlights: light-hearted, interesting questions, Bitcoin-focused (ish).
Listen to What Bitcoin Did Here.
4. Epicenter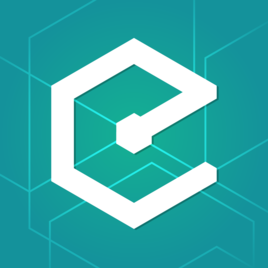 Epicenter is one of the oldest podcasts in the Crypto space and is a gold mine for people focused on the technicals of Blockchain projects.
The show has multiple hosts including Meher Roy, Brian Fabian Crain, Sebastien Couture, and others. If you want to dive into the depths of a Crypto project and understand the nuances behind its technology then Epicenter is for you.
Some of the well-known podcasts include guests like Gavin Wood, Joseph Lubin, Charles Hoskinson, Ralph Merkle, etc.
Highlights: Technical, developer friendly.
Listen to Epicenter Here.
5. Block Crunch by Jason Choi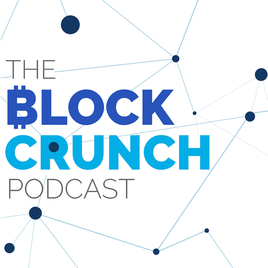 If you come from the traditional finance world and want to know what is going on in Crypto then Block Crunch is for you.
The host Jason Choi does a good job getting a variety of guests from the venture space, entrepreneurs, investors to discuss interesting projects in Crypto/Blockchain.
Some of the notable guests include Marc Weinstein, Dovey Wan, Jordan Clifford among others.
Highlights: Finance focused, investor perspective.
Listen to Blockcrunch Here.
6. The Bad Crypto podcast by Travis Wright and Joel Comm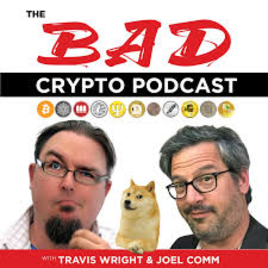 The bad Crypto podcast is one the best podcasts for beginners, Travis Wright and Joel Comm the hosts of the show take a humorous and light-hearted approach to understand the complex world of Crypto.
They produce a lot of content featuring a wide range of guests from entrepreneurs, analysts, traders among others.
Some of the notable guests include Changpeng Zhao, Brock Pierce, Justin Sun, etc.
Highlights: Humor, diverse guests.
Listen to the bad Crypto podcast Here.
7. Flippening by Clay Collins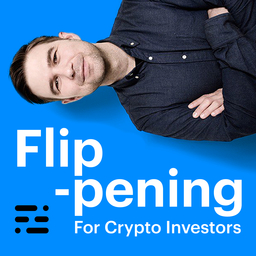 Clay Collins has a unique way of creating podcasts which why Flippening is one of our top picks. Clay touches on various important topics like Tokenized securities, Crypto tax, decentralized exchanges and presents it in a documentary style featuring multiple guests which makes it very insightful.
Some of his notable guests include Eric Meltzer, Ateet Ahluwalia, Hunter Horsley among others.
Highlights: Documentary style, Deep dives into various topics.
Listen to the Flippening Here.
8. Tales from the Crypt by Marty bent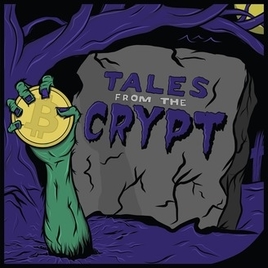 If you are looking for a Bitcoin-focused podcast then Tales from the Crypt is for you. The show host Marty Bent does not divert from Bitcoin and gets excellent guests who have unique insights about Bitcoin.
Matt comes off as relatable and does a good job asking questions, he is known for his ability to take complex topics and break it down in a way that an average person is able to grasp.
Some of the notable guests include Jack Dorsey, Misir Mahmudov, Pierre Rochard and Nic Carter.
Highlights: Bitcoin-focused, weekly recaps.
Listen to the Tales from the Crypt Here.
9. Magical Crypto Friends by Charlie Lee, Riccardo Spagni, Samson Mow and @WhalePanda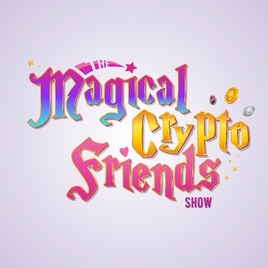 Magical Crypto friends is by far one of the most entertaining at the same time educational podcasts in Crypto, hosted by Crypto OG's Charlie Lee (Creator of Litecoin), Riccardo Spagni (Monero Developer), Samson Mow (CSO at Blockstream) and Whalepanda who is popular twitter figure.
The four meet once a month and discuss everything from regulations, developments, shitcoins, Bitcoin's future, etc.
Highlights: Humor, Bitcoin mostimalist, interesting titles.
Listen to Magical Crypto Friends Here.
10. What Grinds My Gears by Meltem Demirors and Jill Carlson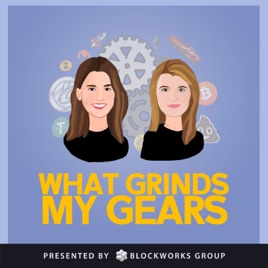 The two Crypto educators Meltem Demirors and Jill Carlson meet every week and discuss in depth a particular topic that is relevant in Crypto.
Meltem and Jill both have a mature understanding of how markets work as they both come from the traditional financial world, they are able to take concepts like market liquidity, forks, DeFi and explain it in a way that even a dumb millennial would understand.
They also publish an article on the topic they touched on every week for the listeners who want to dive deeper.
Highlights: Educational, Myth-Busting, Finance, Illiquid Dominican Republic bonds.
Listen to What Grinds My Gears Here.
Honorable Mentions:
A16Z – The a16z podcast would have made it to the top of this list if it was a Crypto podcast, any content that the Venture firm puts out is pure gold. I highly recommend checking it out.
Listen to a16z Here.
Venture Stories by Erik Torenberg – This podcast would have easily made it to the top if it was Crypto focused, Erik who is a partner at Village Global, an early stage venture capital is one of the best interviewers out there.
Listen to Venture Stories Here.
Which do you think are the best podcasts in Crypto? Comment down below.
Disclaimer: Blockmanity is a news portal and does not provide any financial advice. Blockmanity's role is to inform the cryptocurrency and blockchain community about what's going on in this space. Please do your own due diligence before making any investment. Blockmanity won't be responsible for any loss of funds.
Get the latest news on Blockchain only on Blockmanity.com. Subscribe to us on Google news and do follow us on Twitter @Blockmanity
Did you like the news you just read? Please leave a feedback to help us serve you better
---
Trending Now
You may also like