Exclusive Interview: Co-Founder of Aeternity Nikola Stojanow talks about investing in Indian Blockchain startups
---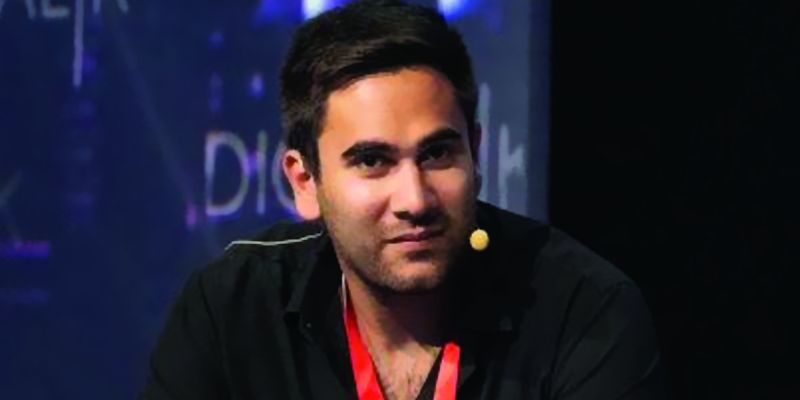 Aeternity is a Blockchain protocol started in 2016, Aeternity Ventures is the investment arm of the project started in 2017. Nikola Stojanow is the Co-Founder of the Aeternity project and is the CEO of Aeternity Ventures.
We at Blockmanity had a chance to interview Nikola on a call recently. We hope you enjoy the interview.
Blockmanity: Hey Nikola, I would love to know more about your background and the story of how you got into this space.
Nikola: To start my journey from the beginning, I was born in Bulgaria and raised in Germany. While I traveled a lot for most parts of my life, I decided to move my base back to Bulgaria for the last couple of years. Before starting AE Ventures in 2017, I worked in the corporate world for a while, specifically in the pharmaceutical sector in Europe, MENA and Asia and Pacific regions. I last held the position of Director, Business Development until I felt a need for change. I entered the realm of blockchain technology with a travel company that was built based on decentralized open source bookings technology where I was involved with fundraising campaigns. The entrepreneurial bug bit me and I moved back to Berlin where I met my old friend Yanislav Malahov, who is now my co-founder at æternity. He was looking for a business guy and invited me to join the æternity team. From there we toiled and managed to build one of the few blockchain unicorns in Bulgaria. 
It was during our journey at æternity that we realized the significance of quality startups and projects adopting our infrastructure and so I created AE Ventures, the company that would do exactly that: incubate, accelerate and invest into startups around the world. 
At that point, Sofia had an incredibly vibrant startup ecosystem that welcomed me and showed how much potential we locally have and how people have the desire to innovate and work towards a positive change and so we decided to set up AE Venture in Bulgaria. That I would say was one of my best decisions as things developed really quickly and strongly, our Starfleet accelerator started growing and is now on several continents. We are building an amazing international team, which is creating a global ecosystem, where people actively collaborate with us around the world, allowing us to be at multiple places, at the same time!
The immense potential and seeing how much need there is for funding and proper mentoring has been my fuel to nurture my desire to do more and help more people to get the chances that we got, when we started off with the Starfleet Program.
Blockmanity: æternity was founded in 2016 and the mainnet launched in late 2018, How has the journey been so far? And how would you describe æternity to those who haven't heard about it?
Nikola: Yes, we launched the mainnet in November 2018 and since then the race to bring blockchain technology to the mainstream has begun. æternity has been constantly improving and developing, numerous implementations have been made and we are happy to see that the ecosystem is growing. æternity blockchain is a public blockchain protocol that is highly-scalable and is interoperable with several other blockchains. Developers can build dApps or æpps, as we'd like to call it, with several features that include accessing oracles and state channels to use real-world data in a trustless environment. In its essence, æternity aims to solve problems of scalability, and security making it more economical and user-friendly when it comes to accessing the smart contracts on the network.  
Blockmanity: So how is æternity similar and different to other Blockchains like Ethereum, Tezos, etc?
Nikola: æternity is one of the few blockchain protocols that have solved the fundamental problems that lie in archetype protocols like Bitcoin and Ethereum -it is decentralized, public, global, censorship-free, tamper-proof transaction technology.
It's a scalable smart contract platform that can handle more transactions and smart contract calls and has far more advanced features capable of handling an enormous amount of people all over the world.
One of the main differences between æternity and earlier blockchains lies under the hood: æternity is written in Erlang, which is a proven functional language for distributed systems.
Blockmanity: Ok now let us get into AE Ventures, what is the vision for the fund and tell us more about the Starfleet accelerator program. 
Nikola: AE Ventures is built on the vision to enable the creation of decentralized businesses that would be a great improvement on the prevailing systems. With this conviction, we work towards funding blockchain startups from around the world alongside providing them with the advisory and training to built market-ready products that can solve real-world problems. 
This is something we have brought to life through direct investments and with the Global Accelerator Programme for Blockchain startups – Starfleet. With three editions completed over the last two years, we've invested over $1.9 million in 18 startups. We are drawn to people who not only build exceptional products that go past the proof-of-concept stage that can be taken to the market, but to those who are solving problems that contribute to the greater good of society.
Blockmanity: At what stage of the startup do you mainly invest in? And do they have to build exclusively on the æternity blockchain to get funded? 
Nikola: We usually like to enter at a seed/pre-seed level and predominantly through the Starfleet accelerator program. We are very industry-agnostic – the only common thread we look at is the use of Blockchain tech and its implementability.  
The participating startups need to build the product entirely or as a part of æternity blockchain as it is one of the most scalable and interoperable blockchains out there. And this way, we can provide the startups with the right kind of help and hand-holding required to build their products. 
Blockmanity: What are the best use-cases for Blockchain that you have seen so far and what use-cases are you excited about for the future?
Nikola: I truly believe that Blockchain has the power to impact every sector. Every Starfleet program reveals interesting use-cases solving real-time problems. It is not surprising that DeFi is developing very rapidly. I expect a huge boom and adoption in this sector. It also makes a lot of sense since blockchain technology serves the financial sector with almost instant transactions at almost no cost. 
In the future, essentially everything might be tokenized. There is a whole other world of opportunities with tokens.
Identity management is another critical segment with a focus on individuals owning their own data and deciding who to share with and for what. With the recent concerns of privacy, we have seen some very interesting use-cases in this aspect as well.
Another sector that I am very keen to explore is bringing in more transparency in political campaigns, voting etc. We have seen political parties collaborate with the open-source blockchain and developer platform in order to optimize the participation processes of citizens in internal voting. This is the need of the hour in every democratic nation and more and more players from the ecosystem should focus on it.
Other interesting applications of blockchain use-cases include banking with fiat on and off-ramps, decentralized exchanges and of course gaming!!
Blockmanity: Could you share some names and numbers from your portfolio of startups you have already invested in?
Nikola: We are proud to say that so far we have invested directly or through our acceleration program more than $2mln in 19 startups. To name a few: WeiDex (Bulgaria) – decentralized exchange for cryptocurrencies, which just recently released their cross-chain atomic swap widget called Jelly. AmpNet (Croatia)- a whitelabel, all-in-one platform for running energy cooperatives and energy communities. Abend (Germany) – the cashless, on-site payments platform aiming to be an "own little economy" for each festival and club around the globe. Cryptic Legends (Serbia/Malta) — blockchain-based, team management game in an awesome ancient fantasy world. SmartCredit (Switzerland) – a platform for crypto-loans creating 2-click consumer credits (money on demand) for the borrower and tools like credit tokenization, credit transferability and interest-bearing to the holder. 
Blockmanity: Recently you teamed up with IBC Media to build a presence and get Indian startups to apply for the program, what is the thought process behind this and what other markets are you targeting? 
Nikola: India has a booming blockchain ecosystem and armed with its strong developer pool and the burgeoning startup ecosystem with over 27,000+ start-ups, there is tremendous scope for a decentralized future. Raghu and his team from IBC Media have shown great potential in tapping the Indian market and identifying blockchain startups with interesting use cases. We had over 175 blockchain-based early-stage startups up registering for the Starfleet India in its first edition, of which we have shortlisted 13 very interesting startups for the Genesis Week. We are hoping to see strong Indian problems being identified and looking forward to solving them with blockchain technology. We are happy to partner with IBC Media to launch the first edition of the Global Starfleet program here in India and look forward to successfully finding these Indian startups gems with a proven capability to build technology products that can scale, and a strong underlying blockchain use case. 
Blockmanity: What is in store for the æternity ecosystem in 2020, what are you most excited about? 
Nikola: I am extremely happy to watch how the æternity ecosystem is growing. All the startups we invested in brought value and some diversity. It is also great to observe how the projects are building partnerships between each other and creating synergy. In 2020, we organized the First Indian edition of our Starfleet accelerator. We are confident that we are on the right place as we are confident that people Developing countries such as India, Kenya, and others in East Africa are discovering and implementing an increasing array of applications for blockchain, the decentralized ledger technology that promises a secure, low fee, peer-to-peer mechanism for verifying and validating information. 
We are also very excited about the development of the blockchain startup which we accelerated as now it is their time to prove their concept.
Blockmanity: If a startup founder is reading this, where can he/she apply for your program?
Nikola: Well, we've closed applications for Starfleet India this year and we're well on our way with the Genesis Week. However, if you're a startup that has a great product that is built on blockchain, you're more than welcome to contact us on our website. However, do keep in mind that when you're pitching your idea you have to be as clear as possible and give us a suggestion of how we can work together to improve your product and perhaps, fund it if it makes it through the selection process. And more importantly, take a good look at the æternity blockchain and do your due diligence. See where it can help your product become a better version of itself; don't try to force-fit it. 
Blockmanity: Last but not the least, which is your favorite company in Crypto other than your own?
Nikola: Interesting question, but not simple to answer. There are numerous companies that I have been following for some time now, but with the market and interests changing rather quickly, new interesting projects are coming to light more often.
For me, the most interesting Dapps have not been developed yet, as the idea is to have them function in a way, where the user does not need a Ph.D. in Computer Technologies or Cyber Security, in order to use a product. 
Simplicity should be key, without jeopardizing the integrity or security of users and product. If I would have to choose, I would go with either wallets, payment gateways, or products that engage the user to do something, in order to receive tokens (positive incentivization to do good seems to be quite a powerful medium, in order to have a large number of people to positively impact their surrounding).
But as mentioned above, I admire all projects that have a sincere agenda and want to improve or innovate in a space, which has not seen innovation in a long time, as simply building products and having projects succeed is what excited me most in the entire space, rather than a single favorite company.
ak_YybQNedGUDY74VFxHWe68Bx28Ne71NJsGWyegY6y2v9AqphE9
Discuss this news on our Telegram Community. Subscribe to us on Google news and do follow us on Twitter @Blockmanity
Did you like the news you just read? Please leave a feedback to help us serve you better
Disclaimer: Blockmanity is a news portal and does not provide any financial advice. Blockmanity's role is to inform the cryptocurrency and blockchain community about what's going on in this space. Please do your own due diligence before making any investment. Blockmanity won't be responsible for any loss of funds.
---
Trending Now
You may also like