DAO Maker – Weekly Summary 5-35: Growth Days
---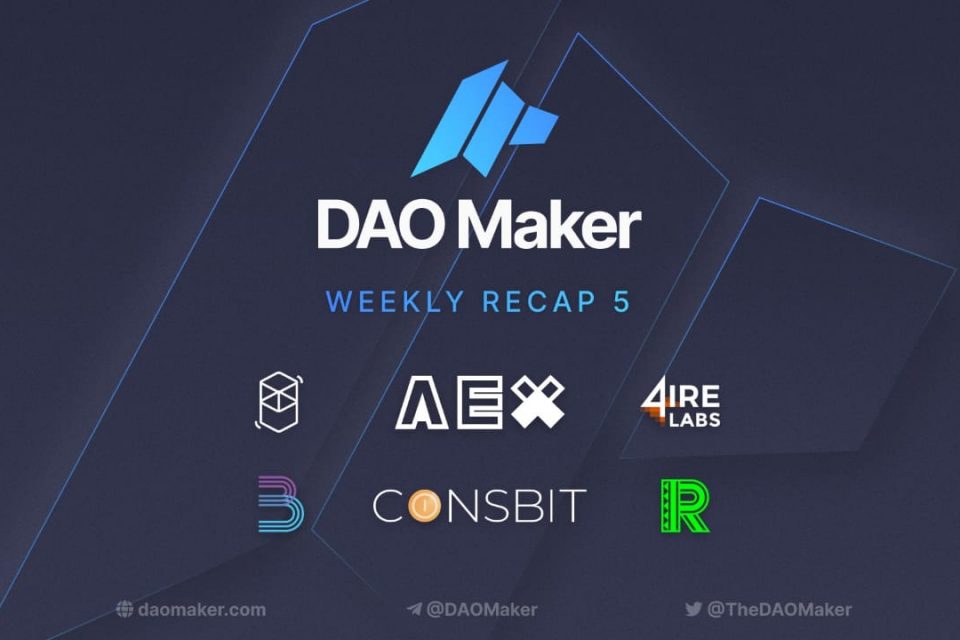 At the end of another busy week for everyone on the DAO Maker team, we would like to outline all the developments in a weekly summary! Find out what happened, and stay tuned!
DAO Maker Narratives:
Orao Network SHO Guidelines Announced!
Cere Network SHO Announced!
DAO Maker SEED Announced!
$DAO Token Trading Promotion!
Token Burn: Over 21k ($160k) $DAO Tokens Burned!
Over 80k Twitter Followers!
DAO Maker BizDevs:
New Strategic Partner: 4IRE Labs
New Strategic Partner: Israeli Blockchain Association
New Strategic Partner: Fantom
New Network Partner: Rainforest Foundation US
New Exchanges:
Platform News!
OpenOcean Added to the DAO Vault
OpenOcean is a Binance-backed cross-chain aggregator that consolidates the liquidity from both decentralized and centralized markets. OpenOcean already aggregates liquidity from decentralized markets across Ethereum, BSC, Tron, and Ontology, with more blockchains to be supported soon. The aggregator pulls the liquidity from major CEXs for spot and derivatives markets, and OpenOcean will expand to insurance and lending.
OpenOcean's native token (OOE) will be available to DAO stakers as a part of the DAO Vault after the OOE listing.
The DAO Vault gives projects access to an incredibly large community that spans 150,000+ users across DAO Maker's social mining ecosystem and fundraising platform.
Research Page: https://daomaker.com/vault/openocean
Website: openocean.finance
Telegram: @OOFinance
DAO Maker Integrates NOWPayments 
This week we integrated NOWPayments to add more payment options into our upcoming multi-investment platform. With the support of 70+ cryptocurrencies (including DAO) and auto coin conversion for online payment, our crypto users will be able to directly participate in SHO, DYCO, and all other upcoming services without the need to possess designated crypto assets in their hands.
Integration with NOWPayments will bring convenience to our users that they no longer need a third-party service for crypto-asset swaps.
RT: https://twitter.com/TheDaoMaker/status/1372128241620819970
Read more: nowpayments.io.
Announced DAO Maker SEED
DAO Maker Seed introduces a lot more allocations to our community and brings Seed, Private and Public Sales together all on one platform.
Our community asked for more allocations, and we listened. DAO Maker SEED will allow a much greater number of participants to join DAO Maker offerings while also offering them seed and private rounds that were previously only available to VCs.
For the first time, projects have the opportunity to be funded by 1000s of people easily, and DAO Maker SEED will enable us to significantly increase our funding volume and act as an important milestone in our journey in becoming a global multi-investment platform.
Read Full Announcement: https://medium.com/daomaker/introducing-dao-maker-seed-2d3a73a36051
Rainforest Foundation US Uses Social Mining and Our Multi-investment Platform
Rainforest Foundation US is a 501(C)(3) nonprofit organization with a mission to tackle major challenges of our time: deforestation, climate crisis, and human rights violations.
As a progressive organization, Rainforest Foundation is developing a system to use smart contracts to directly get funds to the frontline rainforest community based on verified evidence that they protect their forests.
We are collaborating with Rainforest foundation to expand their community and spread awareness about environmental protection to the crypto space by utilizing Social Mining as a community incentive program while adding adoption to our products.
The collaboration will also further our multi-investment platform's mission of making venture opportunities accessible to anyone, anywhere, to a new frontier.
Rainforest Foundation US will have preferred participation rights in all DYCOs, making it possible for tokenized start-ups to host the prestige of claiming investments from a major charity, and we intend to expand our network in this new righteous segment.
RT: https://twitter.com/TheDaoMaker/status/1372942305825546240
Read more: rainforestfoundation.org
SHO News!
Orao Network: Next SHO!
Orao Network SHO Guidelines Announced
Orao is a data-agnostic cross-chain oracle built on Polkadot. Which provides a large variety of secure data at high speed in real-time, everything from financial data, local weather to the outcome of football matches or airfare booking with maximum scalability for any blockchain.
ORAO Protocol First DAO Maker SEED SHO Guidelines
Rules:
875 Allocation Spots
1,000 USD Allocation
1,000 DAO minimum to stake for the SHO in the DAO Vault (http://vault.daomaker.com/)
Full Rules: https://medium.com/daomaker/orao-network-sho-rules-3×1000-95ca585841c1
1,000 Winning Tickets Will Be Issued
Timeline of Orao SHO:
March 22nd (11am UTC) – sign-ins start
March 25th (11am UTC) – sign-ins are closed
March 25th (2pm UTC) – winners are announced by email, KYC is open for 2 hours
March 25th (4pm UTC) – Contributions are open for winners
TGE – TBA
Contributions Are Closed As Soon As $1,000,000 Cap Is Reached
Orao Research Page: https://daomaker.com/sho/orao
Website: orao.network
Chat: @ORAOcommunity
Twitter: twitter.com/oraonetwork
Cere Network: Next SHO! 
Announced the Cere Sale on the DAO Pad
We announced that Cere Network would be the first Sale on DAO Maker's new multi investment platform – DAO Pad. The sale will be executed as a Strong Holder Offering, simultaneously with the Cere public sale on the Republic platform. In earlier rounds, Cere Network has been supported by top investors, such as Republic Labs, Binance Labs, Fenbushi, Arrington XRP Capital, Okex, Kenetic Capital, and Monday Capital.
Cere Network SHO Details
– 400 winning slots
– $2,500 allocation
– Required stake 500 DAO in DAO Vault
Read The Full Announcement: https://medium.com/daomaker/announcing-the-cere-sale-on-the-dao-pad-c47452bf94d1
DAO Maker BizDevs:
New Strategic Partner: 4IRE Labs
This week we partnered with 4IRE LABS, a company catering to the likes of Coinbase, ICBC, YES Bank, Barclays, and Mastercard.4IRE LABS will provide additional forces and welcome addition to DAO Maker Enterprise, catering to numerous billion-dollar blockchain projects and top 100 coins.
RT: https://twitter.com/TheDaoMaker/status/1371842411056488458
Read more about 4IRE LABS at 4irelabs.com.
New Strategic Partner: Israeli Blockchain Association
We secured a strategic partnership with the Israeli Blockchain Association (IBA) this week. IBA joins the ecosystem expansion of DAO Maker in Israel, focusing on pulling technical talents to our incubator. This further advances our ability to empower the start-ups that work with DAO Maker.
DAO Maker will work with IBA to accelerate the local blockchain adoption by educating the public and collaborating with domestic institutions. This will pave powerful awareness about DAO Maker and growing adoption for our products and mission: enabling wealth creation opportunities for anyone, anywhere.
RT: https://twitter.com/TheDaoMaker/status/1372216477277958152
Medium: https://medium.com/measurabledata/mdt-forms-a-strategic-partnership-with-dao-maker-7f6944761aaa
New Strategic Partner: Fantom
This week we entered into a strategic partnership with the Fantom Foundation, and Fantom will collaborate with us to support $DAO integration on Multichain.xyz, bridging our asset to Fantom Chain and Binance Smart Chain. This integration will increase DAO's accessibility in other blockchain networks, involving $DAO in decentralized cross-chain asset swaps.
In addition, DAO Maker will support the Fantom Ecosystem, allowing Fantom projects to raise funds through the Strong Holder Offering. Our community can participate in SHO projects from Fantom Chain, diversifying our investment options by supporting more blockchains.
This is a major step in expanding the DAO Maker ecosystem to support more blockchain networks, accelerating the adoption of our products and mission: enabling wealth creation opportunities for anyone, anywhere.
RT: https://twitter.com/TheDaoMaker/status/1372912962579628034
New Exchanges: AEX, Coinsbit 
DAO Trading Is Now Live on AEX!
DAO token trading went live on AEX Exchange this week, and from 08:00 am UTC on March 15th, anyone could trade DAO via the DAO/USDT pair on AEX.
To celebrate the DAO listing, AEX and DAO Maker held a joint campaign to share a reward of 2,900 $DAO among the first wave of DAO traders from the AEX community.
Event time: 18:30 on March 15, 2021-18:30 on March 21, 2021 (UTC+8)
Developed in 2013, AEX is a global digital asset trading service platform dedicated to building a reliable digital asset bank for millions of users. Considering its formation, AEX has held the principle of neutrality and to not be evil, advocating safe investment and stable value-added. This listing will introduce DAO Maker's token and its wealth creation solutions to millions of users within China's AEX community.
Read more about the campaign: https://www.aex.cool/page/news/notice/2021/0315/en_2103.html
More listing: https://www.aex.com/page/news/notice/2021/0310/en_2088.html
RT: https://twitter.com/TheDaoMaker/status/1371423531637018624
DAO Is Now Live on Coinsbit!
The $DAO token listed on Coinsbit exchange, and you can trade with $USDT and the $EUR fiat pair!
Thanks to this listing, our community can now buy DAO with fiat options on Coinsbit, allowing citizens from the Eurozone to acquire DAO directly with their credit cards and bank accounts. This is a major step to expand the DAO Maker ecosystem by collaborating with exchanges that support fiat onramp.
Launched in August 2018, Coinsbit is a centralized exchange based in Estonia with over 2,000,000 users. They support cryptocurrency pairs, 6+ fiat gateways, and OTC trading, as well as P2P-lending.
RT: https://twitter.com/TheDaoMaker/status/1371813672914391043
DAO/USDT: https://coinsbit.io/trade_classic/DAO_USDT)DAO/EUR
https://coinsbit.io/trade_classic/DAO_EUR
MD – Get detailed information on DAO Maker 5-35 weekly summary, as here we have outlined all the developments regarding the same in one place.
Disclaimer: Blockmanity is a news portal and does not provide any financial advice. Blockmanity's role is to inform the cryptocurrency and blockchain community about what's going on in this space. Please do your own due diligence before making any investment. Blockmanity won't be responsible for any loss of funds.
Get the latest news on Blockchain only on Blockmanity.com. Subscribe to us on Google news and do follow us on Twitter @Blockmanity
Did you like the news you just read? Please leave a feedback to help us serve you better
---
Trending Now