Eric Zhang: "In 5-10 years we would see the finance world shift from the centralized to a decentralized one"
---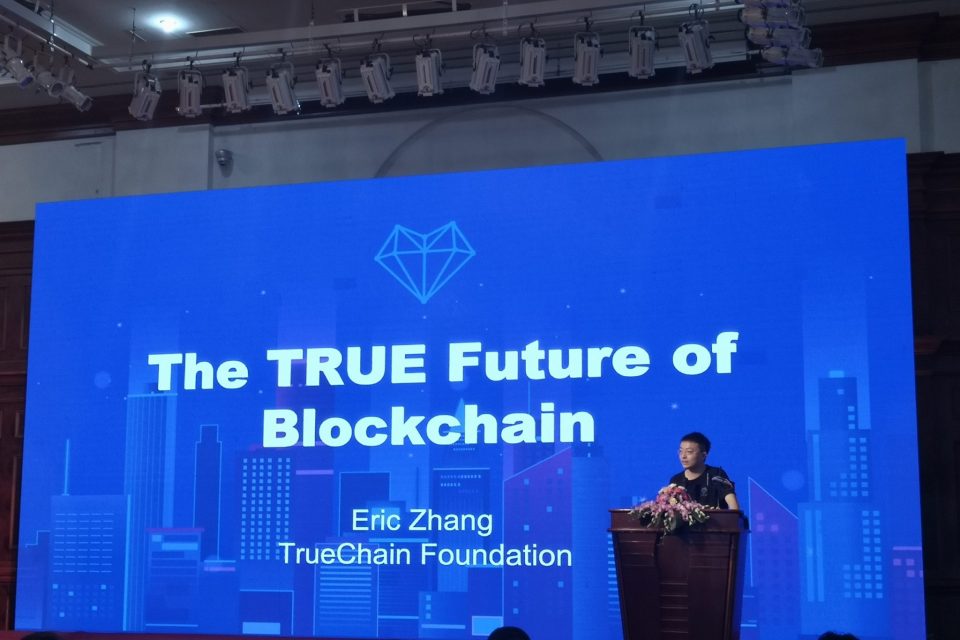 Started in 2017 by former CERN researcher and founder of Dorahacks, Truechain, has become one of the biggest blockchain projects in the world. The multi-million dollar blockchain is currently valued at $82 million and has a 24-hour trading volume of $62 million.
Eric Zhang, the charismatic founder of Truechain has the best combination of Technological knowledge combined with an entrepreneurial mindset. He is an Oxford graduate, who previously worked as a researcher in CERN. After graduating from Oxford, he founded Dorahacks which is the world's biggest and most influential hackathons.
His latest venture, Truechain, aims to be the infrastructure required for making decentralized applications. The blockchain recently released its mainnet. We at Blockmanity had a chance to catch up with Mr. Eric Zhang.
Blockmanity: Truechain released its mainnet in 2019 after I guess 6-8 months of an exploration phase. What did you learn about the market in that phase?
Eric: We created the product in 2017. The biggest factor in the time was the mismatch of the price and technology. So we started to solve the impossible triangle problem that remained in this space, the trickest and the most important problem in the industry. We launched our testnet on 30th September last year. And mainnet on 30th Marth 2019.
When we started to work on TrueChain, we wanted to create a public blockchain infrastructure to really support any decentralized business and finance in the future. It is not the only infrastructure for DApp, but also an infrastructure for the whole financial world in the future, which will be brought on to decentralized blockchains. This creates a huge market opportunity for bringing assets as securities, stocks, bonds, and any other real & digital assets on-chain.
Our whitepaper outlined 3 phases – the first phase is Genesis, We build the technology infrastructure, second the Discovery Phase, we have the infrastructure now and we want the market to greatly adopt us, and thirdly The Republic, we want to make sure our technology, community, and governance decentralized as we are building a public good rather than a company.
Currently, we are in the second phase. Once we launched our test net we saw a huge bear market. After we launched mainnet the markets started picking up. We have identified some market trends and some important places where we have to focus on.
We want technology to be the best that's why we have a full-time development team with an open source developer community. Our focus currently is to bring a lot of DApps on Truechain. We are also bringing layer 2 infrastructure to Truechain. We are introducing Truechain as a "Decentralized finance" platform.
Blockmanity: What differentiates Truechain from public blockchains such as Ethereum and EOS?
Eric: TrueChain solved the "Impossible Triangle". If you look at 2017, the blockchains at that time were not very fast. Moreover, the gas price was too high. EOS and other DPoS chains respectively improve the efficiency but they are centralized. Tron, EOS and other blockchains aren't focussed on solving the impossible triangle problem.
At Truechain we are focused on solving the impossible triangle problem. The impossible triangle states that it is very hard to achieve security, decentralization, and efficiency at the same time. We implemented the world's first hybrid consensus algorithm which solves the impossible triangle.
On our testnet, we achieved 1200 TPS which is similar to what DPoS achieves but in a highly decentralized environment. In EOS you have only 21 nodes voting, while Truechain can have an unlimited number of nodes, thus ensuring decentralization in the network.
And that is how TrueChain is completely different from what other chains provide.
Blockmanity: Truechain has two kinds of blocks, Fast blocks, and the Snail blocks. What's the difference?
Eric: Conceptually we have two chains running simultaneously – the fast chain and the slow chain. The fast chain is producing fruits and the slow chain is called "Snail Chain", which is producing blocks.
Any transaction will be first processed by the fast chain, which consists of a rotating committee of BFT nodes, and after that blocks are mined through the Snail Chain. This keeps the network fast as well be completely decentralized. Our Yellow Paper (link to Yellow Paper comes here) explains a lot of these details.
Blockmanity: You have found one of the biggest Hackathon in China – Dorahacks. Dorahacks is even making a considerable presence in India. Do you recruit developers from Dorahacks? And do you plan to recruit developers from India to shift towards Truechain ecosystem?
Eric: Dorahacks was before TrueChain. It was my first venture. I started it just after I graduated. In 4 years time, we have hosted hundreds of hackathons around the world. It is the most active hackathon in the world. Since Dorahacks is the hub of hackers, it makes Dorahacks including me really sensitive to new technologies. In fact, Dorahacks was one of the catalysts for my research in public chain technologies.
When Truechain was started we did recruit a few people from Dorahacks initially but since Dorahacks is diverse we focused on hiring on our own. And India is really interesting and we have seen Dorahacks really welcomed in India. One of the blockchain projects came out of it was called Matic Network. Matic Network got listed on Binance in 2019.
Blockmanity: What's your vision with TrueChain?
Eric: Our vision is to build the infrastructure of the decentralized finance and digital currency and asset payments network. By saying that, we knew how blockchain will improve the efficiency and trust in finance. Back in 2017, we found out about the "Impossible triangle" problem was the key to build the best public chain.
Our consensus algorithm solved the Impossible triangle problem and we have been focussing on the application of our blockchain. There are of course Dapps on TrueChain right now, but we also have stable coins like PAX and DAI already being brought on TRUE. Moreover, there are many asset tokens and security tokens being issued on TrueChain, very excited, there are real estates, equities, bonds from all over the world coming to TrueChain. We further incubated Pandaq with 8 Decimals Capital, focusing on Asian asset token issuance platform. In 5-10 years we would see more of the finance world shift from the centralized authority to a decentralized one. And our vision is to make Truechain the center and infrastructure of it.
Blockmanity: When is Truechain community coming to Binance?
Eric: We have already been listed on many large exchanges globally, such as Bithumb, OKex, ZB and so on. And we will be listed on more in a coming couple of months. So when considering an exchange, we give a lot of thought about it.  There are many well-known exchanges coming to us though, but we are not only thinking about listing, but also getting good deals, that's very important, we like them, but we also want good deals. Many exchanges will list us by themselves in the end, I believe.
Due to this fact, we are not in a hurry to get ourselves listed on every other exchange, but rather focus on building a great public chain with a great ecosystem. But this is not say that we are not working on getting ourselves listed on a major exchange, that just means we are not super aggressive on this part. For Binance we haven't reached them out personally, but we might in the near future.
Nevertheless, TrueChain has great liquidity already.
Blockmanity: Who do you consider to be TrueChain's biggest competitor?
Eric: Every working blockchain in this space is selling something unique. But to be honest no one in the blockchain space is our competitor. There are far bigger players and we are looking at other industries to expand. Our real competitor is banks and other financial institutions whom we want to replace and improve by building this decentralized infrastructure.
Blockmanity: What token are you bullish on other than your own token?
Eric: I would say Bitcoin is very valuable. If you compare Bitcoin with where it has come from in the past 10 years and where it is going, you can still see that Bitcoin is still really undervalued. I am also pretty interested in Stablecoins and security tokens. I believe in the future we will many more security tokens pegged by real-world assets.
Discuss this news on our Telegram Community. Subscribe to us on Google news and do follow us on Twitter @Blockmanity
Did you like the news you just read? Please leave a feedback to help us serve you better
Disclaimer: Blockmanity is a news portal and does not provide any financial advice. Blockmanity's role is to inform the cryptocurrency and blockchain community about what's going on in this space. Please do your own due diligence before making any investment. Blockmanity won't be responsible for any loss of funds.
---
Trending Now
You may also like