Layer Zero Airdrop Guide: How To Claim Layer Zero ($ZRO) Airdrop! All You Need to Know!
---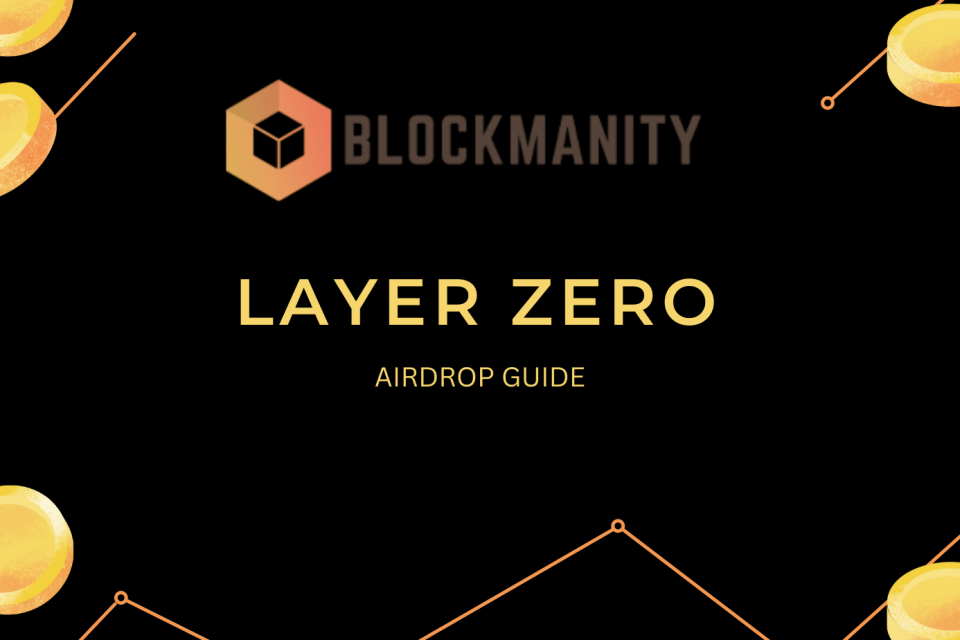 If you're looking for an exciting opportunity to receive free tokens with immense growth potential, the Layer Zero airdrop is worth exploring. As one of the most anticipated airdrops in the crypto space, Layer Zero has garnered significant attention, attracting reputable global enterprises like PayPal.
In this comprehensive guide, we will walk you through the steps to participate in the Layer Zero airdrop and maximize your potential rewards. By following this guide, you can position yourself to benefit from the Layer Zero token and be part of its growing community. Get ready to dive into the world of Layer Zero and discover the potential it holds.
What is Layer Zero?
Layer Zero is a trustless omnichain interoperability protocol that aims to solve the longstanding challenges of blockchain communication. In simple terms, Layer Zero enables seamless connections between multiple chains, breaking down the barriers that have limited liquidity and data flow between different blockchain ecosystems.
Historically, interoperability has been a significant hurdle in the blockchain space. Existing solutions, such as middle chains and on-chain bridges, have their limitations in terms of security, scalability, and cost-effectiveness. Layer Zero takes a unique approach by providing a robust infrastructure that facilitates direct, trustless transactions across all chains.
Unlike traditional middle chains or layer-2 solutions, Layer Zero focuses on the communication problem of the interoperability layer (Layer 0) itself. By leveraging Ultra Light Nodes (ULNs) connected to oracles and relayers, Layer Zero ensures efficient and cost-effective communication between different blockchains.
ULNs play a crucial role in the Layer Zero ecosystem. They are small and cost-effective endpoints connected to decentralized oracles, such as Chainlink. These oracles stream block headers on-demand, enhancing scalability and reducing overhead costs. Meanwhile, relayers facilitate the movement of transaction proofs, ensuring secure and seamless cross-chain transactions.
Layer Zero's unique architecture offers several advantages. It provides a scalable and cost-effective solution while maintaining a high level of security. Additionally, Layer Zero's approach eliminates the need for separate bridges for each pair of chains, streamlining the interoperability process.
Participating in the Layer Zero Airdrop:
Now that we understand the fundamentals, let's dive into the process of participating in the Layer Zero airdrop. By following these instructions, you can position yourself to receive Layer Zero tokens.
1. Stake and Vote $STG on Stargate Finance: Stargate Finance is the first Layer Zero protocol that is live and ready to use. To increase your chances of receiving the Layer Zero airdrop, start by acquiring and staking Stargate's $STG tokens. These tokens provide voting power within the Stargate ecosystem, enhancing your eligibility for the airdrop. Stake your $STG tokens on the Stargate Finance staking tab and browse the available pools and farms to maximize your $STG yields.
2. Interact with Stargate Bridge on Layer Zero: Interacting with the Stargate Bridge on Layer Zero is another way to increase your eligibility. By bridging your funds across networks using the Stargate Bridge, you generate volume and actively contribute to the Layer Zero ecosystem. Simply select the "from" token and network, choose the "to" token and network, and confirm your transaction.
3. Utilize Layer Zero Bridges: Layer Zero offers various bridges that allow you to interact with different networks. Explore bridges such as the USDC Layer Zero Bridge, Aptos Bridge, LiquidSwap Bridge, SushiSwap Cross-Chain
4. Use the Aptos Bridge: The Aptos Bridge is another essential tool for participating in the Layer Zero ecosystem. By utilizing the Aptos Bridge, you can transfer assets seamlessly between different blockchain networks. This bridge plays a crucial role in enabling cross-chain liquidity transfers in native assets. Whether you're moving tokens from Ethereum to Binance Smart Chain or any other supported network, the Aptos Bridge provides a user-friendly interface for secure and efficient asset transfers.
5. Use LiquidSwap Bridge: LiquidSwap Bridge is a vital component of Layer Zero that facilitates cross-chain token swaps. With the LiquidSwap Bridge, you can trade tokens between various supported networks. You can also unlock new liquidity opportunities and expand your trading options. By leveraging this bridge, users can access a broader range of assets and capitalize on arbitrage opportunities. LiquidSwap Bridge enhances the overall liquidity of the Layer Zero ecosystem and empowers users to exchange assets across chains.
6. Use SushiSwap Cross-Chain Swap: For decentralized traders and liquidity providers, the SushiSwap Cross-Chain Swap on Layer Zero opens up a world of opportunities. SushiSwap is a popular decentralized exchange protocol, and its integration with Layer Zero enables cross-chain token swaps. By utilizing the SushiSwap Cross-Chain Swap, you can access a wide range of tokens and participate in decentralized trading activities. This integration enhances the interoperability of Layer Zero and expands the possibilities for decentralized finance (DeFi) enthusiasts.
7. Use BitcoinBridge: Layer Zero recognizes the importance of Bitcoin in the crypto ecosystem and has developed the BitcoinBridge to enable seamless interactions with the Bitcoin network. With the BitcoinBridge, you can securely transfer Bitcoin to and from Layer Zero-supported chains. This integration allows Bitcoin holders to leverage the Layer Zero infrastructure for enhanced liquidity. It also gives them access to a broader range of decentralized applications. By utilizing the BitcoinBridge, users can tap into the advantages of Layer Zero's interoperability while maintaining exposure to the largest cryptocurrency in the market.
8. Interact with other dApps on LayerZero: Layer Zero is a thriving ecosystem that hosts a variety of decentralized applications (dApps). By exploring and interacting with these dApps, you can actively contribute to the growth of Layer Zero network. Whether it's decentralized finance protocols, NFT marketplaces, or gaming platforms, there are numerous opportunities to engage with innovative applications on Layer Zero. By participating in these dApps, you contribute to the network's activity. This increases your chances of benefiting from potential airdrops and incentives offered by these applications.
9. Get roles on the Stargate Guild: The Stargate Guild is an important community-driven initiative that offers various roles and responsibilities. By actively participating in the Stargate Guild, you can contribute to governance and decision-making processes. These roles often come with additional perks and incentives, including potential airdrops. To get involved, stay informed about Stargate Guild activities, and engage in discussions and voting on governance proposals. By securing a role within the Stargate Guild, you become an integral part of the Layer Zero community. This strengthens your position for future rewards and opportunities.
The Layer Zero Network has managed to raise $261 million in three funding rounds. This has doubled its valuation from $1 billion to $2 billion in the last 14 months. The potential of this project is limitless! You won't want to miss out on being an early adopter and part of their community.
Discuss this news on our Telegram Community. Subscribe to us on Google news and do follow us on Twitter @Blockmanity
Did you like the news you just read? Please leave a feedback to help us serve you better
Disclaimer: Blockmanity is a news portal and does not provide any financial advice. Blockmanity's role is to inform the cryptocurrency and blockchain community about what's going on in this space. Please do your own due diligence before making any investment. Blockmanity won't be responsible for any loss of funds.
---
Trending Now
You may also like