Diamond Hands (DIAH): The New Token Defying Market Trends
---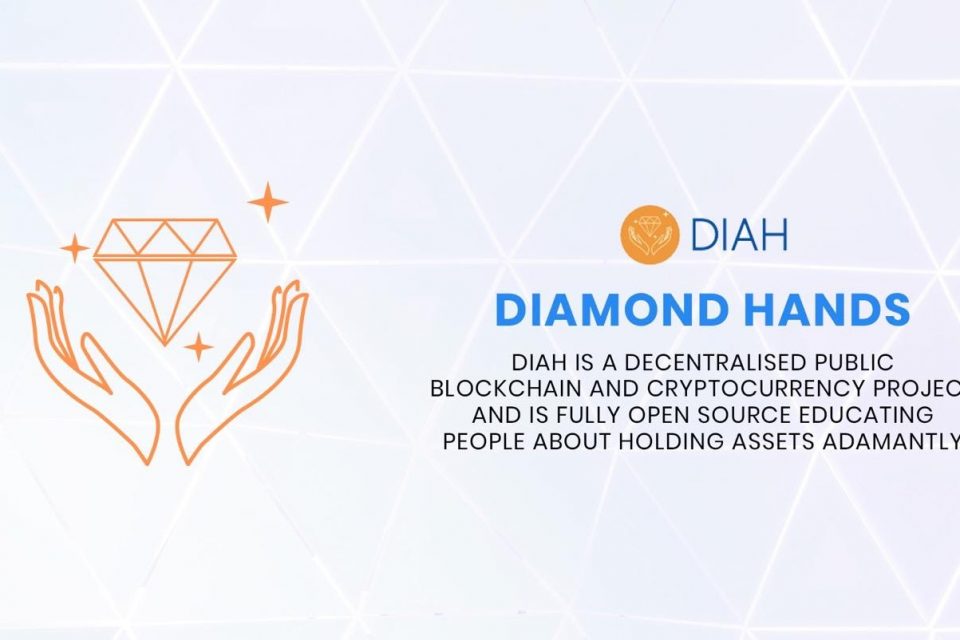 Diamond Hands aka DIAH is a new coming-of-age crypto token that signifies the growing phenomenon of holding onto your tokens even during the toughest of times. The term has been recently popularized by none other than Elon Musk who claimed his company 'Tesla has diamond hands' indicating they have held onto their $1.5 billion Bitcoin purchase even during the toughest of times. DIAH is a decentralized public blockchain and cryptocurrency project and is fully open-source educating people about holding assets adamantly. This coin has recently been trending on Twitter.

Most of the cryptocurrencies including Bitcoin, Ethereum, or any other altcoin suffered nearly 50% loss during recent times, but DIAH on the other hand defied most of the marked odds to not just outperform some of the top crypto assets it showed a trend reversal of sort with over 2,700% surge. The recent surge was fueled by the market sentiment of "diamond hands" and if we go by Elon Musk's love for community-driven meme tokens, many insiders speculate that DIAH could possibly be one of them.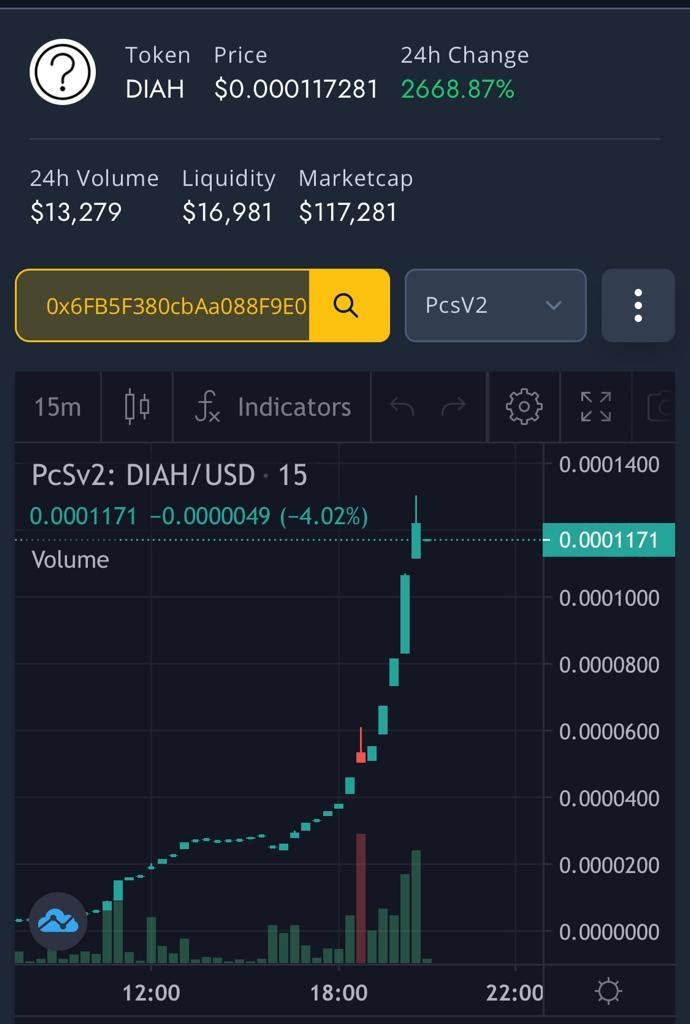 Just like the Dogecoin community has declared Musk as its unofficial CEO, even the DIAH project is inspired by Elon Musk, diamond hands take up his message of staying positive in face of market irregularities and developing real diamond hands when trading in crypto. The project inspires investors to be strong and stay in the game for the long run.
What is the Purpose of DIAH Token and Why You Should Hold it?
The main purpose of the token is to educate new investors about the crypto trading market. The developers of the project also intend to use proceedings from staking the 10% funds reserved for trading education to host free-of-cost sessions for new entrants to the crypto trading field and make them aware of how they can increase the value of their investments. The more the value of this token increases, the more funds the project will be able to invest in educating traders. The firm aims to teach the new traders how to develop Diamond Hands and look at the future and aim to increase the value of their investments in the long run and not be disheartened by the short-term ups and downs in the market.
The Project is built on top of the highly popular Binance Smart Chain (BSC) with the EVM functionality that allows for cross-chain functionalities. DEX being one of the most popular forms of exosystem in the decentralized crypto space, DIAH with its massive early progress can become a coin to look out for.
2021 bull run has proven to be an opportunity of a lifetime for new entrants as well as those who have been in the space for quite some time now. While crypto veterans have seen market corrections and price crashes from time to time and thus not really worried about the volatility, the new entrants and amateur traders often fall victim to short-term market sentiments and sell their holdings in fear of losing more. Diamon hand is a phenomenon they can take motivation from and hold onto their tokens to make the most of the complete bull cycle. DIAH token is here to remind people of that.
Hot to Buy DIAH?
The DIAH project is currently listed on one of the most popular Binance Smart Chain DEX Pancakeswap where users can easily buy the DIAH token using metamask wallet. Follow the steps below to add Metamask and buy DIAH
DOWNLOAD THE APP, META MASK: Download Meta Mask App on your Desktop or Mobile to ensure
CONNECT NETWORK: Connect your network to Binance Smart Chain
BUY DIAMOND HANDS (DIAH): After you have connected BSC and added BNB, Go to https://pancakeswape.finance
PANCAKESWAP: Go to Trade > Exchange and Select BNB on First Currency Option or Click This Link: https://exchange.pancakeswap.finance/#/swap?outputCurrency=0x6fb5f380cbaa088f9e0e9474c10cf73ab6c7f0ad
EXCHANGE BNB TO DIAMOND HANDS (DIAH): In second currency option paste this contract : 0x6FB5F380cbAa088F9E0E9474c10CF73Ab6c7F0AD
SWAP NOW: Click on Swap and Confirm your transaction, It will ask you to approve the transaction, and once approved you will have your tokens in your wallet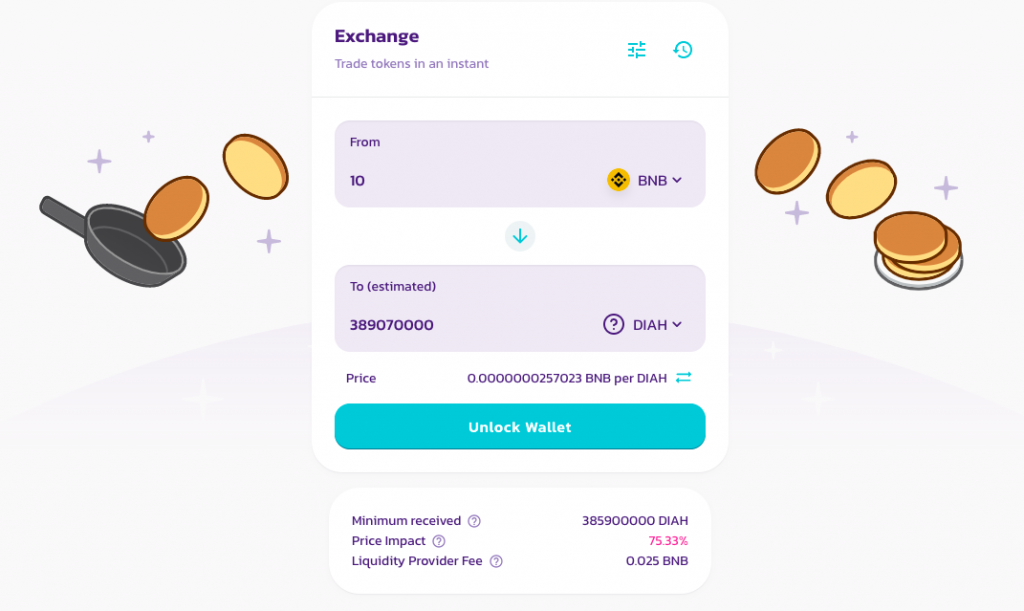 DIAH project is not just another DEX project to get listed amid the bull run frenzy, but a truly decentralized and open-source blockchain network with the potential to become a top choice digital asset. Being built on top of Binance has also its fair share of advantages as both the Binance Chain and Binance Smart Chain will allow transfers and other communication thanks to the native support of interoperability. The Binance DEX will remain a liquid exchange venue of assets on both chains. This dual-chain architecture will empower its users to build their decentralized apps and digital assets on one blockchain and take advantage of the fast trading to exchange on the other.
Disclaimer: Blockmanity is a news portal and does not provide any financial advice. Blockmanity's role is to inform the cryptocurrency and blockchain community about what's going on in this space. Please do your own due diligence before making any investment. Blockmanity won't be responsible for any loss of funds.
Get the latest news on Blockchain only on Blockmanity.com. Subscribe to us on Google news and do follow us on Twitter @Blockmanity
Did you like the news you just read? Please leave a feedback to help us serve you better
---
Trending Now